Texas A&M head baseball coach Rob Childress is out after 16 seasons, with the school opting not to renew his contract, which will expire on June 30.
"In our analysis, we believe the program needs a new voice and a new identity, and our search for the next head coach will begin immediately," A&M athletics director Ross Bjork said Sunday morning in a statement. "We, as Aggies, have high expectations for Texas A&M baseball, and we believe this is the best college baseball program in the country and we will attract a great head coach."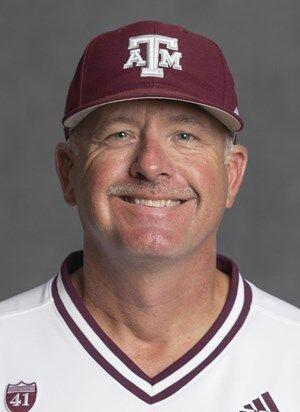 A&M's 13-6 loss to LSU in 13 innings ended the Aggies' chance of making the Southeastern Conference's 12-team tournament next week in Hoover, Ala. That also ended any chance the Aggies had of extending their school-record 13 straight NCAA tournament appearances, which was the third-longest streak in the country, trailing Florida State (42) and Vanderbilt (14). The Aggies also missed a conference tournament for the first time since 2006, which was Childress' first season. The Aggies ended the season with an 8-2 loss to LSU on Saturday. A&M (29-27, 9-21), failing to make the SEC tournament for the first time since joining the league in 2013, finished 13th in the conference, ahead of only Missouri (15-36, 8-22).
Childress was 622-336-3 at A&M, winning his 600th game on March 5, a 4-1 victory over New Mexico State.
Childress' teams won six NCAA regional titles, two conference regular-season championships and four conference tournaments. The Aggies also made the College World Series in 2011 and 2017, but failed to win a game.
Childress, who was Nebraska's pitching coach for eight seasons before coming to A&M, had 74 pitchers make the jump to professional baseball, by way of the MLB Draft or free agency, in his time at A&M and Nebraska. Most recently, left-handed pitcher Asa Lacy was selected fourth overall by the Kansas City Royals in the 2020 MLB Draft, becoming highest Aggie selected in the draft.
"Coach Childress is an incredible coach and an even better man," Lacy tweeted on Saturday.
In his 16 years in Aggieland, Childress made as much of an impact on the community as the diamond. Each fall, the first event held as a team was the "Paint-a-Thon" where the program took a day to do repairs, painting and landscaping a local home of a family in need. Childress had a long-term partnership with the Vs. Cancer pediatric brain tumor foundation, holding a hair cutting event to kick off each season in the spring. Also, the program was frequently made available to sick children who became honorary "signees" of the program. "Coach Childress is a great man and we appreciate his long-term dedication to Texas A&M and for leading our baseball program with class and dignity in every phase," Bjork said. "Coach Childress deserves our respect and admiration for how he represented our program, and we wish him and his family all the best in their next chapter."
Childress' last contract renewal came in 2016. He made $750,000 annually. Prior to the LSU series, senior infielder Bryce Blaum said the players were aware Childress' contract was set to expire, but had refrained from discussing it during the season. "There is no telling where I'd be without you," former A&M pitcher Grayson Long tweeted. "You pulled me out of the gutter and turned me into the man I am today. The impact you had on me and my family will always be cherished. You are an unbelievable coach, mentor father, and husband. Love you, 'Chief.'"
One possible replacement for Childress was thought to be Texas Tech's Tim Tadlock, who had led his alma mater to four College World Series appearances and three Big 12 titles in nine seasons, but he agreed to a lifetime contract with the Red Raiders on Monday, athletic director Kirby Hocutt announced. Another option may be TCU's Jim Schlossnagle, who has taken the Horned Frogs to Omaha five times in 11 years. Other possibilities are Louisville head coach Dan McDonnell who has won nine conference championships in 15 years with five College World Series appearances and Tennessee's Tony Vitello who has turned around the Volunteer program, which finished sixth in the SEC East in his first season in 2018 and finished first in the SEC this year. Vitello is a former assistant to Arkansas' Dave Van Horn, who was the head coach at Nebraska during Childress' time there.
Saturday, an emotional senior Hunter Coleman said he believes Childress is among the best in the country.