For thousands of Americans, this will be their last Fourth of July. That happens every year, of course, and can be said of any day of the year. Coming after four months of a pandemic that has killed more than 130,000 Americans with no leveling in sight, it seems clear that COVID-19 will add to its total with thousands more Americans by the time the next Fourth of July rolls around.
If this was your last Fourth, would you celebrate it any differently?
We usually don't ask that question for a patriotic holiday. Independence Day, July 4, is when we celebrate our country, specifically the freedoms won by the revolution that became a serious matter with the signing of the Declaration of Independence.
It happens every year and our celebration remains largely a matter of parades, fireworks, singing, eating and partying together and flag-waving.
Ah, flag-waving. Pride in a symbol of our country, which some hold sacrosanct: Insult the flag and you insult the country. But ask those same people exactly what's wrapped up in the meaning of the flag and you get a range of opinion.
Representative government. Freedoms of speech, religion, dissent, gun or private property ownership. Rule of law. Military dominance. America as it was. America as it should be.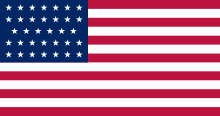 Tens of thousands of Americans died for the flag you see attached and yet it doesn't fly anywhere in the United States to my knowledge. That flag symbolized a united America, the one they knew from their childhood and an America ready to move into the future with all of its stars.
Though some may have thought of an America where the enslaved were free at last, none could have imagined the America under the different flag of today: an expanded America of 50 united states. One where voters could elect their Senators directly, not just their Representative. One where the descendants of the enslaved could vote and hold political office. One where women could do the same. One that plays a dominant role in the world, not only the hemisphere.
The America we live in is a better America than the one they secured and that is part of what we should celebrate today. We are a country founded on self-determination and we have used that power, however fitfully, to steer us toward the ideals of our founding.
Past Fourths have celebrated our military, usually with the timeworn phrase "as we remember our freedoms, we remember those who died to win them." There's a truth in that, but one only completed by those who lived to improve their communities and their countries. They, too, lived for a flag that looked different from ours and yet the same.
The deaths suffered from COVID-19 so far surpass those Americans who died in the Korean War and Vietnam War combined. If the loss from those deaths was significant — the families affected, the lives cut short — we would do well to pay attention here. 
We also should learn from the American flags that no longer fly over us that part of what America means lies in an inherent hope for a better America.
The star-spangled banner we sing about didn't fly over a major military conquest. In fact, it flew while buildings in our young nation's capital were in ruins from fires set by an invader our army and militias proved unable to stop.
But it flew over Fort McHenry during a British naval bombardment intended to level the fort and the failed attack on Fort McHenry dissuaded the British from attacking nearby Baltimore.
An America better than the one that flag represented now sings about it.
At a time of crisis when national leadership seems incapable of appealing to and reminding us of a past and ideals that unite us, perhaps this thought: the America we cherish always contains the hope of a better America — and the tools to accomplish it.
Stay up-to-date on what's happening
Receive the latest in local entertainment news in your inbox weekly!