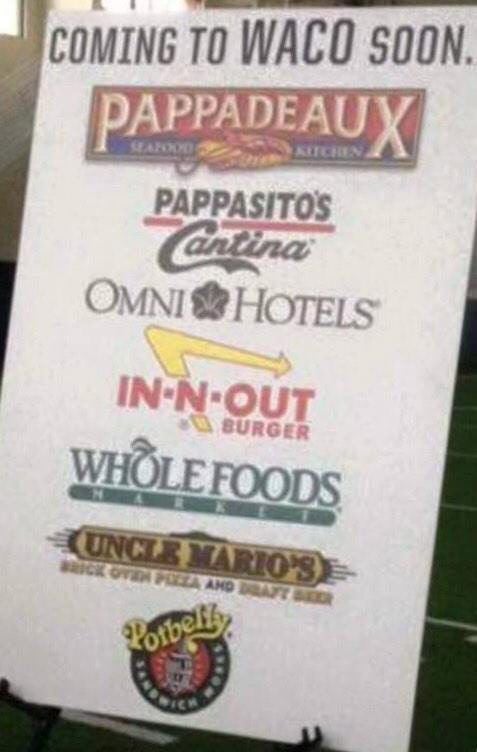 A poster at a Baylor University recruiting event over the weekend listing new restaurants and stores as "coming to Waco soon" caused some premature excitement on social media, as most of the named businesses haven't announced plans to build in the area.
Baylor Associate Athletics Director Nick Joos cleared up the origin of the mysterious board, which was created by the athletics marketing department and contained some truths and some falsehoods.
"I think somebody just decided to throw speculation on a board and call it a poster," Joos said.
The poster used the trademarked logos of restaurants like Pappadeaux, Pappasito's, In-N-Out Burger as well as companies like Whole Foods and Omni Hotel and advertised them as coming to Waco.
The image circulated quickly online, causing a buzz on Twitter and Facebook. It even sparked more than 20 calls to Commercial Real Estate Agent Bland Cromwell with Coldwell Banker, who several years ago attempted to persuade Chris Pappas, co-founder of the Houston-based Pappas Restaurant Group, to bring a Pappadeaux or Pappasito's to the area.
"I've not heard anything about them seriously looking here. People always want them here, but I've not heard that they're looking," Cromwell said. "I think all those (on the poster) were wishes."
Pappas Restaurants group Spokeswoman Christina Pappas on Monday debunked the claims that the company would be building an eatery in Waco.
"We are not building any locations in Waco," Pappas said in an email to the Tribune-Herald.
Joos said the intent of the poster was to illustrate the progressive business, dining and entertainment atmosphere in Waco to sell high school football prospects on signing with Baylor.
"Everything Waco is important to Baylor, especially when you're recruiting 18- to 22-year-olds," Joos said. "There's been a lot of drawings about the kind of town Waco could look like that's been a part of the sales pitch in the past, and I think some of the potential of what people have as visions for the development of downtown as well, things others use when they're trying to pitch businesses to come to Waco."
Some of the companies listed on the poster actually are planning to move into the Waco market.
The Tribune-Herald has previously reported that a Potbelly Sandwich Works is slated to open next door to Gander Mountain at Interstate 35 and Valley Mills Drive, while New York-based pizza chain Uncle Mario's Brick Oven Pizza will build a restaurant on the former Richard Karr Motors lot at Lake Air and Valley Mills drives.
Meanwhile other businesses listed in the poster have been actively studying the Waco market. In-N-Out Burger, for example, has eyed a couple of local sites over the past two years, including the old Richard Karr site as well as land at Fourth Street near Interstate 35 that used to support the now-demolished Clarion Inn.
Messages left for SCC Development Company, the Austin company that owns the former car dealership land, and the Dallas-based office of Jones Lang LaSalle, which is assisting in marketing the site, were not returned Monday.
Corey Duhon of DuWest Realty in Dallas, which manages the former Clarion Inn site, said the agency has continued talks with In-N-Out Burger to build on the land, but would not confirm whether a deal was being finalized to finally bring the burger joint to Waco.
"We don't have anything confirmed right now, but we should know something in the next couple weeks regarding the whole site of where the hotel used to be," Duhon said.
Whole Foods has also reportedly looked into whether a store would be viable in Waco. The Tribune-Herald reported in November that the grocer had contacted developers for Legends Crossing as well as Central Texas Marketplace, which sit across from each other at I-35 and State Loop 340.
Jimmy Banks, one of the main real estate agents marketing Legends Crossing, did not return phone calls seeking comment Monday.
Tim O'Connel is Assistant Vice President for Retail Properties of America, which owns a majority of sites at Central Texas Marketplace as well as various developments throughout Texas. He said talks were ongoing with Whole Foods as well as other retailers about potentially moving into properties the company owns.
"There hasn't been any decision yet as far as site selection, we're still going through the discussion process with them, but there's nothing that we can announce at this time," O'Connell said.
"From our perspective, Whole Foods is typically relatively quiet about it, as they always want to have the final say in being able to control the messaging and announcing their new store openings."
He said an announcement could becoming in the next few weeks about a new entity coming to the marketplace site, but declined to say whether it was Whole Foods or another company.