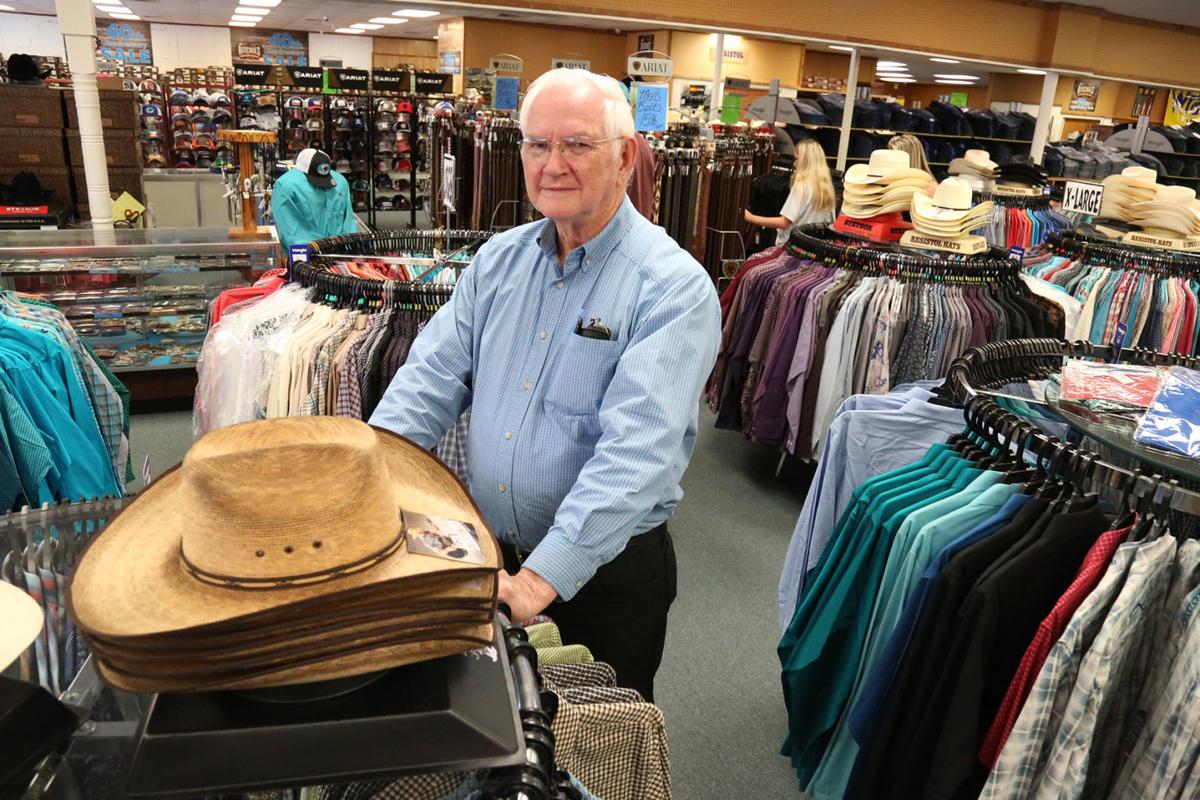 Alan Ritchie said COVID-19 kicked him unmercifully in April, forcing him to shutter his Ritchie's Western Wear the entire month to comply with orders that nonessential retailers cool their heels until further notice.
"It was worse than rough, the worst month we've ever had," Ritchie said.
He has sold boots, shirts, jeans and western hats more than 40 years and operates across Waco Drive from the El Conquistador Tex-Mex restaurant.
"Sales were down to almost zero," he said. "You can't get much lower."
Retailers, restaurants and other sales tax generators around Waco must also feel Ritchie's pain, as Texas Comptroller Glenn Hegar sent Waco a $2.6 million sales tax rebate this week reflecting April transactions. That represents a $500,000, about 15.7%, drop from the $3.1 million rebate arriving in June last year, well before COVID-19 forced the hand of community leaders trying to control its spread.
June rebates reflect April sales reported to Hegar in May.
Statewide, Hegar sent rebates totaling $690 million to cities, counties, transit systems and special purpose taxing districts, 11.7% less than disbursements in June last year, Hegar said in a press release. He said the year-over-year decline in allocations was the steepest since September 2009.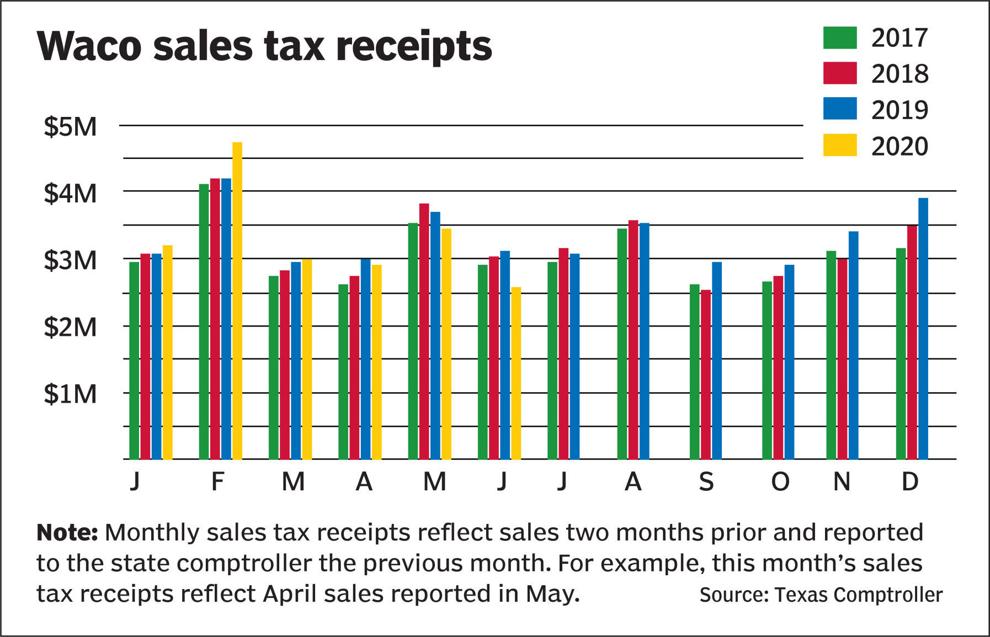 The Waco economy bled from a thousand cuts starting in late March. Richland Mall was closed the entire month of April, and not all occupants joined the reopening May 1. Bath & Body Works, Victoria's Secret, Earthbound Trading Co. and Build-A-Bear Workshop, among others, remain closed.
Stores at Central Texas Marketplace, Waco's largest concentration of retail operations, either closed or limited on-site commerce to curbside deliveries.
Restaurants resorted to drive-thru and delivery service, only recently reopening their dining rooms in phases starting at 25% occupancy.
"We were closed six weeks," Ritchie said. "We'd have customers drive up. Some even tapped on the door. We always tried to be very courteous, but we couldn't let them inside. We had that curb service, but that's not any good for our type business. People want to try things on. We're not carrying out a meal. There is zero chance of selling a pair of boots under those conditions."
Ritchie, who said he is almost 80 years old, said boredom ran a close second to frustration during his time hunkering down. He visited the store often to check on things, often with his son, Mike, but it was not the same. He missed doing business, the interaction with his customers.
"Fortunately, we were in a position to continue paying all our employees, and we're still paying them," he said. "The pandemic didn't jeopardize our existence, but could have had it lasted much longer. Fortunately, even with the increased competition, our sales have increased in recent years."
It was aggravating that his shop could not operate, having been deemed nonessential, while big-box competitors and even niche retailers selling similar merchandise continued to welcome shoppers, Ritchie said.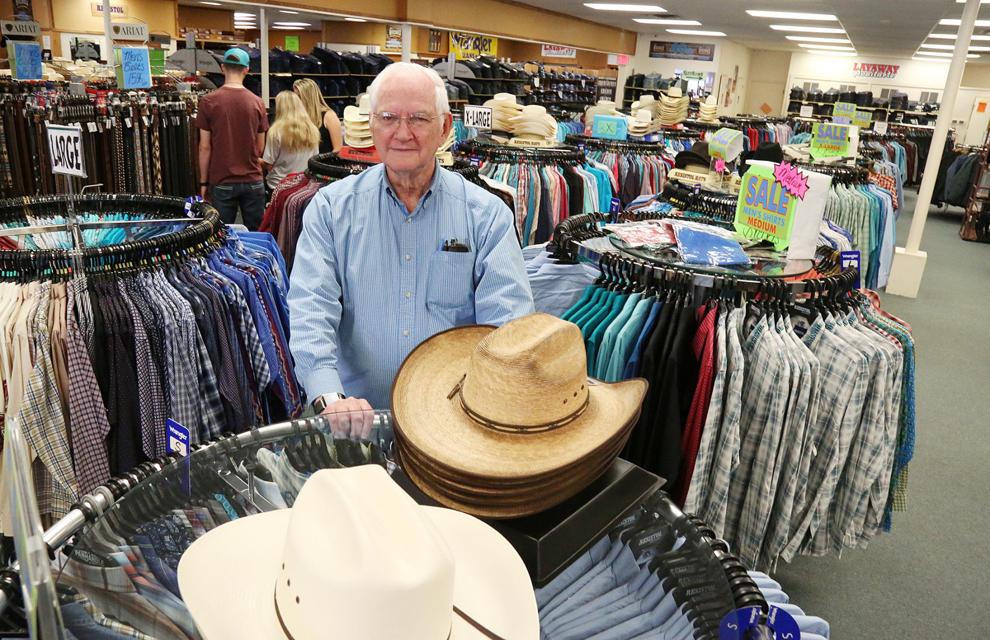 Across town at Central Texas Marketplace, Cavender's Boot City, however, also took a forced break from business in April.
"We were closed to the public for operational purposes, but three or four would come in daily to pull web orders," first assistant Zach Henderson said. "We thought we would be considered an essential business since we sell workwear to city employees and to those in construction, but that first week, code enforcement came out and shut us down. We sent in the necessary paperwork, hoping to qualify as essential, but were turned down."
He said revenue losses mounted as the store remain shuttered.
"It was typical to have 300 to 400 customers in here on a Tuesday or Wednesday," Henderson said. "Last Sunday, we were open limited hours, from 11 to 6, and we had 550 people in the store, according to our counters."
The city of Waco's budget office is making contingency plans should sales tax revenue continue to plummet, spokesperson Larry Holze said Wednesday.
But for now, at least, sales tax revenue is holding its own.
"I sat in on a meeting about this today, and some were thrilled about where we stand, all things considered," Holze said. "Calendar year to date we are down only three-tenths of 1% from last year, about $50,000. April was the first full month under COVID-19. We should know more when the May figures are in, and we soon will be getting into the budgeting process.
"But some are viewing this as a great report."
The Texas Comptroller's Office reported Waco enjoyed rebates totaling $19.9 million through June, down from $19.94 million through June last year.
Suburbs see uptick
Waco's suburbs applied a fresh meaning to social distancing, generally enjoying rebates for June bettering those a year ago.
Lacy Lakeview, for example, received an almost $190,000 rebate this week, more than double last year's $90,000, according to the Comptroller's Office.
That community's year-to-date total is up a healthy 42%.
Also showing year-over-year bumps in June were Beverly Hills, up 11.8%; Woodway, 7.7%; Robinson, 8.6%; and Hewitt, 19.7%.
And reinforcements are appearing on the horizon.
Best Buy, the electronics chain with a presence at Central Texas Marketplace, announced on its website plans to allow a limited number of shoppers to enter its stores starting Monday. It has maintained curbside sales.