True to form, Chip Tate is doing nothing the easy way as he turns an old contractor's barn into Tate & Co. Distillery.
On a sweltering July afternoon last week, he was blasting a giant sheet of copper with a wand of blue flame to soften it so he could hammer it into a still.
Then he doffed his heavy leather jacket, wiped the sweat off his brow, took a sip of whiskey and gave a quick tour of the distillery he is building by hand at 7324 Steinbeck Bend Road.
He hopes late this year or early next year to be distilling a variety of liquors, starting with Texas brandies and adding whiskey next spring. And he plans to keep building stills to sell for the burgeoning craft distillery market.
Building a distillery from scratch is nothing new for Tate, nor is his attitude of DIY perfectionism. In 2008, he turned an old shed under a Waco bridge into Balcones Distilling Co., which quickly won international awards and publicity.
Then, late last year, he left that company after a falling-out with the company's investors and used his buyout settlement to start a new distillery on his own terms.
Balcones officials are proceeding without him on a new $10 million distillery at 11th Street and Mary Avenue, and Tate said he wishes them well.
"Balcones was a wonderful experience for me in craft distilling, and I will never forget it," Tate said. "I'm even more excited about this. Tate & Co. is going to allow me to do all the things I was able to do before, and more. It's going to allow us to produce things I was not able to produce before and allow us to collaborate with people in distillation and with our copperworks."
This time, he is starting with abundant capacity, and he said he has more freedom to experiment and diversify instead of just trying to fill demand for an existing product.
"The biggest thing this does for creativity is that it gives us the still capacity to conduct experiments, and not at the cost of production," he said. "That way we're not having to rob Peter to pay Paul."
Under the settlement agreement, Tate won't be able to distill whiskey until March. He plans to make bourbons, malt whiskeys, corn whiskeys and other products he is not ready to reveal yet.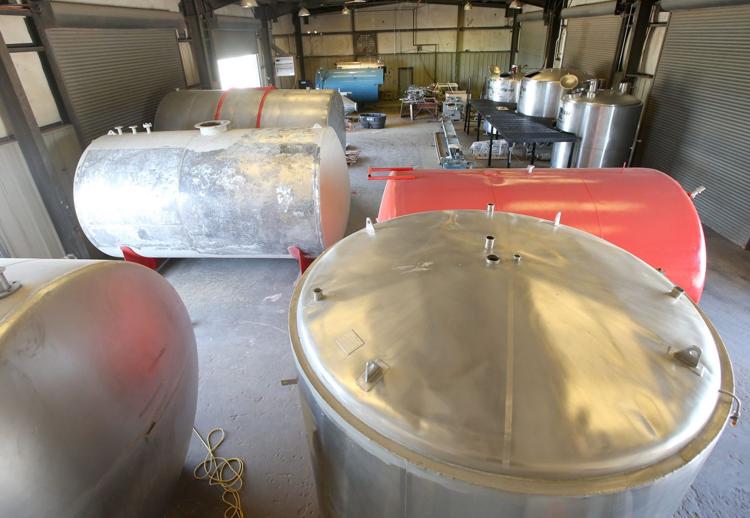 He said his 11,000-square-foot building has the space to produce more than 100,000 cases of spirits a year, which would make it one of the largest craft distilleries in the U.S. The equipment includes large tanks he bought from Heavy Seas brewery, which makes beer in Baltimore.
But he expects his first project will be creating a brandy with a distinctively Texan flavor profile, or "terroir." He hopes to work with Texas winemakers — and perhaps growers of peaches, apples and pears — to develop a Texas brandy tradition.
"Texas has such a different growing environment from traditional European vineyards," he said, explaining that the acid-sugar balance is different from French grapes because of the long growing season here.
With Texas grape harvest season running from now into early fall, he is in a race against the vines, one he said he will probably lose. He said construction, which began in January, is well past the halfway mark, but he is not trying to rush anything.
"This is not an overnight process," he said.
Tate said he has discovered that securing a grape supply is harder than expected, even in a state that boasts of being second to California in grape production.
Making a bottle of brandy requires a lot of grapes — about seven or eight times more than a bottle of wine, Tate said.
"I have people say, 'I can get you anything you want — I can get you 1,000 gallons of that,' " he said. "I say, 'You don't understand, I need like 80,000 gallons.' "
Ed Hellman, viticulture specialist with Texas Agrilife Extension Service in Lubbock, said demand for Texas wines has outstripped supply for years.
"Fifteen years ago, we had 46 wineries, and now it's something over 300," he said. "We still have a chronic undersupply of grapes. Especially in the High Plains, we're planting grapes like crazy and still haven't caught up with demand."
Still, Hellman said making Texas brandy is a logical extension of the wine industry here and could help growers diversify.
Transportation is also an issue for brandy-makers: Grapes and grape juice have to be processed quickly to keep them from naturally fermenting or rotting. Tate said he could start either with juice or wine, but without sulfites as a preservative.
Once fermented, the wine will be distilled and re-distilled, concentrating the alcohol and flavors, then placed in oak barrels to age. The distillation process is identical to that of whiskey and similar spirits.
But compared to whiskey, brandy is a laggard in the craft spirits arms race. Tate is hoping to do his part to rehabilitate its reputation.
"It's one of the lesser-known spirits," he said. "Everybody everywhere has a little bit of a complex about it."
Kaylen Polk, wholesale manager for Spec's Wine, Spirits and Finer Foods in Waco, said he thinks Tate has enough of a following that his line of brandies probably will bring some new customers to the drink.
"A lot of brandy that sells, from my experience, is to lower-end clientele," he said. "With a name like that, it's going to appeal to connoisseurs."
Jonathan Likarish, co-owner of Iron Root Republic Distilling in Denison, also has branched into making brandies out of Texas wine. He said he sees a lot of room for growth in that industry, and he thinks Tate will help it grow.
"People are going to gravitate toward brandy just because he's already made a name for himself," Likarish said. "That's what Chip does in general. Before, it was with corn whiskey at Balcones. There wasn't a whole lot of market for corn whiskey before he pulled that out of nowhere."
He said he is glad that Tate has a newfound freedom to experiment after leaving Balcones.
"A factor of success is that if you're good at what you do, people want a lot of it, and that hampers playing around with new products," Likarish said. "I think in the end it's going to work out better for both sides."
Tate said his new distillery will allow him to distill more efficiently while maintaining the human touch that makes it worthy of the name "craft." That requires both passion and discipline, he said.
"The whole business proposition is not opposed to craft," he said. "It is craft — something handmade and special. . . . It's not that complicated. It's just difficult."
The business news you need
With a weekly newsletter looking back at local history.