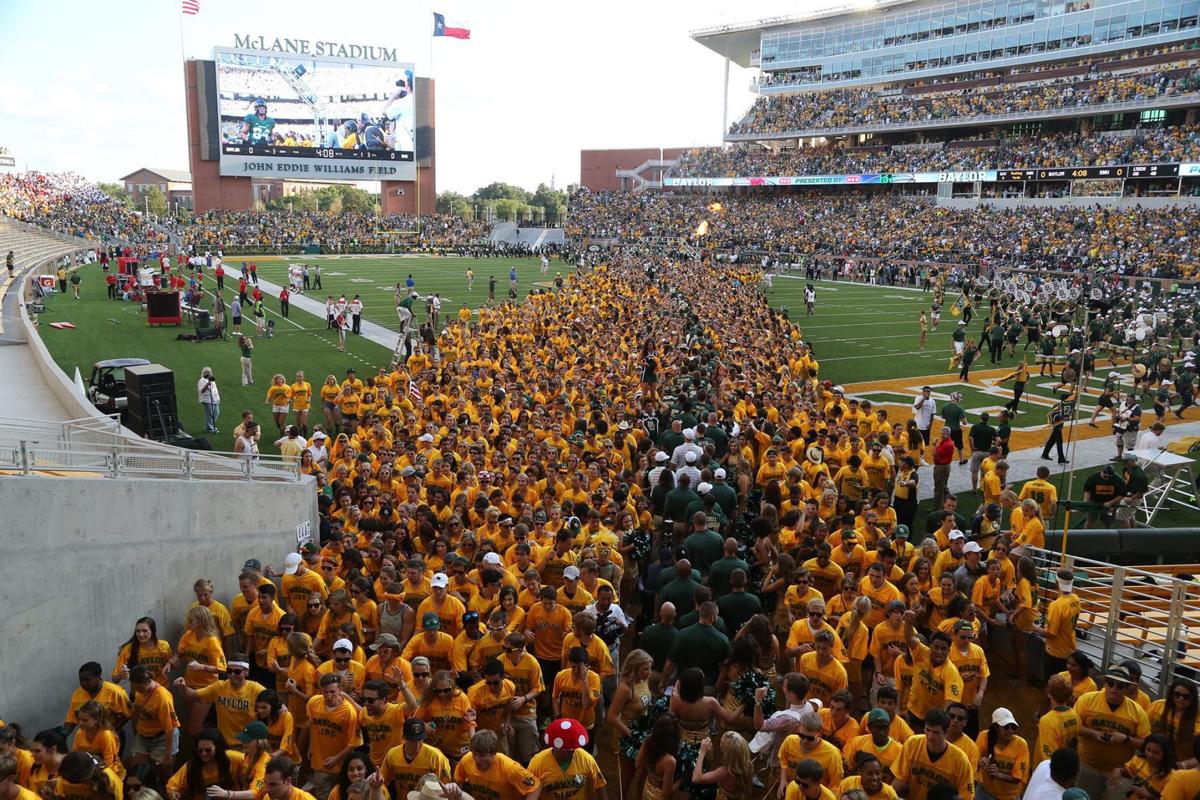 Five years ago, the McLane Stadium era began, the glittering $266 million gem on Lake Brazos holding the promise of an economic renaissance to match the football team's newfound success on the field. Baylor hosts Stephen F. Austin State University Saturday night, five years to the day after playing in the new stadium for the first time.
The Bears pummeled the Southern Methodist University Mustangs that day, 45-0, on their way to a Big 12 Conference co-championship with Texas Christian University.
Alas, the wheels came off the bandwagon less than two years later. The university announced an independent investigation had found what regents called a campuswide "fundamental failure" to implement Title IX and the Violence Against Women Act, with specific failings also uncovered in the football program and athletics department. Attention leading up to the announcement highlighted a few of the lives scarred, and lawsuits flowed in before and after, one alleging 31 football players committed 52 rapes between 2011 and 2014.
Attendance sagged and has not made a turnaround. Some suggested Baylor's football program deserved the death penalty. Head coach Art Briles, athletics director Ian McCaw and President Ken Starr, among others, were forced out or lost their jobs in the wreckage.
Prominent benefactor Drayton McLane, the stadium's namesake, demanded answers. He pointed an accusatory finger at the board of regents, saying it was complicit in creating an atmosphere that sullied Baylor's reputation. McLane and other prominent alumni formed Bears for Leadership Reform to monitor Baylor leadership.
As the sexual assault scandal unfolded at Baylor, the new stadium, it seemed, had become an afterthought.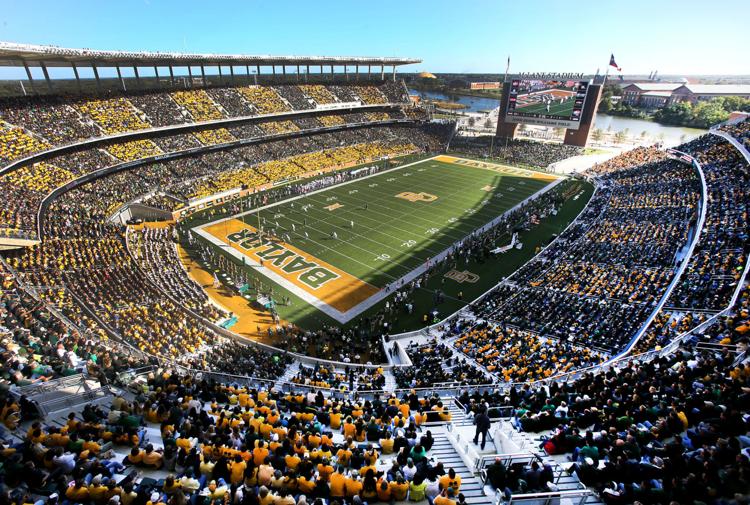 But McLane, 83, speaking by phone last week while recovering from knee-replacement surgery, is not buying that scenario. He said McLane Stadium still generates more enthusiasm and quality game-day atmosphere than he ever witnessed at Floyd Casey Stadium, the football team's 64-year home across town.
McLane is a billionaire who made his first fortune distributing merchandise to convenience stores. He often played tennis with Walmart founder Sam Walton, later serving on the Walmart board and owning the Houston Astros from 1994 to 2011. In 2000, he relocated the Astros from the Astrodome, the first enclosed sports stadium ever built, to a venue in the heart of downtown Houston now called Minute Maid Park.
McLane said being an owner opened his eyes to the sway sports and sporting events hold over society.
"I was in the grocery business 47 years, had 12,000 employees, but nobody knew much about me or my company," he said. "I buy the Astros and everybody knows everything there is to know about me."
That lesson strengthened his resolve to put a stadium on campus, a determination rooted in his own experiences at Baylor. A young man from the Cameron community, McLane said family trips to Waco "were like visiting New York," and he and other students short on transportation options had to bum rides with friends to attend football games at Floyd Casey.
"You see thousands of cars going up and down the highway, up and down Interstate 35, passing through Waco," McLane said. "We needed something great for this community, needed something to accentuate the beautiful Brazos River, the spectacular Baylor campus. People see sports differently than they do the school of business, the school of law or the school of nursing. We really believed this stadium could be a magnet to Waco. We'd see new hotels, better restaurants. Waco would develop as an entertainment center. I think that is beginning to happen. Look at all the hotels now going in."
He believes McLane Stadium has merely scratched the surface.
"At Minute Maid, we learned it takes years to build momentum," he said.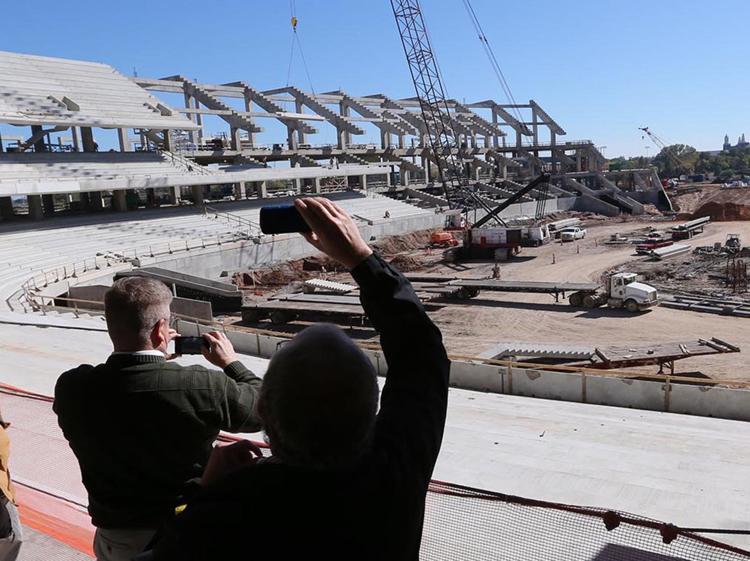 Several sources, including McLane and Grant Teaff, the winningest football coach in Baylor University history and former executive director of the American College Football Coaches Association, said McLane Stadium has not lost a step where it counts: its appeal to recruits and the city.
"I've been to a lot of places, visited a lot of stadiums, the Rose Bowl in Pasadena, stadiums in the East and the North, and to me, McLane Stadium is as well designed as any I've seen, considering the size of our school and the size of our community," Teaff said. "I've seen very few flaws."
Teaff practically shudders recalling his first exposure to Floyd Casey Stadium. Hired away from smallish Angelo State University, he took the Baylor job site-unseen. His field trip turned nightmarish, revealing aging wooden seats, "with splinters standing straight up," and a dirt playing surface devoid of grass.
Asked about the scandal and turmoil Baylor has faced, Teaff said, "What happened was a tremendous shock, impacted a lot of people psychologically. I don't know how they view the stadium. It had nothing to do with that.
"It continues to stand beautifully on the banks of the river. From my standpoint, and I think coach (Matt) Rhule would say the same thing, it is a real blessing that it has survived. It is a great recruiting tool. It is great for the students. It was built with three tiers, sounds like 100,000 people are in the stands with all the noise and excitement. It is amazing. I can't help but give tribute to those who designed it and thought it through. While we're on the subject, I think Matt Rhule is the man of the hour. He's the person who should be here, and I'm thankful he is here. He and his staff have done an amazing job."
Mack Rhoades, who became Baylor's athletics director in 2016, leaving the same position at the University of Missouri, said he knew Baylor had something special on its hands in the spring of 2014, when he worked in the University of Houston's athletic department. He accompanied the women's softball team to Waco for a regional tournament.
"I was unbelievably impressed," he recalled in a phone interview. "It was a beautiful stadium by itself, architecturally. Add to that the setting, its place on the river and Interstate 35. It is one of the more picturesque stadiums."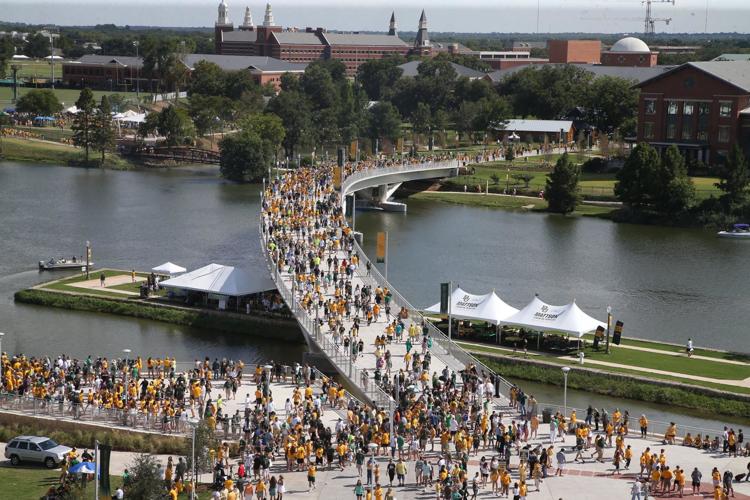 Still, attendance has slipped as the football team's fortunes have waned. An average 46,710 fans attended the six home games that first season, meaning some were amenable to standing throughout the game or spreading a blanket on the berm near the campus-side end zone and watching the action from there.
Baylor enjoyed a 6-0 home record that inaugural season.
The attendance norm dropped to 46,160 in 2015, 45,838 in 2016, 43,830 in 2017 — when Baylor went 0-6 at McLane — and 41,336 last year, when Rhule's troops went 4-2 at the stadium, 6-6 overall, and defeated Vanderbilt, 45-38, in the Texas Bowl at Houston's NRG Stadium.
At Floyd Casey in the 1980s, 90s and 2000s, Baylor home attendance averaged more than more than 40,000 in just two seasons. In 2010, it averaged 40,403, in 2011 it averaged 41,368, in 2012 it averaged 41,194 and in Floyd Casey's final season in 2013, it averaged 45,948.
"I absolutely believe we're on the right path, the right trajectory," Rhoades said Friday. "In eight days we will have our first game. We've sold 2,500 more season tickets than we did the year before, and I expect that ticket sales will continue that momentum.
"I believe you can feel excitement being generated in the Waco community about the upcoming football season. "
He said fans' enthusiasm turned a corner when Rhule took over, even if attendance numbers did not immediately follow.
"During Coach Rhule's first two seasons, there may not have been many fans in the stands, but they were there until the end, win or lose, and Coach Rhule and our student athletes appreciated that," Rhoades said. "We're excited to know there will be more fans this year. We want to make this place a true home-field advantage. We have 45,000 seats, and let's fill 'em all."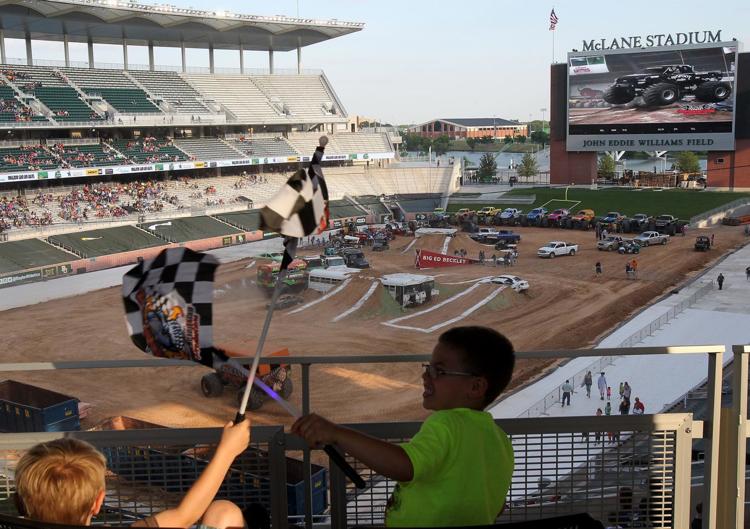 The city of Waco, sold on McLane Stadium's potential, contributed a $35 million Tax Increment Financing grant toward its development.
"Is McLane Stadium pulling its weight? I think it's punching above its weight. I would do it again," said Malcolm Duncan Jr., who was serving as mayor when the city council approved the TIF contribution. "There was a lot of conversation at the time about how the stadium would be used, in addition to six or seven football games a year. We didn't even call it a stadium, we called it an events center. I think it has been a good investment."
Duncan said McLane Stadium was viewed as an energizer, a people mover, a piece to the puzzle. Crowds in town to watch Sooners, Longhorns, Wildcats and Horned Frogs might spend more on lodging, meals and alternate attractions. Then came the Chip and Joanna Gaines phenomenon, and Magnolia Market at the Silos' knack for drawing almost 30,000 people a week, according to city officials.
The off-field trouble at Baylor "has not had any effect on the event center's impact on downtown, in my opinion," Duncan said.
When Baylor kicks off its season against Stephen F. Austin on Saturday, there will be 650 new hotel rooms under construction in Greater Waco, not counting others announced but yet to break ground.
Megan Henderson, executive director of City Center Waco, said a revitalized downtown can return the favor and toss McLane Stadium a lifeline.
"I can remember the excitement in Waco during the RG3 era," Henderson said, referencing Heisman Trophy-winner Robert Griffin III, whose exploits preceded Baylor's move to McLane Stadium but some suggest may have hastened the decision to build.
Baylor played it smart by investing in a first-class facility when excitement about the program was peaking, she said.
" The whole point of downtown is not a one-trick pony," Henderson said. "It is a system of interrelated things that are greater than the sum of their parts. The stadium makes Magnolia better. Magnolia makes the stadium better. Both bring people, but they also bring energy, activity and life. There is the juice locals get from hearing the story of their own downtown told through new voices and new eyes, what visitors learn about the heart of Waco that they don't just get from shiplap. That's what downtown is for."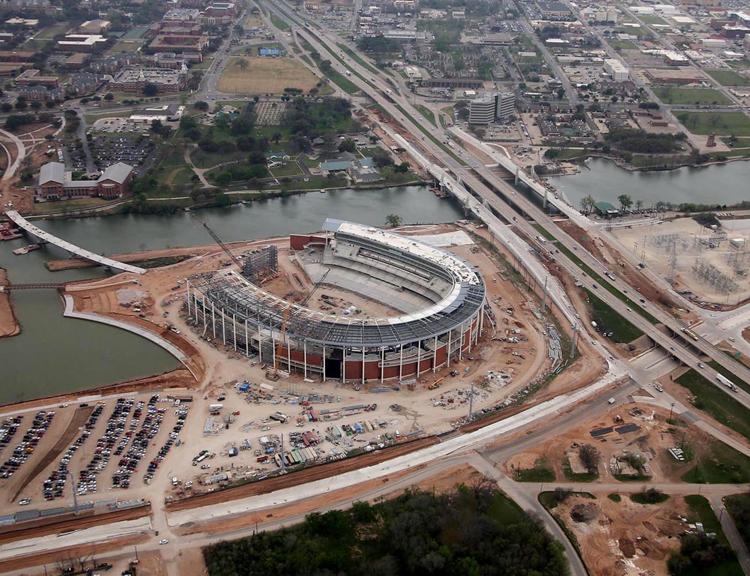 Griffin, now a backup quarterback for the NFL's Baltimore Ravens, said in an email response to questions that the athletics department's drumbeat his entire time at Baylor was moving all athletic events to the campus doorstep, especially the football stadium.
"That was always our goal," Griffin said. "But in order to do that, we had to win. We had to win big. We ended up doing that with a couple Big 12 Championships, and in my time there, we were able to win the Heisman."
Griffin said it was awesome to see the pieces fall into place.
"I definitely think the players are spoiled," Griffin joked. "They have everything on campus. They have a beautiful stadium. McLane is incredible with all the technology they have in there, and the fans pack it up every game. It's really cool to see. I wish I could've played there, but the fruits of your labor, you're supposed to pass it down to the next generation. That's what we ended up doing.
"I'm very excited they get to continue to play there."
Reached for comment, Griffin's coach, Art Briles, now head coach at Mt. Vernon High School, released the following statement: "I was so honored to be able to coach in McLane Stadium. I join my friends in Waco in celebrating five years of that iconic structure. Drayton McLane, John Eddie Williams, Walter Umphrey, Bob Simpson, Jim Turner and Paul Foster had a vision for Waco and Baylor and the generosity to make it a reality. Without them, McLane Stadium would not exist. I treasure great memories we shared together from Floyd Casey to McLane. Those memories will be with me always."
The business news you need
With a weekly newsletter looking back at local history.