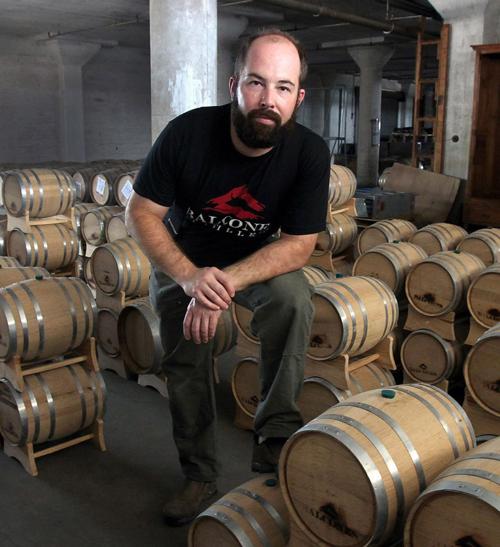 The Balcones Distilling board of managers, which has been embroiled in a bitter dispute with its founding president, has agreed to dismiss its temporary restraining order against Charles "Chip" Tate.
Spurred by a judge's adverse ruling last week and a continuing desire to resolve their differences, the Balcones board will drop the TRO against Tate in exchange for his promise to stay away from the company at least until Dec. 5, attorneys involved in the case said.
Judge Jim Meyer of Waco's 170th State District Court had scheduled a hearing for Thursday morning to consider Tate's motion to dissolve the TRO against him, which had placed a number of restrictions on him since 74th State District Judge Gary Coley Jr. granted it in August.
The hearing was canceled when the parties agreed to dissolve the TRO on their own.
"Both sides are very hopeful that we can work this out," said Waco attorney Jeffrey Armstrong, who represents the board of managers.
Tate's attorney, David Clouston, said the dissolution of the TRO is a "natural progression" after Meyer's ruling last week.
"The judge ruled that the board doesn't have the authority to act without Chip, and that would include bringing this case," Clouston said.
The Dec. 5 date for Tate to remain away from the company was chosen arbitrarily to get the parties through the Thanksgiving holidays with a bit more time to try to resolve the problems, Clouston said.
"I don't think anyone is giving up hope for a resolution, but I think the longer it takes, the less likely it becomes," he said.
Without a resolution, the next step could be a lawsuit between PE Investors and Tate, Clouston said, with Balcones dropping out.
Tate already has filed a claim against the investment group, alleging breach of contract and that he fraudulently was induced to enter into a $15 million expansion agreement.
Meyer ruled last week that Tate must be present at Balcones board meetings for there to be a proper quorum for any actions, including plans for the major company expansion, to be authorized.
Both sides in the rift had filed motions asking the judge to clarify the company's operating agreement.
The board had a meeting scheduled last week. But Tate said he would not participate, so the meeting was canceled based on the judge's ruling.
The Balcones board of managers suspended Tate for 90 days in August and obtained the temporary restraining order to prevent him from entering the company he founded six years ago and placing other restrictions on him.
Meyer found Tate in contempt of court Oct. 3, ruling he violated the TRO by failing to immediately return a computer, hard drive and iPhone to the company as required.
Testimony revealed Tate removed information from those devices before returning them.
Board members alleged that Tate threatened board Chairman Greg Allen's life and said his "unconscionable and reprehensible actions" were threatening the expansion and its funding.
Tate disputes the accusations.
According to the judge's ruling, the board violated its own bylaws by suspending Tate, filing the lawsuit against him and in deciding the funding mechanism for the $15 million expansion.
The company was founded in 2008 and upgraded its South 17th Street facility to triple its production capacity after its brand won numerous awards and built an international reputation.
Balcones is converting the historic Waco Fireproof Storage building at 225 S. 11th St. into its new headquarters, featuring three-story copper stills and outdoor grain silos.
Tate alleges that PE Investors, an Oklahoma- based venture capital group, came in last year and seized control of the thriving business he founded.