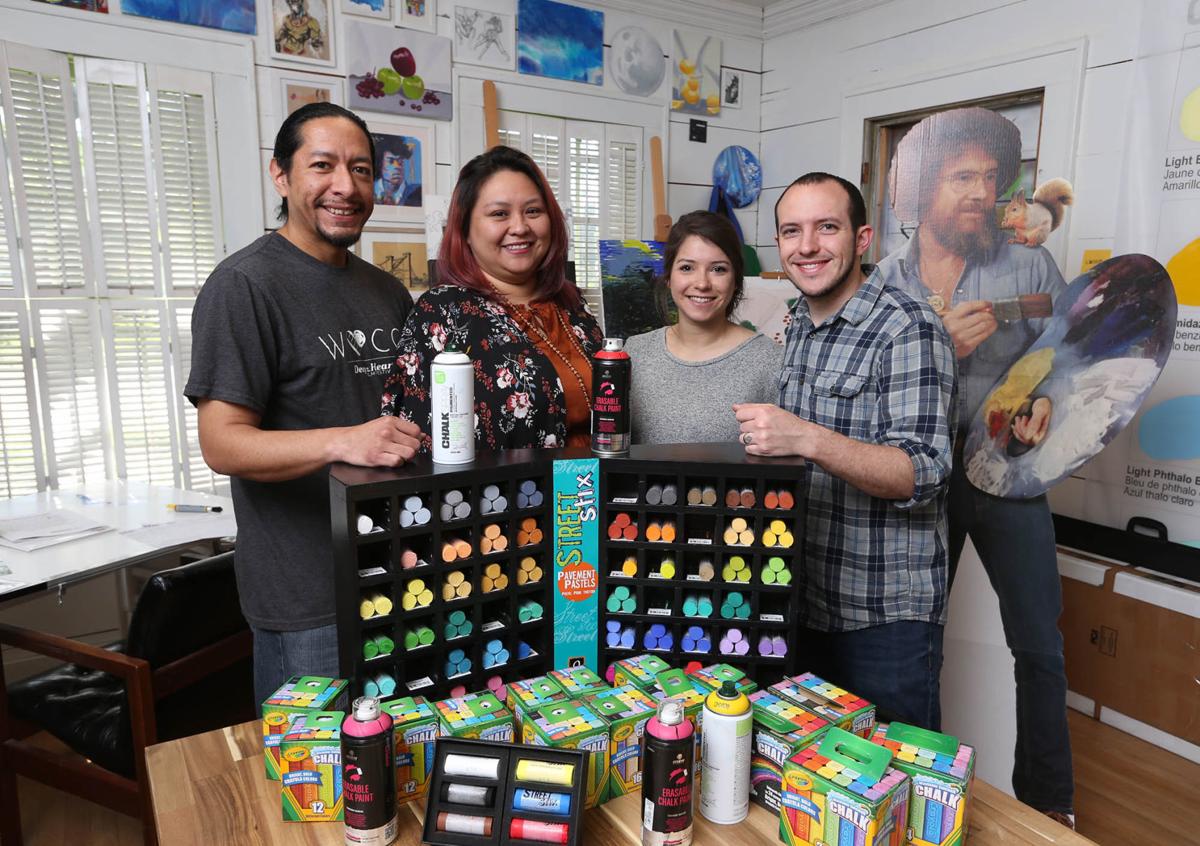 Organizers of the Wacotown Chalk Art Competition anticipate thousands of people will run their show into the pavement Sunday — literally — with a viewing window measured in hours.
The chalk art, created between 3 and 7 a.m. Sunday, will fill a few blocks of Austin Avenue just before several thousand runners in the Silo District Marathon run over it on the way to the finish line.
Twenty Waco artists, supplied by 20 sponsors, will sketch, draw and stencil art starting in the 800 block of Austin and stretching toward the 500 block.
Cultivate 7twelve gallery owner Rebekah Hagman, one of the contest organizers, said the idea came from marathon planner David Benjes when she asked for a way art could be incorporated into the morninglong run than will draw thousands to Waco.
Silo District Marathon: April 28, 2019
Word was passed along to the Central Texas Artist Collective, which contacted artists and located sponsors for the event. Steve Veracruz, who heads the collective with his wife, Angie, said local artists responded to the invitation even without much advance notice.
Each participating artist will draw and stencil in a rectangular area about 12-by-20 feet, located between the street's center line and curbside parking spaces. Artists are required to include the name or logo of their sponsor somewhere in their art and finish by 7 a.m. before runners start trekking through their artwork. Creative Waco will provide $400 in gift cards for the competition.
The street art blocks will come after the first mile for runners in the 5K race, the 11th mile for half-marathoners and in Mile 23 for marathoners, who likely will not be appreciating art at that moment. In case of rain, the art contest will be canceled.
MC Art Supplies owners Aaron and Jessica Williams were busy Friday assembling sticks of street chalk in some 60 colors and cans of spray chalk for the event. While chalk will be supplied, artists will have to bring their own lights.
Anyone wanting to see the completed works will have to move fast. The races start at 7 a.m. on Webster Avenue near Magnolia Market at the Silos, and runners in the 5K race will pass through within the first half-hour. What is left of the art after thousands of running, or trudging, feet will remain for much of Sunday before being washed away with a power washer supplied by Keep Waco Beautiful.
Sunday may be the exception to the Latin phrase "ars longa, vita brevis" — art is long, life is short — but organizers hope chalk art will become part of other future Waco events, Veracruz said.
"It's something I think people will start to see again," he said.
The business news you need
With a weekly newsletter looking back at local history.