Amid cackles and cheeps, Andrew Benson early Saturday evening recounted his day on the farm near Lorena. Storms threatened, so he played mother hen to 580 baby chicks, all hatched in the past three days.
Then there was the last-minute trip to Ridgewood County Club for an egg delivery. Oh, and he probably had time to relocate a few coops before bedtime, and he might mention on Craigslist he has some hens for sale. They are getting up in age, not laying as many eggs as they once did, but he cannot just put them out to pasture, as the saying goes.
He still had to double-check the heat lamps and bedding for the chicks, and the devices made of tin that reflect the warmth in just the right direction.
Monday surely will bring more deliveries — to Jubilee Food Market, Lula Jane's on Elm Avenue, Drug Emporium, Milo All Day, Brazos Bistro in Waco's Hotel Indigo, Waco Farmers Market and Secret Chef — or he may do some welding on the privacy fences he crafts part-time, hoping to broaden that horizon in the near future. Or he may tinker with equipment needed to keep him high in the pecking order of locally owned and natural food sourcing.
Other than that, the 19-year-old who loves his chickens and his blackberry patches and his own Heart of Texas Farms on Rosenthal Parkway in Lorena does not have a thing to do. Farming "keeps you humble," said Benson, who is that in spades. Asked how much revenue he generates with his egg-centric enterprise, Benson evenly replies, "Enough to pay the feed bill."
His long-term vocational goals? "Whatever I want to do," he said.
Just a guess, but that would seem attainable for Benson.
Home-schooled, Benson said he did not have a favorite subject, "which is probably why I got into raising chickens."
That journey started five years ago, when he began to build his brood a few birds at a time. He researched the minutiae and science of keeping birds happy, healthy and productive, free of disease and skilled at cornering bugs in the barnyard. A natural diet, clean living and roomy quarters, he discovered, meant tastier eggs.
"Trial and error and reading online," Benson said of his methods.
At least one study has found free-range chickens produce eggs lower in cholesterol and saturated fat, higher in vitamins A and E and Omega-3 fatty acids, though Benson did not make that claim in an interview.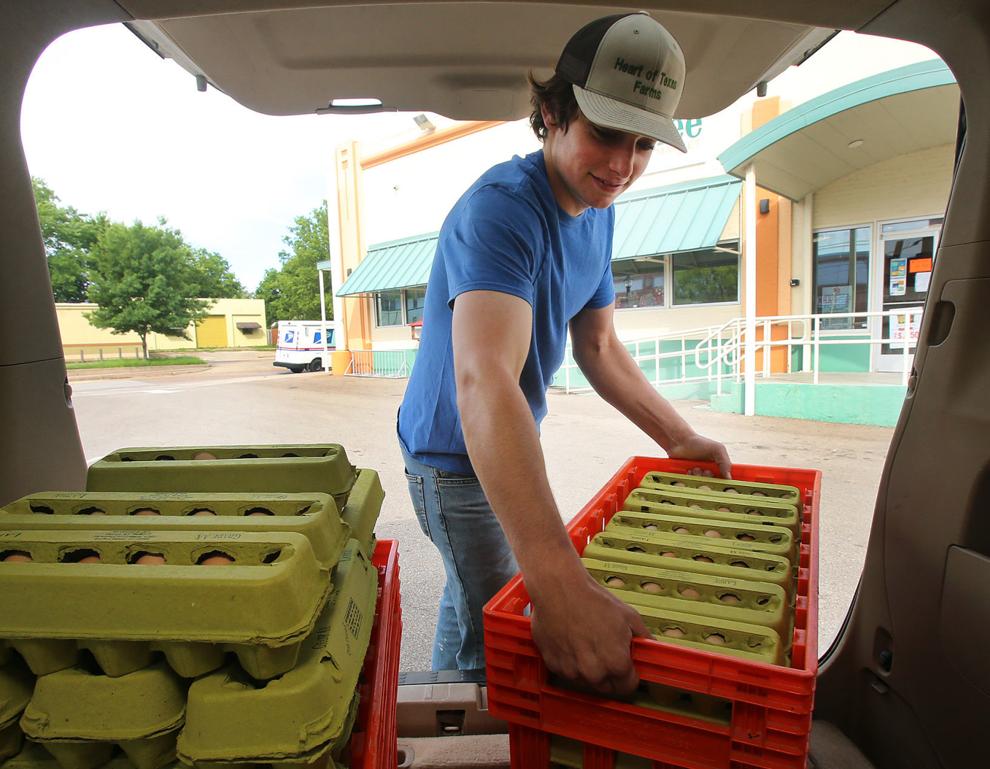 The eggs he sells typically have a brown-shaded shell.
"You can tell the color egg a hen will lay by the color of its earlobe," Benson said. "It doesn't matter the color of the feathers."
Still, chickens with white feathers do have personality traits that make them more attractive to large operators, according to Benson.
"White chickens eat less feed, are lighter, more active and lay more eggs, which is why large production farms use them," he said.
Roosters don't rule the roost at Heart of Texas Farms.
"I have only two. They're here by accident," Benson said.
The COVID-19 pandemic has kept Benson hopping, reportedly keeping his regular clients stocked with farm-fresh eggs as customers veer away from larger retail grocery stores that have experienced virus-related shortages.
He sells graded eggs from free-roaming chickens for $4 a dozen, according to the company website.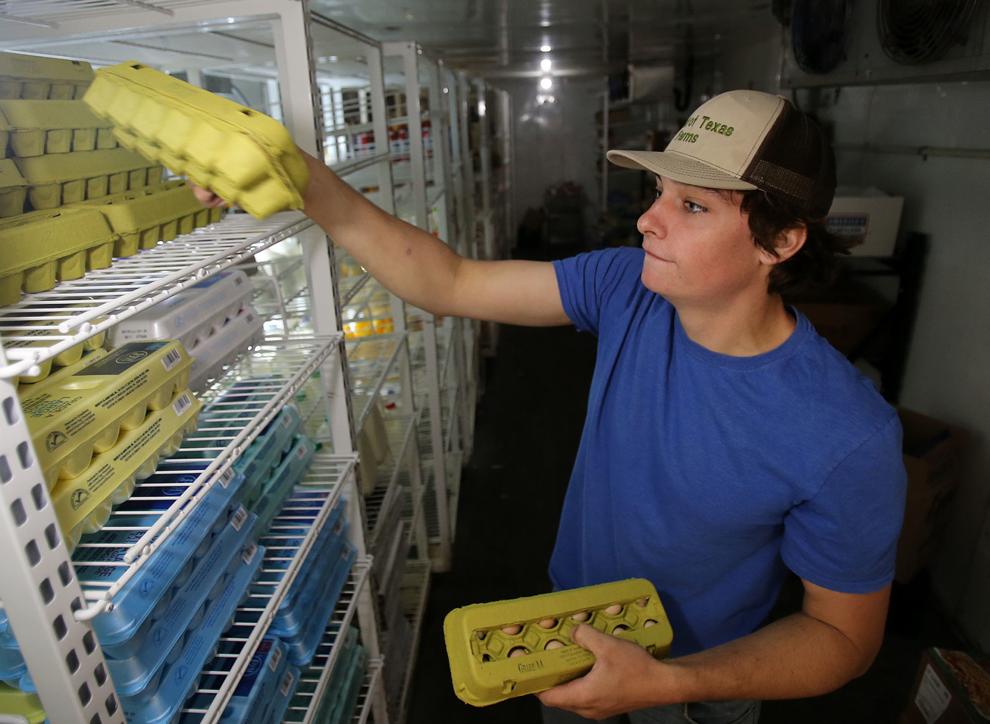 The immediate Benson family, which includes Andrew's parents, Mark and Shannon, and his sister, Annalise, live on about 150 acres. The Bensons raise a few cattle, and visitors might see a donkey or two wandering by. But the farm in Heart of Texas Farms belongs to Andrew. He is the sole proprietor, though family members occasionally lend a hand, Benson said in an interview.
When his mom and sister visit relatives in Missouri, for example, they stock up on chicks at a hatchery there for hauling back to Waco. At last count, Heart of Texas Farms was home to about 1,500 laying hens, Benson said.
That does not count the 580 chicks he was babysitting Saturday night.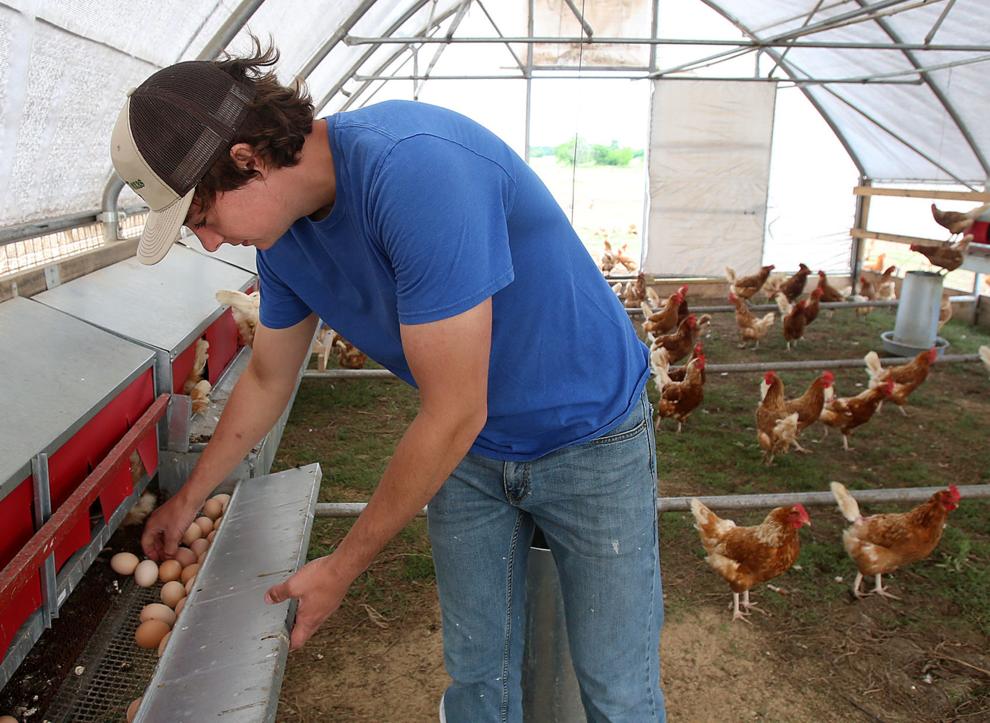 Benson said he collects about 70 dozen eggs daily for delivery. Family and friends eat those cracked or otherwise lacking in quality.
A fowl in top form will lay five or six eggs a week, he said.
Elsewhere near Greater Waco, milk-maker Mill-King was hit hard by virus-related restrictions placed on restaurants and schools. But it has changed course and now enjoying skyrocketing sales, according to its owner.