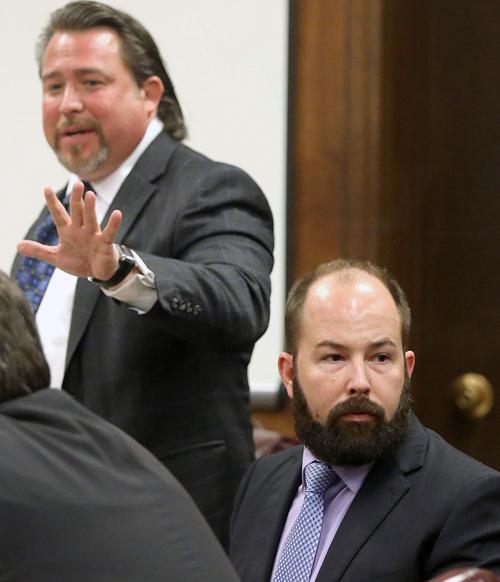 A judge sided with the founding president of Balcones Distilling in his ongoing battle with the company's board of managers, ruling that board actions since it ousted Charles "Chip" Tate in August were invalid.
In a ruling issued Monday, Judge Jim Meyer of Waco's 170th State District Court determined that Tate must be present at Balcones board meetings for there to be a proper quorum for any actions, including plans for a major company expansion, to be authorized.
Both sides in the escalating dispute filed competing motions for partial summary judgment, asking the judge to clarify the company's operating agreement.
In siding with Tate, the judge may have helped resolve some issues in the courtroom battle, but it remains to be seen if his ruling will resound in the boardroom and dissipate the personal war between company president Tate and board chairman Greg Allen.
While both sides are clear on the judge's ruling, they are less sure about whether it will heal estrangements within the whiskey-making company's operating circle.
"Judge Meyer is an excellent jurist. However, we were very surprised and disappointed by the ruling," said Waco attorney Jeff Armstrong, who represents the Balcones board. "Given Mr. Tate's continued refusal to participate with the rest of the board at duly called board meetings, Mr. Tate has now successfully created a company that cannot act and that has no ability to fund its expansion."
The board had a meeting scheduled for Tuesday. But since Tate said he would not appear, the meeting was canceled, based on the judge's ruling, Armstrong said.
The Balcones board of managers suspended Tate for 90 days in August and obtained a temporary restraining order to prevent him from entering the company he founded six years ago and placing other restrictions on him.
Meyer found Tate in contempt of court Oct. 3, ruling he violated the TRO by failing to immediately return a computer, hard drive and iPhone to the company as required.
Testimony from a previous hearing revealed Tate removed information from those devices before returning them.
But in the meantime, both sides have met to see if an agreement can be reached, and the board has not asked for a hearing to determine Tate's punishment on the contempt citation.
Board members alleged Tate threatened Allen's life and said his "unconscionable and reprehensible actions" were threatening a $15 million expansion and its funding.
Tate's attorney, David R. Clouston, of Dallas, said Tate disputes many of the accusations and remains hopeful that the dispute can be resolved.
"The most immediate effect of the judge's ruling means that all the board actions that have taken place in August, September and October are all invalid because Chip didn't participate in any of them," Clouston said. "The long-term effect is we are still trying to figure this all out because, at the end of the day, it is becoming clear that one of these people (Tate or Allen) has to go."
Tate last attended a board meeting in July, which was one of the complaints the board had with him.
According to the judge's ruling, the board violated its own bylaws by suspending Tate, filing the lawsuit against him and in deciding the funding mechanism for the $15 million expansion.
The company was founded in 2008 and upgraded its South 17th Street facility to triple its production capacity after its brand won numerous awards and built an international following.
Balcones is converting the historic Waco Fireproof Storage building at 225 S. 11th St. into its new headquarters, featuring three-story copper stills and outdoor grain silos.
Production is set to begin by October 2015, but the dispute between Tate and the board threatens the day-to-day operations of the popular spirits manufacturer.
"It is our hope that Mr. Tate will participate and engage with the rest of his co-owners," Armstrong said. "He has the ability to cripple the company if he won't."
Tate alleges that PE Investors, an Oklahoma-based venture capital group, came in last year and seized control of the thriving business he founded.
PE Investors owns 58 percent of the company and has three members on the board. Michael Rockafellow, also a board member and investor, owns 15 percent, while Tate owns 27 percent.
Under the new financing agreement approved by the board without Tate's approval, Tate's share of the company would drop to 9 percent.
Clouston said the board initially met quarterly.
But of late, the board has called meetings sporadically for unauthorized reasons, Clouston said, adding that is why Tate stopped attending.
"My guess now, based on the ruling, is a lot of the lawsuit is going to go away because a lot of those issues will be resolved," Clouston said. "The goal is to figure out what is left and what is the best way to get to the endgame. But the parties still will have to sit down and everybody be reasonable and come up with a resolution or we will fight forever."
The business news you need
With a weekly newsletter looking back at local history.