The ghosts of Christmas past held no sway over retailers preparing for Black Friday this year. COVID-19 hid the playbook and demanded adjustments to the unofficial start of the holiday shopping season arriving after Thanksgiving.
Walmart determined that if one Black Friday is good, three would be better. It has spaced out its advertised specials throughout November, appearing first at Walmart.com then on store shelves, the goal being reducing exposure to the virus.
But much of Walmart's focus remains on Wednesday through Friday this week.
Once at the storefront, shoppers will be asked to form a single straight line, while employees provide sanitized shopping carts and "health ambassadors" stationed near entrances remind that masks must be worn.
The National Retail Federation is thinking good thoughts about the shopping season heading into Black Friday, the virus notwithstanding.
"There is a lot of momentum as we head into the second half of the holiday shopping season, including Thanksgiving weekend," federation spokesperson Mia Weinand said by email. "While this year will undoubtedly look different, we know many consumers will be eager to take advantage of great deals whether they are shopping online, using services like curbside or BOPIS (buy online, pickup in store) or, in some cases, shopping in stores."
Officially speaking, the National Retail Federation predicts holiday sales will increase 3.6% to 5.2% in November and December compared to last year, for between $755 billion and $767 billion in holiday spending, which excludes money spent at car dealerships, gas stations and restaurants, according to a press release.
"Black Friday is a social event," federation CEO Matthew Shay said during a media call to announce the analysis, reported by marketwatch.com. "When consumers are demonstrating they want that kind of social opportunity again, you'll see retailers adjust their calendars to meet that need."
Economic risks remain if the virus continues to spread, but there is reason to expect robust holiday spending, according to the federation press release.
Megan Urquizo said she hopes her store at 1018 Austin Ave., Simply Irresistible, proves difficult to ignore on Black Friday and on Small Business Saturday the next day.
Simply Irresistible, among the growing number of shops popping up downtown and along Austin Avenue, offers home décor, candles, pillows, furniture and seasonal merchandise under one roof. Urquizo said business has been steady despite the pandemic, and she hopes to entice traffic this weekend with substantial discounts on seasonal merchandise.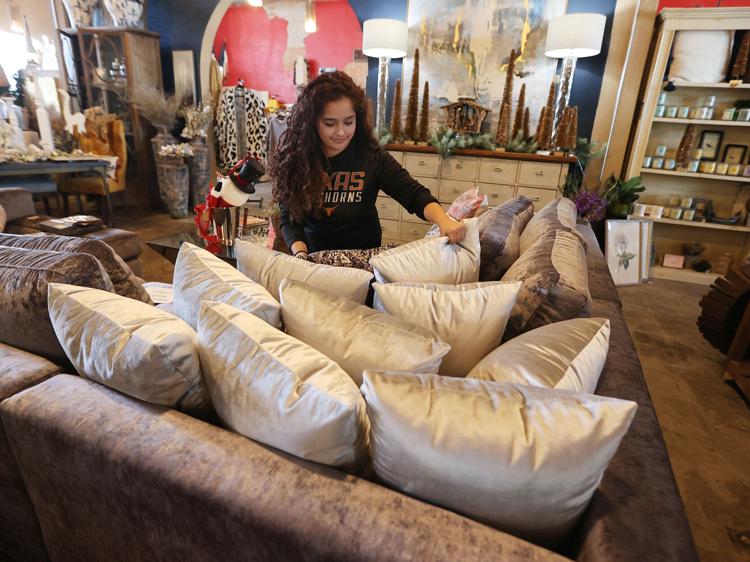 National Retail Federation Chief Economist Jack Kleinhenz said in the press release he believes pandemic-induced stressors may play a significant role in consumer behavior.
"After all they've been through, we think there's going to be a psychological factor that they (consumers) owe it to themselves and their families to have a better-than-normal holiday," Kleinhenz wrote. "There are risks to the economy if the virus continues to spread, but as long as consumers remain confident and upbeat, they will spend for the holiday season."
He said many families have strong balance sheets, "supported by a strong stock market, rising home values and record savings boosted by government stimulus payments issued earlier this year."
Target, like Walmart, took a long-haul approach to Black Friday this year, offering "Black Friday Now" deals almost continuously. The most popular items so far have been smart TVs, Apple products and coffee makers.
Sweetening the experience, said Target, is its pledge to give shoppers price adjustments if they purchase an item advertised as a "Black Friday Now" deal and it is later priced lower at the store or at Target.com.
Target, with a store at Bosque Boulevard and Wooded Acres Drive, has added safety and convenience features that include assigning more employees to use Target's "MyCheckout" app to ring up sales in the aisles, allowing customers to avoid what might be longer lines forming at the registers. Use of another service, available at Target.com/line, allows customers to secure updates on lines forming outside their favorite Target locations, and to reserve space in a line.
At Academy Sports & Outdoors, New Road and Franklin Avenue, employees will monitor the number of customers in the establishment. Each store in the Academy system has the ability to adjust the flow of customers at any given time to ensure safety and compliance with local ordinances, according to a press release.
Masks are required in Academy stores under Texas' mask mandate, and customers without a mask will be provided one by staffers.
All Academy stores open from 5 a.m. to 11 p.m. on Black Friday.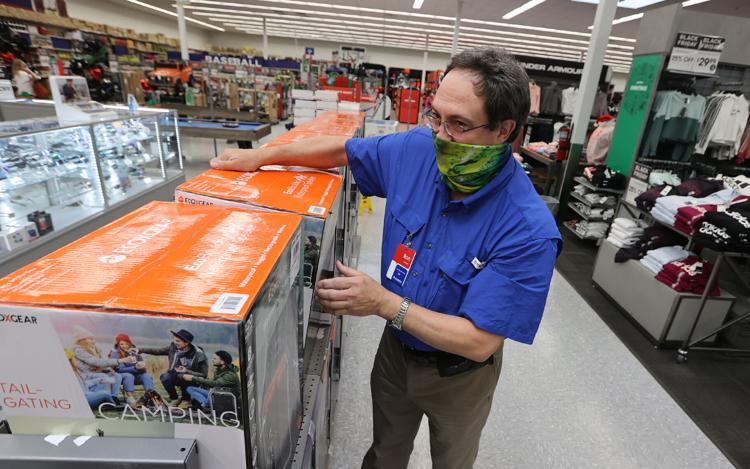 Magnolia Market at the Silos, Sixth Street and Webster Avenue, will have normal 9 a.m. to 5 p.m. business hours on Black Friday.
"We will be offering 20% off items in-store and online including, for the first time ever, furniture, though some exclusions apply," spokesperson John Marsicano said in an email response to questions.
Marsicano said Magnolia will comply with city orders that they require employees and visitors to wear masks or alternate face coverings when multiple people are in the same room. Anyone above the age of 10 must wear a mask or face covering "in any public place where maintaining roughly six feet of separation would be difficult or impossible," Marsicano said.
Waco's Richland Mall is closed Thanksgiving Day, but retailers with exterior entrances are able to open on Thursday if they choose to, said Stacey Keating, spokesperson for CBL Properties, which owns the mall.
The mall will open from 7 a.m. to 9 p.m. on Black Friday.
"Masks are required at Richland Mall, and security will have a limited number available for customers that may need one," Keating said in an email. "Many retailers have implemented one-way aisles or have spread out merchandise displays to encourage social distancing. Additionally, retailers will be monitoring occupancy within their respective stores."
Generally speaking, holiday shopping has started earlier this year, she said.
"We expect that customers will take advantage of extended hours this weekend and throughout the holiday season. … One thing we are seeing is that the people coming to the mall are doing so with the intention to buy," Keating wrote.