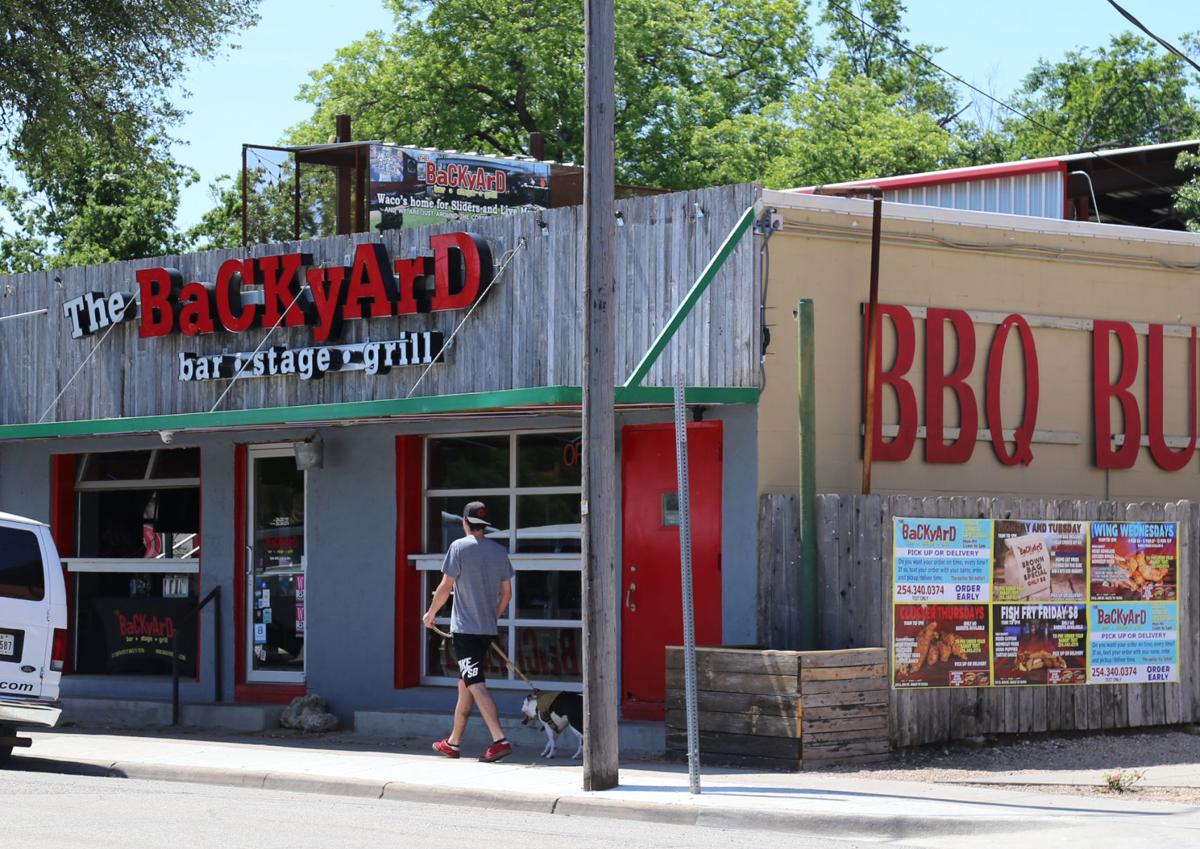 The Backyard Bar Stage & Grill downtown has everything but parking.
Chris Cox, a partner in the dining and entertainment venue, hopes to address the problem by clearing land behind the establishment at 511 S. Eighth St. It is known for live music, yard games, drinks and a menu that includes the best catfish in town, Cox said without batting an eye.
But on-site parking is non-existent, Cox said, meaning patrons must circle the neighborhood searching for slots, park on the street where possible, or walk over from public parking lots or nearby attractions. Magnolia Press, the coffee shop affiliated with Magnolia Market at the Silos, operates at 418 S. Eighth St. Motorists downtown may encounter pedestrians crossing Eighth Street, Magnolia shopping bags in hand, hoofing it toward The Backyard.
Come one, come all, but too many locals are missing the action, Cox said.
"We just don't have the lunch crowd we should have. Locals don't want to come downtown and fight Magnolia people for lunch," he said. "We used to have regular customers who work downtown, but Magnolia got so busy, they didn't want to spend half their lunch hour finding a place to park. If you park and walk, you're also losing time. I'd love to have them back."
Which is why tree stumps are appearing on property behind Backyard, near Ninth Street and Clay Avenue, where crews have begun clearing brush for a parking lot Cox will develop in phases, concluding with an asphalt surface.
It will accommodate 75 vehicles, tops, Cox said. This approach does not solve all his logistical problems, but represents a start, he said.
Despite COVID-19 restrictions that shuttered Backyard on-and-off, and his dearth of parking, Cox said he cannot complain. Backyard generates $200,000 to $250,000 in revenue monthly, "but that's what it takes to run it. The bar and restaurant business pays a lot of taxes to sell mixed drinks." Live concerts pull 300 to 1,000 people through the door, with up-and-coming acts generating the most buzz but usually costing more to book.
Cox said a night sans music may generate a 200-person crowd watching sports on the big-screen, relaxing around firepits or tossing washers. The menu features burgers and salads, battered chicken fingers called cluckers, the "hangover" burger with eggs and bacon, and catfish prepared from a simple cornmeal recipe that has become a crowd favorite.
"We don't try to overdo a good piece of fish," Cox said. "We got the recipe from a guy down in Temple. It's a little sweet and a little spicy at the same time. If somebody asks what I recommend, I always say, 'Try the catfish,' and I've lost count of how many tell me it's the best they've ever had."
Cox said Backyard about six years ago signed the lease on the 16,000-square-foot complex it now occupies. Improvements began almost immediately, and have included adding a performance stage, installing an artificial grass surface, rebuilding outside bars, placing a 40-by-60-foot lid over the entertainment area and spending $100,000 on new lighting and sound equipment. The lighted parking area will pad the tab.
But there is more to come, and he will discuss particulars soon, Cox said.
"We have a big announcement coming in a few weeks, but I don't want to spill the beans just yet," he said. "It's something we've been after a long time. It's becoming possible, but I don't want to put anything out there."
He said his announcement does not involve relocation.
"We don't own the dirt, but if we ever get the chance to purchase it, we'd love to stay just where we are," he said. "We've built a home here, made lots of improvements to a lease property. I know the city would like us to stay in the entertainment district. We may face having to move, but I hope not."
Backyard has survived COVID-19, which is more than some businesses can say, Cox said. Helping the cause was the federal Paycheck Protection Program that made funds available for paying wages and preserving employment levels.
"Unlike some places, we were still able to hold concerts," Cox said. "We provided space for about 400 people, seated, and they were spending money because they couldn't spend it anywhere else. They otherwise were staying at home. I would say we made $5 more per person than usual."
Cox and other investors own the Backyard Saloon at 500 Austin Ave., an ode to neighborhood watering holes, short on pretense and long on nostalgia.