Behind Waco's whiskey plant, Balcones Distilling, lies a spirit of a different kind. One might call it the ghost of food trucks past.
The running joke is that mobile burger, pizza, ice cream and ramen joints that do not run anymore sputter their last breath in this food truck graveyard.
A vehicle for Honky Tonk Kid BBQ lies in repose there, its work done. The crate is for sale, though Honky Tonk Kid manager Kyndall Anderson said during a busy lunch Saturday that the price remains subject to negotiation. She had to quickly address other matters, such as the line of customers forming at the restaurant's permanent location near Mary Avenue and University Parks Drive.
Anderson acknowledged with a laugh that the former Honky Tonk Kid machine "is among the few parked behind Balcones," the award-winning distillery and tourist attraction located near South 11th Street and Franklin Avenue.
Honky Tonk Kid for a time had a presence on the Balcones grounds.
But like other food trucks, it has experienced a transition. It generated a loyal following amid glowing reviews in Texas Monthly magazine, and now reaps rewards at its brick-and-mortar location.
Guess Family Barbecue made its bones parked down the street from Magnolia Market at the Silos before opening a permanent home at 2803 Franklin Ave. Xristo's Café moved its Greek and Lebanese specialties from University Parks Drive to La Salle Avenue. Nightlight Donuts and Coffee settled at U.S. Highway 84 and State Highway 6. Whizzbangs, a burger place, opened a smaller version of its longtime location on Lake Air Drive in downtown's Union Hall food hall. It also parked a truck at a former Sonic on South Valley Mills Drive.
Once concentrated near downtown, food vendors are spreading their wings, opening far-flung locations or sharing corners with brick-and-mortar establishments in hopes of someday getting their own places.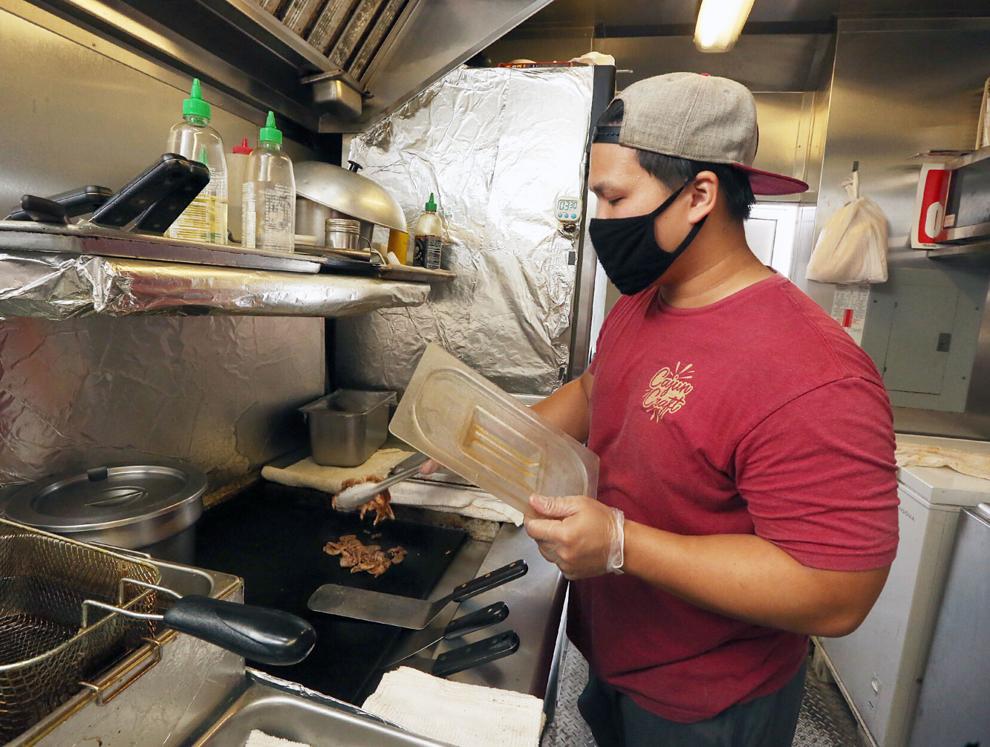 Sarah Delbosque operates Vietnomz Mobile Cuisine, a food truck specializing in Vietnamese cuisine parked near the Cajun Craft restaurant on South 11th Street. Delbosque said Hau Bui, her significant other, started Vietnomz and envisions permanence "one day in the future."
"That's definitely something we're working towards," she said.
"So far, yes, we have been well received. We are pretty well known for our Vietnamese noodle soup," Delbosque said. "We opened June 2, were supposed to start much earlier, but working around a global pandemic can be hard."
Waco diners benefit from the shuffling food trucks, said Megan Henderson, executive director of City Center Waco.
"This gives us a tremendously greater variety of types of foods," Henderson said. "Not only are restaurants learning, but Waco is learning to consume food differently, to be a little more adventurous in the food we try, to access food differently, go to different places, be better food patrons. At the same time we are supporting the restaurant scene. It's a virtuous cycle."
The emphasis placed on take-out amid COVID-19 well serves food trucks and other establishments that rely on drive-thru and curbside service, Henderson said.
"Food trucks lower the cost of entry into the restaurant business," she said. "You have a reduced initial investment, and people are free to try out new concepts. There are so many variables to a restaurant's success, not just location, service and menu, but the right mix of things on the menu, the right price points, the proportion of things on the plate. A food truck format allows the budding restaurateur to tweak each of these formulas, to see the impact on sales and profitability."
Food trucks allow business owners "to get the recipe right," she said.
It is tough to choose a favorite among Waco's food trucks, Henderson said. She selected Boardwalk on Elm, which is parked next to the East Waco Library; an open-air barbecue place called 310's Kitchen, also on Elm Avenue; and Lillard's Barbecue, another East Waco stop.
"I chose those because they're near our office," Henderson said.
She also gave a shout-out to Waffle Chic, which usually roosts next to Pinewood Roasters, a coffee shop at 2223 Austin Ave.
Another new arrival is Route 77 Food Park, located at South 14th Street and La Salle Avenue. It is hard to miss, with its pavilion, fenced-in play area, yard games, climate-controlled seating and craft beer serving area.
Tenants include Taquisa Waco, Triple B's Smokehouse, Oakley's Rustic Grill and Between the Bunz. Owner David Mercer said he is pursuing more.
"We've been open a month. I broke ground six months ago but began planning something like this at least three years ago," Mercer said. "I think Waco is definitely in the midst of a food truck craze. People have come to realize food trucks are great incubators for new food concepts.
"You can spend $40,000 to $50,000 on a food truck or half-a-million on a brick-and-mortar location."
Mercer, who calls himself a "serial entrepreneur," also owns Unlimited Self Storage on La Salle Avenue, where he continues to buy properties.
He said his ultimate goal is making several sites along La Salle Avenue "a unique destination unto itself." The street already has much going for it, as it links downtown and Baylor University to Valley Mills Drive and the traffic circle, he said.
"I'd like to see a bank branch on La Salle, shops, entertainment, maybe a regional grocery store to fill the void left when H-E-B closed its store near the Baylor campus," he said. "I'd like to get to the point where people ask, 'What are we doing today? And the answer would be, 'Let's go to La Salle Avenue.'"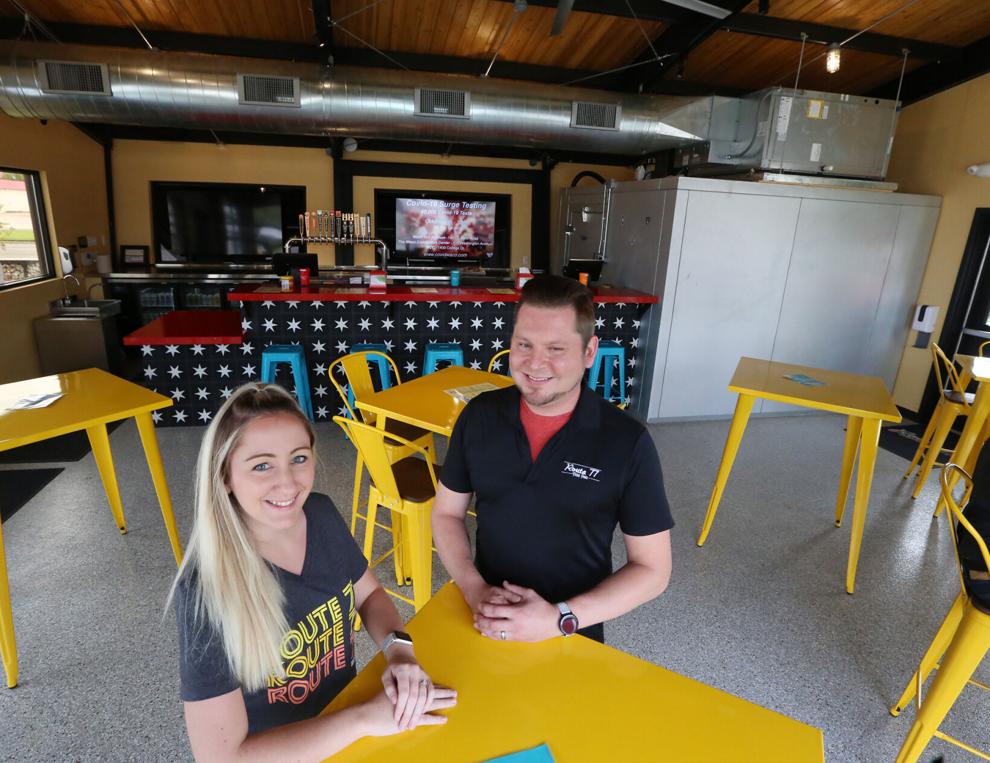 Mercer said he applied two criteria to filling the food park.
"I didn't want any two trucks to be similar, in terms of their menus, and I wanted each to have an existing social media following. I didn't want somebody fresh and green," Mercer said. "When it came time to narrow the choices, I'd get the entire office staff to visit the finalists, and everybody would order something different from the menu.
"Then I would ask, 'Is it worthy of being in the food park?' Those here now met the criteria. All already had a presence in Waco except one, Between the Bunz, owned by a husband-and-wife team from Temple."
Magnolia Market at the Silos, Sixth Street and Webster Avenue, placed its food park in hibernation when its $10.4 million expansion started.
Work is winding down, and spokesperson John Marsicano said surprises await.
"Our food trucks will return to the property upon completion of the Silos master plan," Marsicano said by email. "We will be introducing several new, unique food trucks to the grounds very soon."