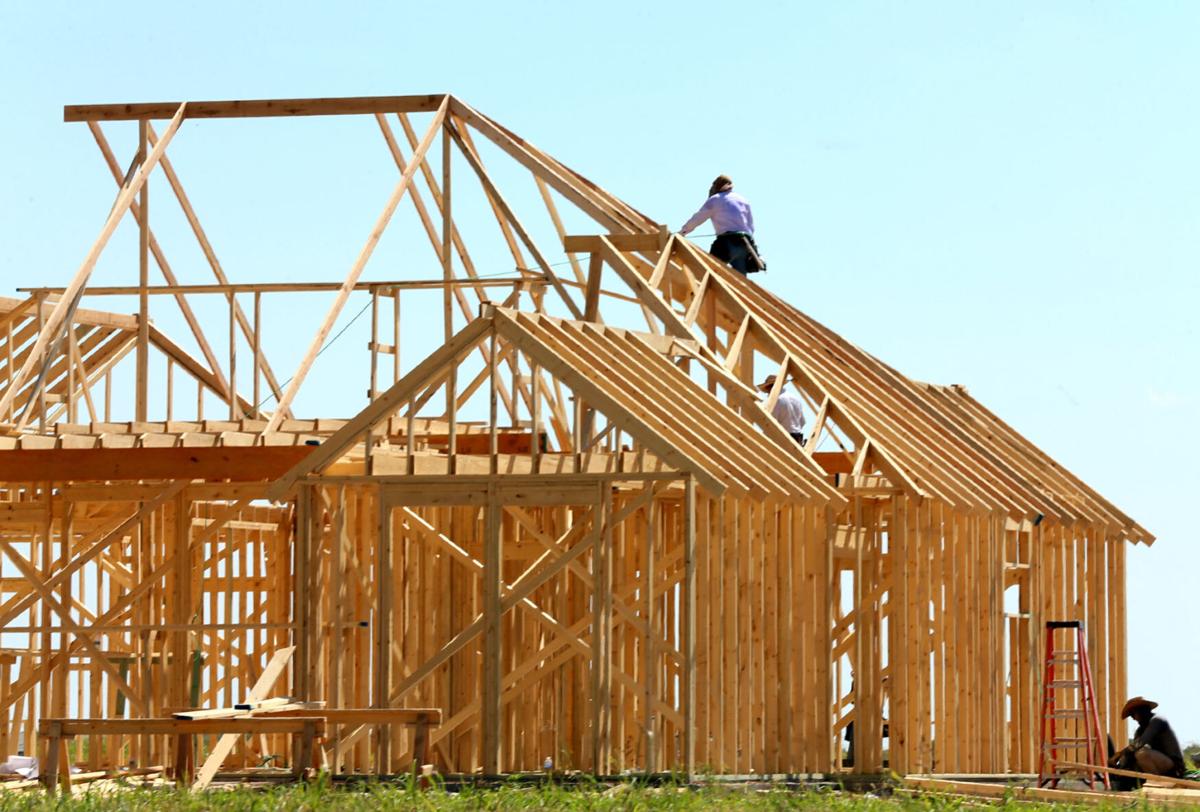 Despite the economic strain of the COVID-19 pandemic, homes in Greater Waco sold at a record pace in June, and home construction actually outpaced that in June last year, according to a report released Friday by Amarillo-based economist Karr Ingham.
Ingham's Greater Waco Economic Index again showed the area's economic markers took a tumble in June, but the rate of decline "began to show some signs of recovery from the worst effects of COVID-19," said Ingham.
The economist prepares a monthly report on local trends for the First National Bank of Central Texas and the Tribune-Herald. He uses data dating to the year 2000 to track progress, or lack thereof, in categories such as housing, employment, spending, construction and lodging.
Waco's raw GWEI score in June was 129.4, down from a revised 129.6 in May and from the 131.1 in June 2019. During the second quarter, the GWEI declined at an annualized rate of 14.6%, Ingham reported.
Still, "the residential real estate market put up record numbers in June in terms of closed sales and the average price of those sales," Ingham said.
The 383 single-family residences sold in June "is a record sales total, not just for the month of June but for any month, besting by 57 the previous monthly sales record set in July of last year, the economist reported.
Homes sold for an average of $238,700 in June, a record high for the month and 7.1% more than the average in June last year, the report said.
The 1,516 homes sold locally through June is slightly more than the number sold through the first six months of 2019.
The Texas A&M Real Estate Center released a statement on impressive home sales statewide in June, noting that they surpassed 29,000 for the first time since August 2019, according to Texas Multiple Listing Services.
"June housing activity recovered substantial pent-up demand from the economic shutdown," said James Gaines, chief economist for the Real Estate Center, quoted in a news release. "This positive momentum, however, may be temporary as new coronavirus cases have accelerated in recent weeks."
The National Association of Realtors reported a 20% increase in sales between May and June. Falling interest rates proved attractive to first-time homebuyers, who accounted for 35% of sales in June.
Home construction also surged in June, with builders taking out 42 permits to build inside the Waco city limits, a 35% increase from June last year, said Ingham, whose findings track homebuilding only in Waco and not in its suburbs. Through June, permits are down 19% from last year.
The Waco office of Associated General Contractors of America casts its net beyond Waco in tracking home construction. Ginger Ritchison, plan room manager, said local communities in July issued 73 permits to build new homes, not including permits that might be requested Friday, the last day of the month. Permits have been concentrated in ZIP Code 76708, near China Spring; and 76712, near Hewitt, Woodway and West Waco.
D.R. Horton, America's largest homebuilder, continues to erect homes at a breakneck pace locally. It secured 12 permits from the City of Waco during a six-day period beginning July 24, the AGC office reported.
Retail spending declined 8.1% in June, but not really. June totals reflect sales in April and reported to the Texas Comptroller's Office in May.
April, said Ingham, "will likely by the worst of the COVID impact on spending and retail activity . . . And in fact, it may be something of a surprise that spending activity was not more deeply affected."
Spending through June reached $1.846 billion, fractionally less than the $1.849 billion through the first six months last year, Ingham said.
"The July sales tax total has already been released, and indeed is factored into the calculation of the June GWEI. That is always the case just so we are using the most timely data available," said Ingham's report.
"Incredibly, the July sales tax aggregated total based on May taxable purchases across the metro area was higher than July 2019, suggesting a quick rebound after the deep one-month decline in April," Ingham said.
The Waco Metropolitan Statistical Area, which includes McLennan and Falls counties, continues to recover from losing more than 11,000 jobs between March and April. Ingham said the local economy recovered 4,700 jobs between April and May. The June jobless rate of 7.1% still remains nearly twice that of the 3.7% registered in June last year, Ingham said.
Spending on vehicles reached $68 million in June, significantly more than the $50 million shelled out in June last year. Hotel/motel revenue continues to sag, registering $1.6 million in June from $5.8 million a year earlier.
Carla Pendergraft, who monitors local lodging trends as marketer of the Waco Convention Center, reminded that construction continues on new hotel properties that would add more than 900 rooms to local inventory.
"Occupancy is trending upward," said Pendergraft.
But Ingham said recovery is pushing uphill, with hotel/motel spending down in June by more than 70% and off more than 65% for the quarter.
Total spending on non-residential projects, including those commercial and industrial related, surged in June to $16.5 million, a 20.7% improvement from June last year. Year to date through June, projects valued at $186 million have been permitted, a 6.2% year-over-year decline.
"The assessment of the Waco metro area economy midway through the year is surprisingly encouraging," Ingham concluded. "COVID clearly cut deeply into local economic activity, and the impacts will continue to be felt for some time to come, but the analysis of trends through June suggest a more rapid recovery than was probably expected by most."
The business news you need
With a weekly newsletter looking back at local history.