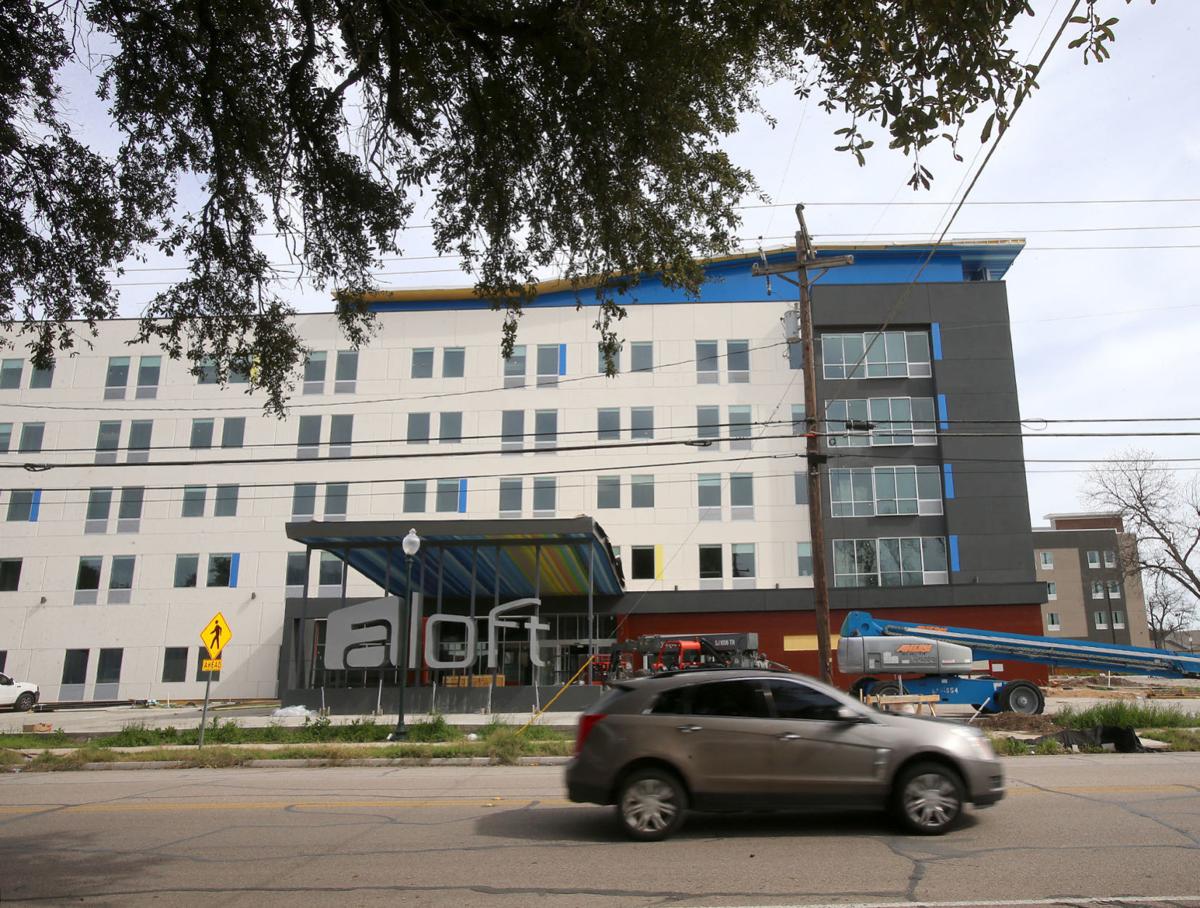 Aloft Waco, a Marriott-branded property, is hosting a celebration Monday afternoon to coincide with its opening at 900 S. 11th St., a rapidly developing area near Kate Ross Homes and a La Quinta hotel that opened last year.
The five-story Aloft hotel is owned and operated by Central Texas-based 3S Hospitality, and the ceremony from 3 to 5 p.m. Monday will include the presence of an adoptable pet from Fuzzy Friends Rescue, according to a press release.
Crossroads Yarn
Anna Cargill and her business partners have opened Crossroads Yarn at 8810 Woodway Drive. It offers classes, hosts knit and crochet nights and will assist with projects and picking out yarn or a pattern.
"For years, Waco has been in need of a local yarn shop," Cargill said in a press release. "We've lacked a place with wider offerings than the big-box craft stores, a place to learn, a place to get advice, and a place to gather."
She said the shop will specialize in hand-dyed yarns from local and international artisans, concentrating on small businesses and independent dyers.
It also will carry a full range of knitting needles and crochet hooks.
"Our store is centered around our cozy common space, where you are free to come and sit, make a cup of coffee or tea, and create to your heart's content in a comfortable and accepting place," Cargill said. "Crossroads Yarn aims to be a destination for any and all fiber artists looking for a place to feel at home. We can't wait to be in your lives."
Home sales humming
Home sales continue to impress in Waco, pandemic or no. Ashton Gustafson, with AG Real Estate & Associates, shows that 330 houses were sold last month in the Waco Multiple Listing Service area.
That is almost 10% more than the 302 sold in September last year.
The average sales price last month was $249,815, well above the $215,050 norm last year. The average number of days on the market for homes that sold last month was 52 compared with 63 in September last year, according to Gustafson's reporting, which he made available to the Tribune-Herald.
Homes last month sold for 97.7% of list price, up from last year's 96.6%.
Total dollar volume of homes sold was $82.4 million, "which is down 19.8% compared to the previous month of August, but up 26% compared to September 2019," Gustafson wrote in his analysis.
He said mortgage rates remain at record lows, but inventory remains challenging, even scarce, in most price sectors.
Franchising recognitions
Local franchising moguls are receiving national attention.
Central Texan Gary Findley, who has helped launch or loaned expertise to several franchising concepts, including Curves International, has been named a panelist on Palm Beach Atlantic University's franchising "dream team" that will participate in its upcoming Franchise Hot Seat web series.
Findley currently serves as CEO of Restoration 1 and Bluefrog Plumbing & Drain, both companies headquartered in Greater Waco.
The Franchise Hot Seat web series allows contestants to pitch their ideas for franchising to a panel of experts for feedback, according to a press release.
Meantime, Mary Thompson, COO of Waco-based Neighborly, was included in Business Woman magazine's "100 Influential Women in Franchising," and in Franchise Dictionary's "50 Women of Wonder," according to a press release.
Thompson's career includes serving as executive vice president of Neighborly, the name under which several home repair and maintenance franchising companies operate. It formerly did business as The Dwyer Group. She also was president of Mr. Rooter, a plumbing franchise, and spent eight years as a logistics officer in the U.S. Marine Corps, the press release states.
Pandemic relief loan forgiveness
Loan forgiveness under the Paycheck Protection Program, part of a federal coronavirus relief package, will be the topic of the Greater Waco Chamber of Commerce's Business PowerHour on Tuesday.
Speakers will include Ahmad Goree, representing the U.S. Small Business Administration, Keith Maynard from Maynard CPA, PLLC, and Dana Hassell, with American Bank. They will discuss "crucial steps to ensure your existing PPP loan is forgiven," according to a press release.
Sponsors include First National Bank of Central Texas and Spectrum Reach.
The event is free, but an RSVP is required.
Bellmead Whataburger progress
Local resident Gloria Gauntt keeps me informed on developments in her neck of the woods. She recently sent an email to say a new Whataburger under construction on Loop 340 in Bellmead is "moving right along," and the "parking lot is poured and striped."
"Can't wait for my sausage biscuit with strawberry jelly," Gauntt wrote.