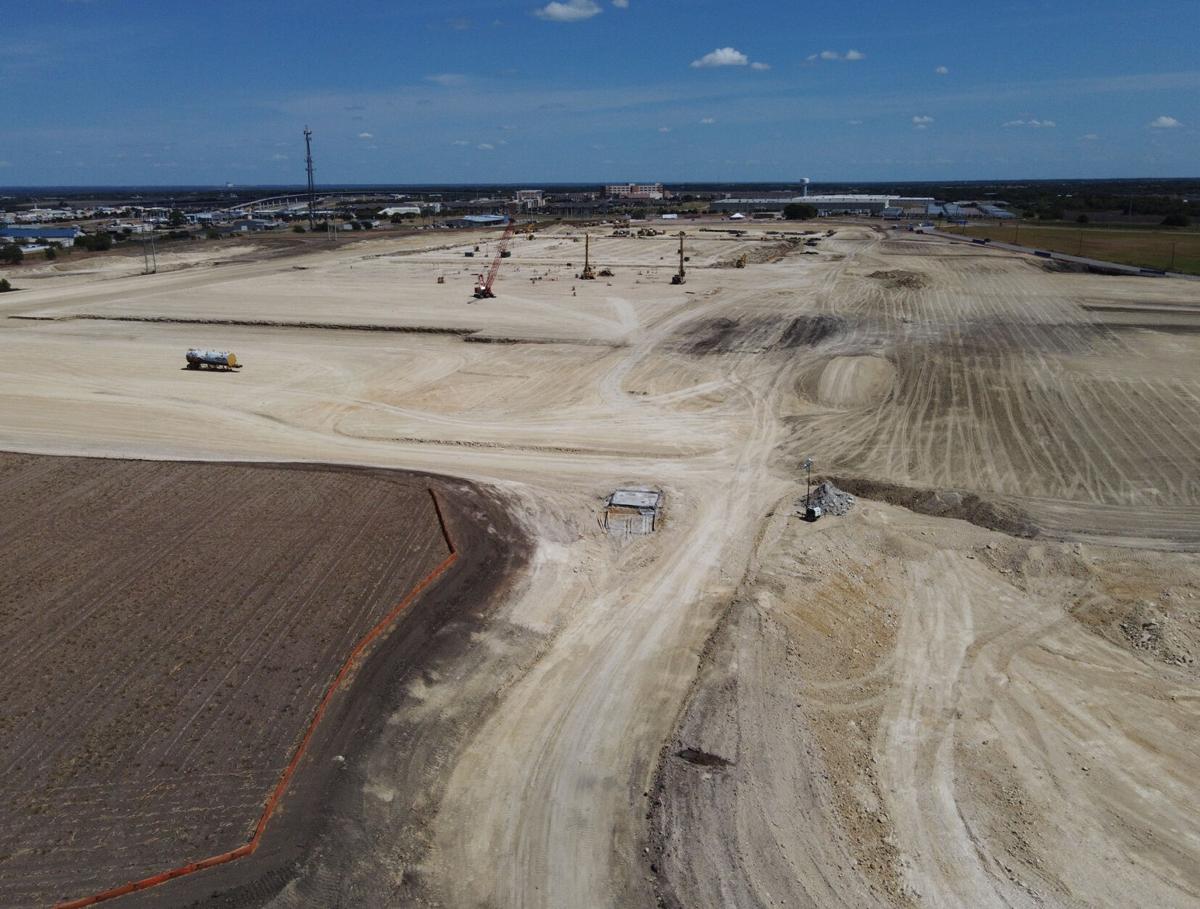 Amazon apparently pulled nobody's leg when it announced Oct. 23 it would place a fulfillment center at 2000 Exchange Parkway in Waco, employing more than a thousand people making at least $15 an hour.
Records show it secured a building permit Tuesday from the city of Waco for a multi-story distribution center at that address. Value of the permit was placed at $215 million, and the building's size was estimated at 2.69 million square feet, according to the local Associated General Contractors office.
At the Oct. 23 announcement, attended by Amazon representatives, local officials and Texas Gov. Greg Abbott, the structure's size was placed at about 700,000 square feet. That is big, but not monstrous.
Turns out that number reflects the building's "footprint," which each floor duplicates, meaning total square footage mounts.
Amazon spokespeople said the fulfillment center will open sometime next year but declined to get more specific. Kris Collins, the Greater Waco Chamber of Commerce's industry recruiter instrumental in landing Amazon, said Thursday talks continue on the incentive package Amazon will receive.
AC Hotel bids
Bids on building a new AC Hotel at Sixth Street and Mary Avenue downtown are being solicited by Key Construction of Fort Worth.
A description of the project appearing in an Associated General Contractors newsletter says the hotel "will face Mary Avenue and will include a small restaurant, a bar/lounge with outdoor and streetscape seating, an executive conference center, a two-story commercial/retail shell component, and a five-level parking garage," which will accommodate 327 parking spaces.
"Other amenities include a club-level fitness center, media suites/meeting rooms and a 1,300-square-foot exterior pool with surrounding terrace," according to the newsletter, which announces a pre-bid meeting Wednesday at the site.
Elm Avenue bank
TFNB Your Bank for Life will open its East Waco branch, 715 Elm Ave., during a ceremony scheduled at noon Monday at the bank.
Representatives of the Greater Waco Chamber and the Cen-Tex African American Chamber and Cen-Tex Hispanic Chamber are scheduled to attend.
Jason Lavender, director of strategic initiatives at TFNB, said the bank is opening the first full-service bank in East Waco in more than 100 years.
"We will prove to you through our actions and drive for excellence how we plan to become the East Waco 'bank of choice,'" TFNB Senior Vice President Dortheia Love wrote in a press release. "TFNB Your Bank for Life will provide you with expertise, a caring, listening spirit, and local decision making. We will become partners in your future successes."
The press release cites a small research project conducted by Baylor University that found the last known bank in East Waco was The Texas Guarantee Bank and Trust Co. The bank opened on Elm Avenue in 1913 but closed about three years later, according to the press release.
Bath & Body Works
Bath & Body Works opened its second Waco-area location Friday, this one next to Ross in Central Texas Marketplace, West Loop 340 and Interstate 35.
The chain also operates in Richland Mall, Waco Drive at State Highway 6.
A telephone voice message at the new store says it will allow a limited number of customers inside to comply with COVID-19 social distancing.
Stacey Keating, spokesperson for Richland Mall owner CBL Properties, said Bath & Body Works has a long-term lease at the mall and the opening of a second location elsewhere does not create concern.
The Salad Stand
The Union Hall food hall at Eighth Street and Franklin Avenue is getting two new occupants, including The Salad Stand, which may open by Dec. 1.
"The Salad Stand will offer good food that's good for you," Union Hall spokesperson Jesse Rice said by email. "Salads, smoothies and an occasional soup will make up the major part of the menu. They are excited to bring a unique and nutritious build-your-own option to downtown Waco."
Leo Spann, who along with Jenee Spann owns Po' Boy Place in Union Hall, came up with the salad concept and will serve as proprietor.
Meantime, Waco Tea Co. has received a building permit to finish out stall space in Union Hall, according to city of Waco records.
Twin Bridges CrossFit
Edward Getterman, a certified CrossFit trainer, is the new owner of Twin Bridges CrossFit at 6600 N. State Highway 6.
Getterman took over the club in July and now serves as sole owner and head coach, he said by email. Membership stands at 82, "and anyone and everyone who wants to try us gets three free classes, no obligation."
"CrossFit isn't easy, but for those willing to do the work, it is extremely mentally and physically rewarding. We take pride in this," Getterman said.
Lalo's Coffee & Pastries
A new coffee shop with a Latin flavor is poised to open at 15th Street and Colcord Avenue, near Mission Waco and Jubilee Food Market.
The name is Lalo's Coffee & Pastries, and the owner shared this on his Facebook page: "As a young Hispanic entrepreneur I strive to bring Waco every ounce of my Hispanic culture. Lalo's is not your ordinary American coffee shop. We want you to feel a small slice of Mexico when you drink your cafecito de olla."
Next door to Lalo's, a Mexican ice cream parlor, Helados La Azteca, is celebrating its first anniversary at that location.
Waco's entrepreneurship
Waco folks like to call their own shots, own their own businesses, according to a study by AdvisorSmith, a national consulting firm.
Waco placed seventh on a list of midsize cities with the most small business owners, with 84.1 small business owners per 1,000 residents. That places it just behind Akron, Ohio, and just ahead of Lubbock, according to a press release.
Topping the list is Ocala, Florida, which has 134.3 small business owners per 1,000 people, is located between Jacksonville and Tampa, has a thriving horse breeding industry and attracts tourists with its glass-bottom boat tours, according to AdvisorSmith.
Amarillo placed No. 2, with 110 small business owners per 1,000.
AdvisorSmith examined 259 metropolitan areas in the U.S., and applied data from the U.S. Census Bureau's Current Population Survey.
"We identified business owners who were self-employed in either incorporated or unincorporated businesses as their primary job, and who had worked in their business during the week they were surveyed," according to AdvisorSmith.
Midsize cities were those with 250,000 to 750,000 residents, so all of McLennan County would have been included in Waco's counting. Nationally, midsize cities had an average of 43.1 small businesses per 1,000.