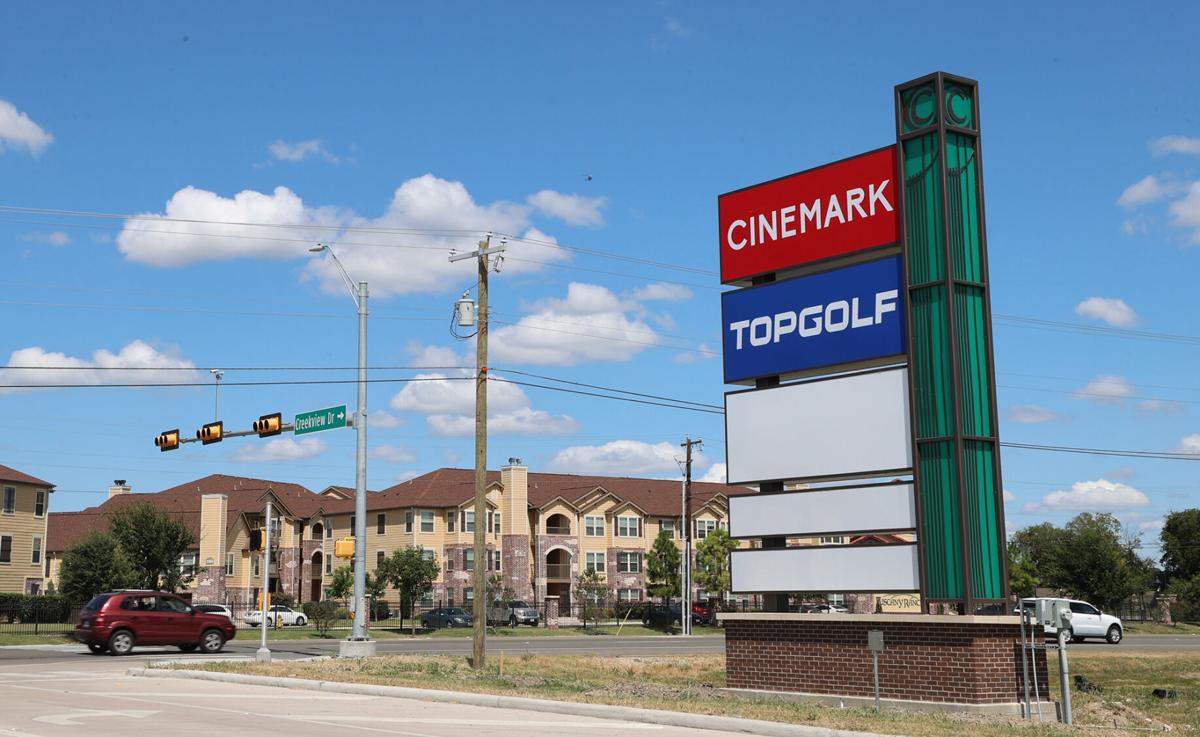 Austen Baldridge was instrumental in bringing Cottonwood Creek Market to Waco, and there he was on the front row when the 14-screen Cinemark movie theater hosted a special showing for invited guests Oct. 27.
Baldridge, a Baylor University graduate and a vice president with NewQuest Properties in Houston, said he found the new movie house at New Road and Interstate 35 a treat for the senses.
"I know Cinemark is happy, and I think it will do well there," said Baldridge, whose 143-acre mixed-use development already has welcomed Topgolf, with its weatherproof tee boxes, restaurant, lounge and miniature golf. He said a Main Event location should arrive first quarter next year, bringing bowling, billiards, arcade games, laser tag, gravity ropes and a zipline.
"I can't drop names, but I can provide a tease," Baldridge said of more coming attractions. "I'm working four restaurant leases on pads in front of Cinemark and Main Event. I would say two are new to the market."
He said prospects represent a mix of sit-down and fast-food restaurants.
Though not based here, Baldridge said he enjoys traveling to Waco, checking on construction progress and meeting with potential tenants. He said interest remains strong in Cottonwood Creek Market's housing component, and he soon will announce "adding several hundred units of multi-family."
Hacking competition
Central Texas teems with highly skilled hackers, and that's a good thing, said Jeremy Thompson, strategic advisor with Lighthouse IT. The company is based in Temple but has seven client companies in Waco, "and we're about to add a very large eighth," Thompson said by email.
"I also have quite a few connections in Waco," Thompson said. "I used to own Marble Slab Creamery, and had a couple other businesses there as well."
His reason for contacting the Tribune-Herald was the stellar performance of his cybersecurity team, "which finished in the top 10 of an international Capture the Flag competition held in October," he said in a press release. "The competition challenged teams of cybersecurity experts from around the world to put their skills to the test in a fictionalized scenario to stop an adversary named Freddie from deploying an ion cannon to destroy earth."
"There are good hackers and bad hackers," Team captain Eli Meier said. "The bad guys continue to innovate new ways to cause problems, and competitions like this help the good guys learn new ways to keep people safe."
Teams competed in categories including social engineering, cryptography and network forensics. The press release describes Lighthouse IT as an outsourcer of IT services, serving 150 local businesses and more than 2,500 personal computers. It provides maintenance, consulting and engineering.
Camping clean
Northgate Resorts apparently wants its campers to wash behind their ears early and often. The company placing 300 cabins and RV sites on acreage between Lake Shore Drive and the Bosque River has secured a permit valued at $1 million to build a "Bath House" at 5701 N. 19th St.
Northgate is developing its second Camp Fimfo in Texas, the first now operating in New Braunfels. Previous estimates have placed the cost at $25 million. The site also will include a grocery store, waterpark, mini-golf course and bike rentals.
The Waco City Council last week approved grants of up to $1.25 million in exchange for $14 million in investment in the project, with requirements for a 7,000-square-foot pool with at least two water slides, a restaurant, an accessible playground and at least 50 golf carts available for rent. The reason for the discrepancy between the $25 million estimate and the $14 million in the city deal is unclear. The public money would be paid out over seven years in increments tied to the hotel occupancy and sales taxes the campground pays.
The campground is scheduled to open in the spring.
New Waco Memorial building
Waco Memorial Funeral Home and Cemetery was founded in 1947. It has a high-profile location on Interstate 35 in Robinson, one that should garner more attention following a groundbreaking ceremony last week.
Waco Memorial will build a new 13,000-square-foot funeral home "with Modern Hill Country design and natural light throughout," according to an information sheet. The chapel will provide seating for 180 people, and the foyer will provide overflow space.
Other amenities include state-of-the-art audio and video capabilities, a large multi-purpose reception room with seating for 80, catering equipment to accommodate receptions, two visitation rooms with sitting areas to host receptions, and an on-site crematory with facilities for private witnessing.
"The new facility provides families the convenience of handling all funeral, cemetery or cremation needs in one location for many generations to come," Waco Memorial general manager Mike Wilfong said in a press release.
New Harbor Freight
Harbor Freight Tools will open a second Waco-area location at 1000 N. Loop 340 in Bellmead. A press release says construction has begun, and an opening is scheduled this winter.
The Harbor Freight store on Bosque Boulevard will remain open.
The Bellmead store will hire 25 to 30 people, including sales and logistics supervisors, senior associates, sales associates and seasonal help, the press release says. Harbor Freight opened its first store in 1980 and now has 1,200 nationally.
Amazon timeline
The Amazon fulfillment center under construction on Exchange Parkway appears finished from the outside, and the company promises media tours when the cavernous interior looks presentable. But the timetable for launching deliveries from the facility has become murky.
Kris Collins, senior vice president for economic development at the Greater Waco Chamber of Commerce, said it is her understanding the opening has been pushed into early next year due to supply chain issues that have delayed the delivery of equipment. Amazon announced it would hire at least 1,000 people, and that all staffers would make at least $15 an hour.
Employment could rise by up to 30% during peak shipping seasons.