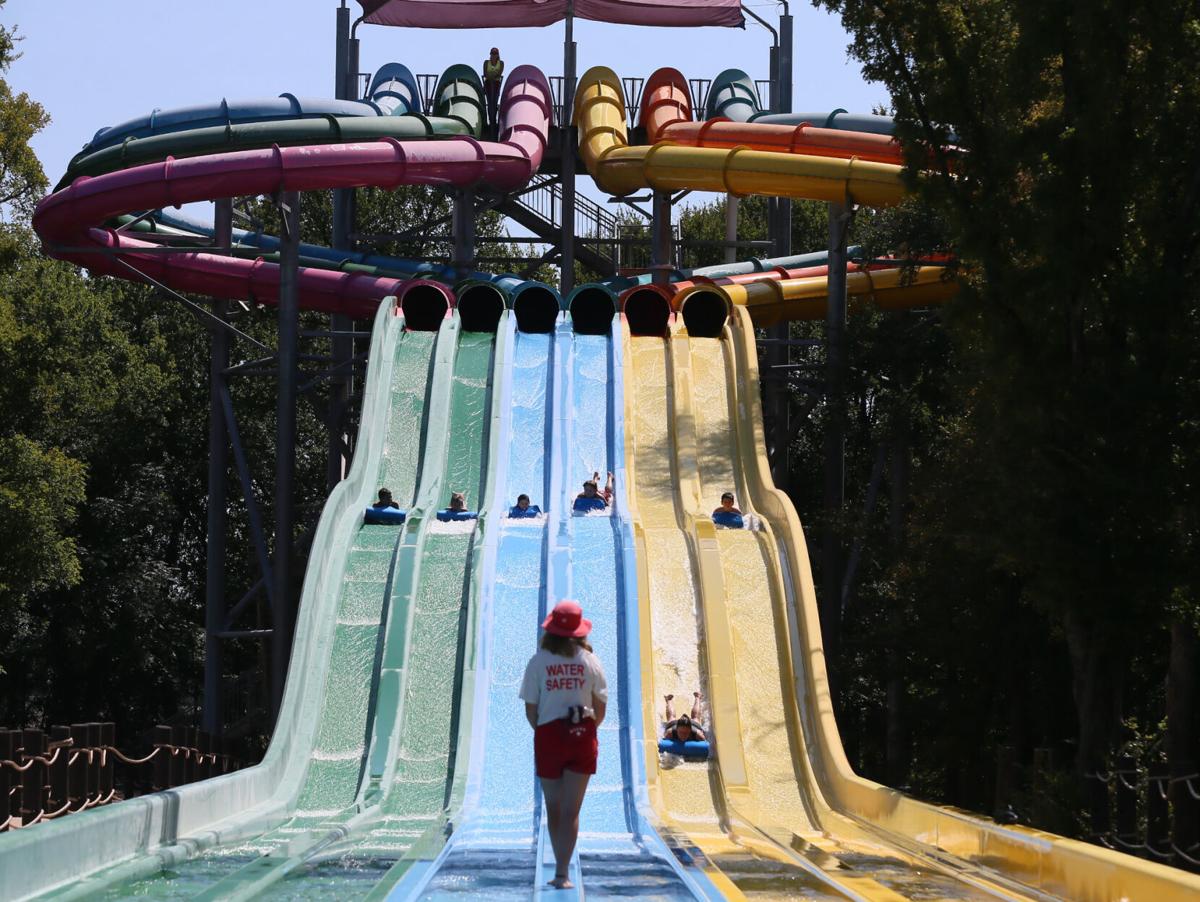 Hawaiian Falls, the splashy park on Lake Shore Drive, will hire more than 250 seasonal employees for its warm-weather run, management announced.
It recently held a job fair to fill positions for lifeguard, slide attendant, cashier, work in the food and beverage departments, front gate, EMT, maintenance, park services and cash control. It also wants to fill leadership positions.
Hawaiian Falls in Waco will open for the summer on Mother's Day weekend, May 8 and 9, and moms get in free each day if accompanying a child with a Big Kahuna day ticket or a season pass, according to a press release.
Hawaiian Falls locations in Waco, Roanoke and Mansfield are owned and operated by Pro Parks Attractions Group, a private entity.
Topgolf open
Topgolf has moved past the sneak-peek stage, and now welcomes the general public to visit its Waco location at New Road and Interstate 35, where they can drive shots from climate-controlled bays in good weather or bad, play a nine-hole miniature course or relax with friends watching big-screen TVs. Topgolf has a restaurant serving food and a full bar offering drinks.
Grand opening festivities took place Friday morning.
The surrounding mixed-use development of Houston-based NewQuest Properties looks promising as a job generator. Topgolf hired 200 staffers for Waco, and temporarily dispatched to Central Texas seasoned veterans from far-flung Topgolf outposts to ensure a smooth introduction to the community.
Main Event, meanwhile, will arrive early next year, providing Topgolf with a neighbor and likely friendly competitor, and creating 150 to 200 jobs, spokesperson Doug Terfehr said in an email to the Tribune-Herald.
Cinemark, the theater chain, is erecting a 14-screen property in NewQuest's 143-acre entertainment destination along I-35. Here's betting Cinemark's personnel needs will rival those of Main Event and Topgolf.
Aerospace scholarships
More than 30 companies with ties to aviation and aerospace do business in Greater Waco, including the massive L3Harris Technologies plant that modifies and maintains military aircraft and the headline-making SpaceX, which tests rocket engines in nearby McGregor and recently landed a $2.89 billion contract with NASA to exclusively develop, test and fly two missions to the moon, with the second flight in early 2024 to include astronauts.
That in mind, the Greater Waco Aviation Alliance is offering scholarships to local students who take classes in aviation, aerospace or related engineering at Texas State Technical College, Baylor University, McLennan Community College or at the Waco campuses of Tarleton State University and Texas Tech University.
Applications are due by May 14, according to information provided by the Greater Waco Chamber of Commerce, which is partnering with the Aviation Alliance to ensure area students can fill high-flying local jobs.
Visit the chamber website for more details.
Ichiban close
Work is winding down on the Ichiban Japanese Steakhouse near Interstate 35 and Valley Mills Drive, adjacent to Orscheln and Bubba's 33 sports bar.
Owner Sean Lin said he hopes to open Ichiban next month. Lin already has a presence in Waco, owning Fuji Steakhouse near Richland Mall.
Anyone driving by the Ichiban building or dining nearby must have been impressed by the size of the place. It is a whopper. Lin said in a phone interview it will seat more than 300 people, but did not have exact numbers.
"Ichiban specializes in premier Japanese cuisine without the hefty price tag," its website states. "Dine at the sushi bar for the full experience of having a skilled sushi chef prepare your meal. Ichiban prides itself on selecting only the freshest fish and ingredients to prepare every meal."
Talk of Hawaiian Bros
A reader who frequently shares tips, and who is nearly always right, tells me Hawaiian Bros Island Grill is considering the Waco. The chain launched by brothers Cameron and Tyler McNie while living in Hawaii reportedly is sending out feelers about local construction and development opportunities.
According to the company website, the brothers McNie introduced the restaurant in 2018, determined to "share the flavors of Hawaii with the mainland." The narrative states the brothers approached learning traditional Hawaiian recipes and cooking techniques "with reverence and commitment," and opened their restaurant only after achieving food worthy of representing Hawaiian culture.
Its website shows locations in Chicago and Kansas City, and in the Texas cities of Austin and Garland with plans for others in Denton, Kyle and San Marcos.
Hawaiian Bros specializes in Hawaiian plate lunches that feature sweet and savory chicken or pork, veggies, white rice and macaroni salad.
Encompass Health job fair
Encompass Health, which is building a rehabilitation hospital in Robinson, has announced an all-day job fair May 11 at the Waco Hilton downtown.
Attendees will learn about the hospital, jobs available and benefits, "and have the opportunity to sit down with hospital leadership for an interview," according to a press release. "Interested applicants should bring copies of their resumes to the event and RSVP in advance to ehc.careers/wacohiringevent."
The 40-bed inpatient hospital likely will open in August.
Marina closure
Uncle Gus' Marina and Resort, a presence on Lake Whitney since 1952, has filed for Chapter 7 bankruptcy protection and is closing.
The U.S. Army Corps of Engineers released a statement telling patrons to recover their property and vessels immediately, if they have not done so already. Access to the marina will be limited going forward.
The Corps of Engineers said the closing involves only Uncle Gus' Marina. Other private marinas and concession areas may remain available.