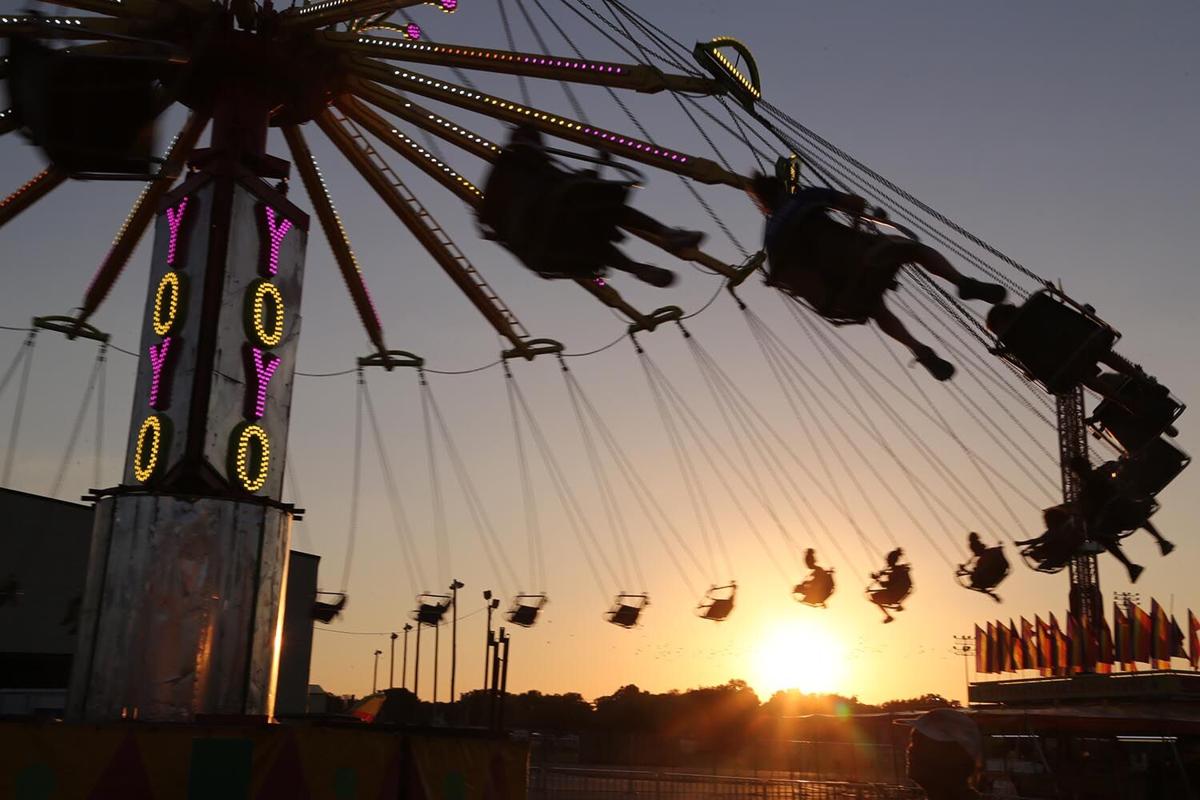 With the Heart O' Texas Fair locked down because of COVID-19, the fair folks wisely chose to sell fair fare outside the gates. My family and I visited the venue one day last week, and it was, all in all, an enjoyable experience.
We dined on corn dogs and nachos and swigged lemonade, then topped off the visit with fried pecan pie, fried brownies and fried Hershey's s'mores. We walked about 75 yards across a moonlit parking lot to a covered seating area. Everyone wore masks and practiced social distancing.
The setting provided an opportunity to talk about what some might call the good old days of the HOT Fair & Rodeo, way back in the '60s, '70s and '80s. During peak hours on crisp evenings, crowds were massive. The rodeo featured one big star who would entertain during each performance, usually someone from a popular TV western, or a hero of popular culture.
"Star Trek's" Spock, Leonard Nimoy, appeared one year.
Dub King, fair spokesperson nonpareil, would accompany the Heart O' Texas Smile Girls to the Tribune-Herald newsroom, where he and they mixed with reporters and talked up the coming attractions. The much anticipated HOT Fair & Rodeo parade drew thousands to downtown, passing right by Tribune-Herald offices.
The paper daily published page after page of fair results, listing winners and near-winners in seemingly countless categories: baked goods, canned goods, artwork, photography, crafting and children's doodling, to name a few.
And participants did not have to pay to enter the competition.
Restaurant owners publicly repeated the party line that the HOT Fair & Rodeo is great for Waco, but privately complained their business suffered.
There was an edginess to the event once upon a time. Some unshaven, red-faced carnival workers could become aggressive or obnoxious while making their pitches. Cold beer was known to make cowboys and cowgirls loud and proud. Rodeo clowns were funny but not always politically correct.
Freak shows, when such things were still accepted, included animals with two heads or too many limbs. There was the snake woman and the guy who swallowed flaming swords or hammered nails into his noggin.
The rides looked risky. The ride operators looked bored.
The whole scene marinated in that wonderful, overpriced fair food: turkey legs, corn-on-the-cob, cotton candy, burgers and Tex-Mex.
Times were different. It seems the HOT Fair & Rodeo once generated more excitement, more anticipation. There was more there, there.
Or maybe I'm just showing my age. That's likely the case.
There's always next year, and it could be something special. Perhaps COVID-19 will be a distant memory. The new $32 million addition to the Extraco Events Center complex should be 6 months old when the HOT Fair and Rodeo rolls around in October 2021. Completion is expected in March.
In the meantime, the HOT Rodeo will carry on this weekend and next. Ticketed crowds at the Extraco Events Center will be smaller than usual because of distancing, but the lineup remains full of bovine, equine and mutton busting.
Despite the pandemic, work on the Extraco Events Center project remains on schedule, structurally and financially, according to county officials and contractors.
Voters approved a bond issue in 2017 backed by taxes on hotel stays and car rentals. The county entered into a $32.4 million contract and has paid $21 million to date, County Administrator Dustin Chapman said.
COVID-19 has devastated the lodging industry, meaning the county's funding source to pay back the bond debt has taken a beating.
"We began collecting revenues in September 2017, with our first scheduled bond payment in December 2018," county officials said in an email response to questions. "That provided more than a full year to accumulate funds to set aside in the event of an economic downturn," though no one saw COVID-19 coming.
With Waco becoming a tourist town, the county's hotel and car rental tax revenues were percolating. They reached $2.35 million in fiscal year 2019, meaning after making that first $1.88 million debt service payment in December, the county could place $500,000 in a reserve fund sitting at $3 million.
In fiscal year 2020, which ended Sept. 30, and with the pandemic afoot, revenue slipped to $1.75 million. The county for the first time dipped into its reserve to make a bond payment.
Using the last quarter of fiscal year 2020 as a baseline, and applying conservative estimates, the county suggests revenues in fiscal year 2021 will suffer a COVID-19 hangover, coming in at $1.42 million. That would require a $460,000 transfer from the reserve fund to make the bond payment.
But even if the annual shortfall were to stick on that figure, "the county can go more than six years without missing a bond payment," Chapman said.
Chapman provided figures suggesting revenues are trending upward.
"On the hotel/rental tax, we have averaged about $115,000 a month on collections since the pandemic hit in March," he wrote. "This is down from an average of around $180,000 a month. September was encouraging as last month's collections totaled $150,979."
Meanwhile, Carla Pendergraft, who markets the Waco Convention Center, provided data showing Waco's hotel occupancy rate hit 58% in August, the highest since it plunged to 29.5% in April's pandemic-induced freefall.
Free mammograms
Bird-Kultgen Ford is donating $10,000 to Baylor Scott & White Health to provide mammograms to Central Texas women who do not have the ability to pay, according to a press release.
The donation comes in recognition of Breast Cancer Awareness Month. A signup session is scheduled from 10 a.m. to 3 p.m. Wednesday at Bird-Kultgen Ford, 1701 W. Loop 340.
Baylor S&W Hillcrest Breast Center will have representatives there.
Chamber golf
The Allen Samuels Chamber Golf Classic is scheduled Oct. 29 at Ridgewood Country Club, and the chamber is registering participants.
Rounds will start at 7:30 a.m. and 1:30 p.m. Lunch will be provided from 11:30 a.m. to 1:30 p.m. With registration, each player will receive tournament swag, lunch, drink tickets and opportunity to network.
"The tournament will take place rain or shine, but if there is lightning, play will be suspended and/or cancelled," according to the chamber invitation.
For more information, call Jason Powers at 757-5608.
Concerned about COVID-19?
Sign up now to get the most recent coronavirus headlines and other important local and national news sent to your email inbox daily.