The long-vacant building at Franklin Avenue and Valley Mills Drive, home to Ryan's Family Steakhouse years ago and later a buffet or two, will be razed, giving passersby a better view of the AMC Galaxy movie theater and freeing up acreage for development, real estate agent Randy Reid said.
The 10,000-square-foot structure has been on the market for ages, with a California listing agent trying to move it from afar. A local investor bought the property late last year and agreed the best approach to bringing attention to that prime corner would be removing the building, Reid said.
"I think that corner is outstanding," he said. "There are a lot of high-sale restaurants nearby, including Rosa's, Cheddar's and Chick-fil-A. Walmart, Lowe's, Academy Sports and Tractor Supply are in the area."
Reid said Ryan's closed "at least a decade ago," and users that followed crashed and burned because of their reliance on a "worn-out dining concept," namely the buffet. That approach is more unacceptable now than it was then, because of the ramifications of COVID-19, Reid said.
Ironically, he said he sold that corner to Ryan's way back when. The key to the site's future success is finding the right owner or tenant, Reid said. The investor who bought the building is willing to sell, lease or subdivide the 2.5 acres.
"I've had feelers, yeah," said Reid, who believes the corner is ideal for a convenience store, car wash, oil-change shop or fast-food restaurant.
Acreage between the Ryan's site and the movie theater remains in flux. Reid brokered a deal with a group wanting to build a Hispanic-oriented grocery store on a tract nearest Ryan's, but it never materialized.
"They actually cleared the land off, put sand down and got ready to construct," Reid said. "Then they just stopped, and I don't know why."
Other property nearby, specifically the land where an old Precision National Plating plant once stood, "is owned by the theater people," Reid said. The building is gone, but chunks of the foundation remain. The discovery of chromium around the old plant site and in groundwater brought involvement by the Texas Commission on Environmental Quality.
Monitoring wells were installed to track remediation efforts.
The TCEQ responded to a Tribune-Herald inquiry last week in an email, saying: "The Precision National Plating Services Inc. site, located at 333 S. Valley Mills Drive in Waco, is being addressed in the TCEQ's voluntary cleanup program. The facility operated from approximately 1960 through 1997, when the plant was decommissioned. Soil and groundwater contamination have been delineated. Soil contamination has been addressed.
"The applicant continues to conduct groundwater monitoring both on-and-off-site, and the remaining groundwater containment plume continues to be addressed through treatment."
The land is suitable for improvement, and the remediation efforts "would not prevent someone from building on the site as long as any future development is consistent with commercial/industrial land use," according to the statement.
Main Event plans
Main Event, the Texas-based company specializing in game and entertainment venues featuring bowling, billiards, virtual reality games and food, has submitted plans to the city of Waco, inspection services department spokesperson Bobby Horner said. The paperwork now is making the rounds to various city departments for consideration.
Horner declined to discuss details, but did say the proposed venue "is just under 49,000 square feet." It would become part of Cottonwood Creek Market, a development along Interstate 35 near New Road, undertaken by Houston-based NewQuest Properties. Construction is well underway there on two elements: Topgolf and a 14-screen Cinemark theater.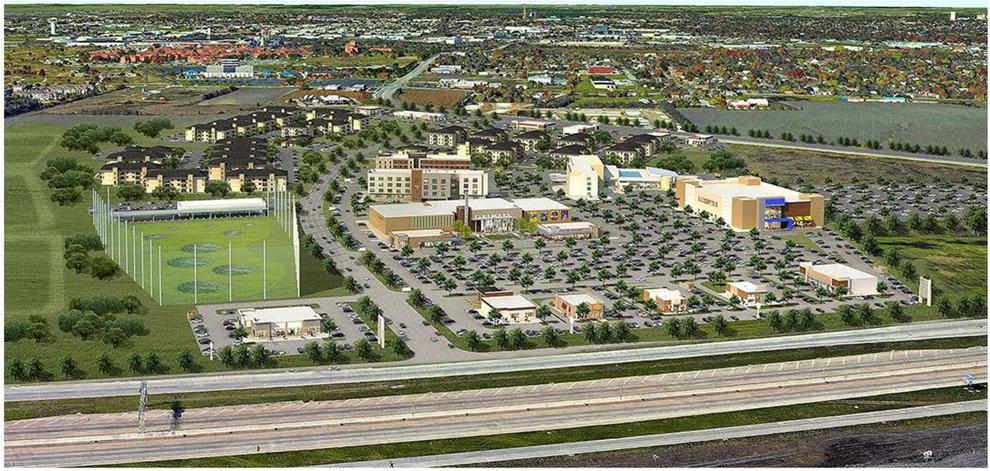 Sweet valentines
Kevin DeVries, owner of Splendid Oaks Chocolates, 11th Street and Franklin Avenue, is excited about what he hopes is a sweet season.
"January was slow sales-wise, but most of our focus has been in ramping up production as much as possible for Valentine's Day. It will likely be our busiest week of the year," DeVries wrote via email. "We had a pretty good holiday season because a lot of customers got them as gifts for their loved ones. Overall we are happy with where we are as a business and excited to keep bringing delicious desserts to the Waco community."
He said customers can expect additions to his lineup regularly.
"Our most popular flavors are apple pie, bananas foster, and peanut butter and jelly," said DeVries, who studied entrepreneurship at Baylor University. "We also came out recently with new flavors like whiskey cinnamon roll and gianduja, which is a confection made from hazelnuts."
The shop now offers 29 candy flavors, DeVries said.
"We are also selling Graeter's Ice Cream," he said. "They are based out of Ohio, and we expect for our ice cream sales to ramp up as the spring approaches and the weather warms up. They have a similar approach to making their ice cream as we do our chocolates. Small batches, high quality ingredients, handmade, and never sacrificing quality for efficiency."
Elsewhere downtown, sweets for the sweet are available at Hey Sugar, 808 Austin Ave., whose inventory of candies and soda pop is extensive, including iconic brands and flavors that give the place a touch of nostalgia.