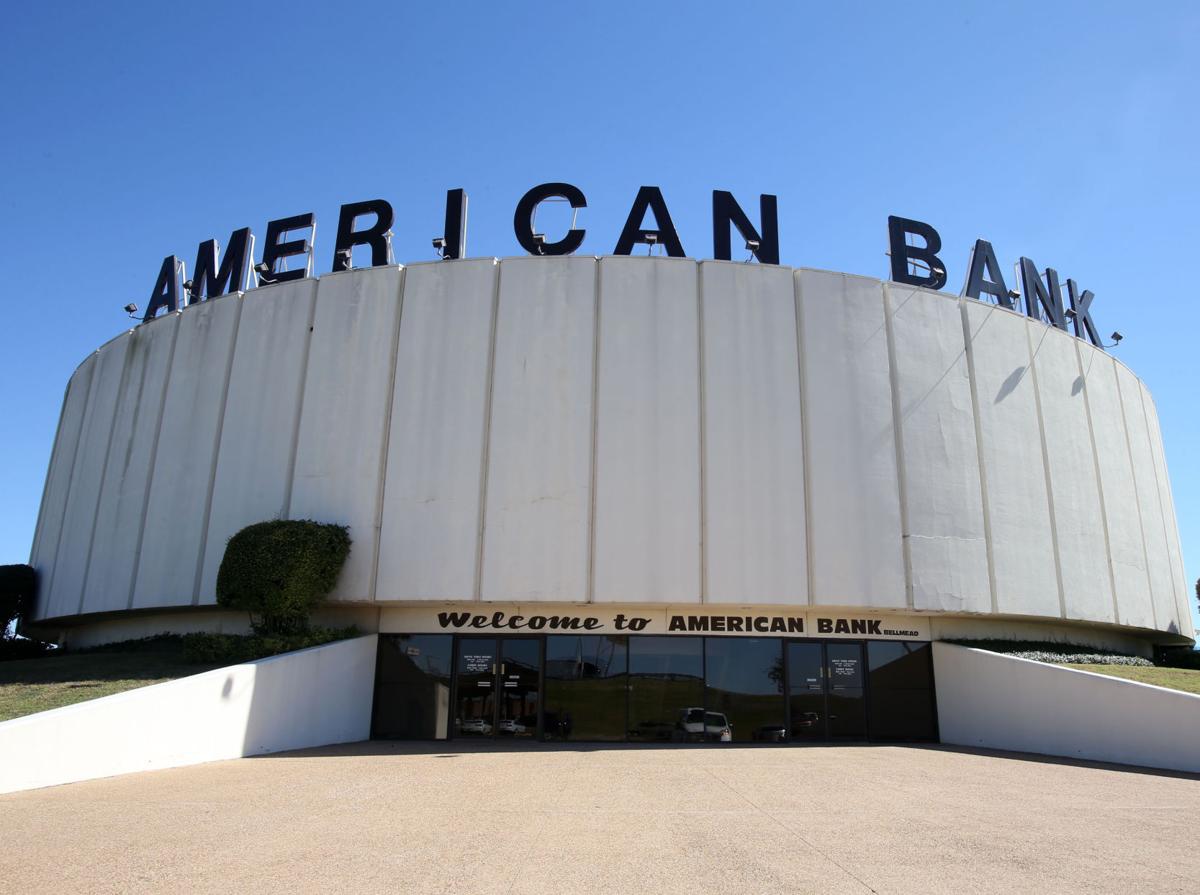 The round bank is going down starting Wednesday.
Wrecking crews will begin dismantling the exterior of the landmark structure at North Loop 340 and Interstate 35 in Bellmead, clearing space for a new American Bank location that bank officials say is long overdue.
When it opened in 1979 with a design by Dallas architect Durwood Pickle, the round bank became a conversation piece due to its unique design. More recently, Robert Redford used the bank's lobby as a set piece for his movie, "The Old Man & The Gun."
But the 25,000-square-foot building is showing its age. American Bank tried mightily to make it work, considering several remodeling approaches. None proved feasible, president and CEO Dana Hassell told the Tribune-Herald.
"The exterior demolition is expected to last two weeks and then construction of the new building will take about nine months given no major weather setbacks," said American Bank spokeswoman Casi Bowers in an email.
Built Wright Construction is overseeing the entire project.
Po' boys, pizza
Despite the pandemic, the Union Hall food hall at Eighth Street and Franklin Avenue continues to attract social distancing crowds. We at the Tribune-Herald are in a position to know, as Union Hall is a neighbor of ours.
"Union Hall has seen an outpouring of support from the local community during this time of limited capacity," marketing coordinator Jesse Rice said in an email. "We are spacing out tables, encouraging social distancing practices, and requiring patrons to wear masks when they are not eating or drinking."
Several vendors now offer take-out and delivery service, Rice added.
Two occupants have announced expansions, said Rice, who mentioned that Leo and Jenee Spann, who operate Po' Boy Place, will add salads. Unshakeable Milkshakes, meanwhile, is increasing its square footage. La Fiesta's Castillo family will introduce its third concept at Union Hall, The Village Pizzeria, New additions are Waco Tea Company and Rockin' Rolls.
Common Grounds opens in Fort Worth
Common Grounds, a coffeehouse serving the Baylor University campus, has opened a Fort Worth location, the first outside Waco, the Baylor Lariat student newspaper reports.
The location at 3110 Greene Ave. near Texas Christian University will offer live music as well as coffee, according to its website.
"We felt like there was a low risk in trying to expand to a bigger city because even if we didn't have the hardcore local support, we knew that plenty of people who lived in Fort Worth had been to Baylor before or have been through Baylor because of TCU-Baylor games," Trey Lumley, co-owner and general manager of Common Grounds Fort Worth, told the Lariat.
Blake and Kimberly Batson own Common Grounds, which opened in an old house on South Eighth Street in 1995.
McLane Direct
Groceries sold wholesale directly to consumers is a new service provided by Temple-based McLane Company Inc., part of the McLane-named family of supply chain services traceable to Drayton McLane Jr., former Baylor University regent, billionaire and namesake of McLane Stadium.
Introduced in Bell County, McLane Direct is actively pursuing expansion, said Keith Ross, senior vice president of corporate merchandising.
"McLane Direct continues to welcome new customers. We add new items to the site each week an expect that interest will continue to grow," said Ross in a news release. He said McLennan County residents may use the service and pick up their goods at the McLane Southwest distribution center in Temple.
Delivery services are not available at this time, said the release.
Customers can buy edible and non-edible grocery items such as snacks, candy, frozen foods, general merchandise and health and beauty products.
Minority fund grows
A fund to assist minority business owners has gained the support of McGregor-based TFNB Your Bank for Life, which has pledged $10,000 in matching funds, said media contact person Jason Lavender.
The newly created Cen-Tex Minority Business Equity Fund is pursuing donations to assist in the effort, hoping to make grants and microloans of $2,500 available to those especially hard hit by COVID-19.
"TFNB has brought not only financial support to the CTMB Equity Fund, but they have also brought a commitment to the community . . . We proudly stand with them as we answer the call for positive change," said Rachel Pate, VP of economic development of the Cen-Tex African American Chamber of Commerce, referencing TFNB plans to open an East Waco branch.
Money donated to the equity fund are in care of TFNB.
Gas prices down
Traveling over the Labor Day weekend may lack the drawing power it once did. But those venturing out will see the lowest gas prices in 16 years.
The Texas norm of $1.91 per gallon for regular unleaded is 37 cents less than the average this time last year, according to the AAA Texas auto club.
The prevailing price in Waco on Thursday stood at $1.87 a gallon.
"Texas pump prices are shaping up to be the cheapest for a gallon of regular unleaded on Labor Day since 2004," said AAA Texas spokesperson Daniel Armbruster in a news release. "This shows just how much of an impact the COVID-19 pandemic has had on fuel prices, even after a major hurricane interrupted refinery operations in the Gulf of Mexico."
AAA: Don't hang mask from mirror
AAA issued a warning to those taking to the highways over the holiday: Reconsider hanging face masks on rearview mirrors when not in use.
"A mask or any other object hanging from a mirror can partially block your field of vision, increasing the risk of a crash," said AAA in a release.
Balcones brews for chamber
Balcones Distilling, Waco's award-winning whisky maker, is selling "Black is Beautiful" beer, part of an industrywide effort to raise awareness.
The dark Imperial Stout, which went on sale at noon Friday priced at $13 for a 32-ounce growler, is available only at the Balcones distillery near 11th Street and Franklin Avenue, said Eric Kukla, director of retail operations.
Produced onsite, the beer was aged six months in a whisky barrel.
All proceeds will be donated to the Cen-Tex African American Chamber of Commerce, which mentions the promotion on its website.
Home sales up
Another month, another impressive showing for home sales.
A total of 403 homes changed hands in August, a 14% jump from August last year, according to AG Real Estate & Associates of Waco.
Average sales price was $255,194, up about 18%. Homes that sold stayed on the market an average of 60 days, and sold for 96.9% of list price, said Ashton Gustafson, citing Waco Multiple Listing Service statistics.
Total dollar volume of homes sold was $102 million, a 34% year-over-year increase, said Gustafson, whose news release said mortgage rates continue to hang at all-time lows and residential inventory remains scarce.
Anthem Stories
Peter Ellis' grand plans for the historic Stratton building at Eighth Street and Austin Avenue continue to take shape, with a fall unveiling planned for what eventually will become a "multi-faceted, yet peaceful shopping experience in the Heart of Downtown Waco," says an update on progress.
It will accommodate a restaurant, café, basement lounge, B&B's and lofts, said the release, but multi-story retail space will dominate the lower floors.
A sneak peek at the upscale merchandise to be displayed is now available at www.anthemstories.com, according to a news release.
The business news you need
With a weekly newsletter looking back at local history.