Waco's economy continues to shed its COVID-19-induced lethargy, its jobless rate dropping again in July to 6.5% from 6.9% in June.
The Waco Metropolitan Statistical Area, which includes McLennan and Falls counties, saw the number of people employed increase by an estimated 2,000 between June and July. That is the good news. The bad news is that the number of people working remains about 4,400 less than last July's count.
Texas, meanwhile, saw its seasonally adjusted jobless rate slip to 8.0% in July, "the third consecutive monthly decrease and the lowest rate since March 2020 when the Texas economy was initially impacted by the COVID-19 pandemic," a Texas Workforce Commission press release states.
"July's unemployment numbers continue to show the underlying strength of Texans and our economy," Workforce Commission Chair Bryan Daniel in a release.
Waco's 6.5% jobless rate was the sixth-lowest among the 27 metropolitan areas included in the workforce commission's rundown.
Hotel opening
Grandly opening a new hotel during a pandemic that has sliced and diced the lodging industry may sound like a fool's errand.
That being said, welcome and best wishes to the new 98-room Tru By Hilton Waco South tossing out the welcome mat near Central Texas Marketplace.
Carla Pendergraft, director of marketing for the Waco Convention and Visitors Bureau, confirmed Tru's truly bold move. She said staffers from the city's tourism and convention center offices were visiting the property Friday, doing their homework before touting the venue to visitors eyeing Waco.
Actually, Tru is arriving as hoteliers are enjoying a rebound, Pendergraft said. The citywide hotel occupancy rate plummeted to 29.5% in April, when the virus began tightening its grip and travelers stayed away in droves. Compare that number with the 79.5% occupancy rate in April 2019.
Waco has emerged as a force in the travel and tourism industry, with Magnolia Market at the Silos leading the charge. The city has become a state leader in attracting visitors and filling hotels to near capacity.
Pendergraft sees a glimmer of hope in a return to those days.
Since April, the occupancy rate rose to 40.3% in May and 52.2% in June before falling to 44.9% upon the virus' re-emergence last month. August is shaping up as a breakthrough month, Pendergraft said. The occupancy rate on Aug. 15 reached 74.3%, she said. Granted, that was the Saturday before students started moving into their dorms at Baylor University, and parents and students seemingly formed a caravan to Waco.
But Pendergraft said that performance reflects a trend.
"Starting in mid-July, our occupancy rate was even with the state a couple of weeks, but we've started to pull away," she said. "Not everything is hunky-dory. We're still certainly in recovery mode. But it makes one hopeful to see these higher numbers, especially with new hotels opening."
A Residence Inn property under construction adjacent to Central Texas Marketplace likely will open within two months, Pendergraft said.
"Of course, this does great things for hotel revenue, but these people are eating in restaurants, floating on the river, throwing some axes," she said, laughing, referencing the opening of Stumpy's Hatchet House downtown.
QuikTrip permit
The Tribune-Herald reported many months ago that QuikTrip, a Tulsa-based convenience store chain, planned to open its first Waco location.
A reader responded with an email to the effect that QuikTrip is no ordinary highway stop for gas and munchies. She said its locations have a quality that is hard to describe. They have an air of professionalism and quality.
She regularly inquires about progress on the QuikTrip front.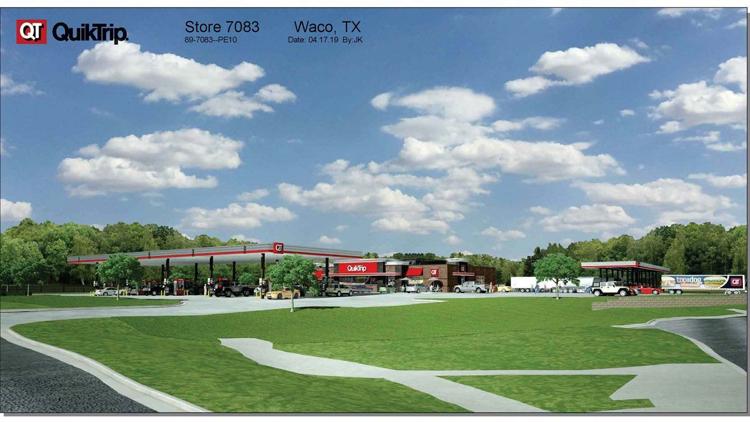 Happy to report that QuikTrip has secured a building permit to place a store at 2350 S. New Road, near the Interstate 35 frontage road populated by IHOP, Denny's and the Flying J Travel Center, among others.
Already prime, that area should become more of a traffic magnet with NewQuest Properties' work nearby toward an entertainment and dining complex. It would include a 14-screen Cinemark theater, Topgolf, bowling, restaurants and, eventually, a residential component.
The QuikTrip website says the privately held chain now operates more than 800 stores, enjoys $11 billion in annual sales and employs 20,000. Stores offer more than the usual convenience store fare, menus featuring tacos, grilled-cheese sandwiches, barbecue sandwiches, Quikshakes, soft pretzels, pastries, wraps, specialty drinks and biscuits and gravy.
Home sales strong
Local home sales were off the charts in June, prompting some to theorize buyers emerged from isolation to buy homes they viewed online.
Whether the trend would last became subject of debate. Well, July was another stellar month, state and local records show.
"Home sales exploded compared to a year ago," said Ashton Gustafson, local real estate agent who provides market analysis.
He said 432 homes changed hands in July, 20% more than the 359 sold in July last year, according to Waco Multiple Listing Service. Total dollar volume of homes sold was $105.6 million, almost 30% more than last year.
Vibrant home sales locally mirror those statewide and nationally. The Texas A&M Real Estate Center reported almost 35,000 listings closed last month, "breaking record highs." July sales nationally were up 8.7% compared to a year earlier, according to the National Association of Realtors.
Building permit roundup
Several noteworthy building permits were issued in recent weeks, as compiled by the local Associated General Contractors office:
HomeGoods, a national retailer of discounted furniture, cooking supplies and housewares, will locate in Central Texas Marketplace, spending an estimated $900,000 to finish out space at 2408 West Loop 340.
Black Oak Art, a ceramic pottery studio, has secured a permit valued at $300,000 to prepare space at 1619 Franklin Ave., where it will have lobby, office and restroom space, a kiln, drying room and pottery room.
Hormones By Design, expansion of office at 1201 Hewitt Drive, $40,000.
Finish out space for Nail Creations, 6500 Woodway Drive, $80,000.
Finish out space for convenience store, 18th Street Liquor, at 1223 N. 18th Street, Pearson Construction, no cost estimate given.
The business news you need
With a weekly newsletter looking back at local history.