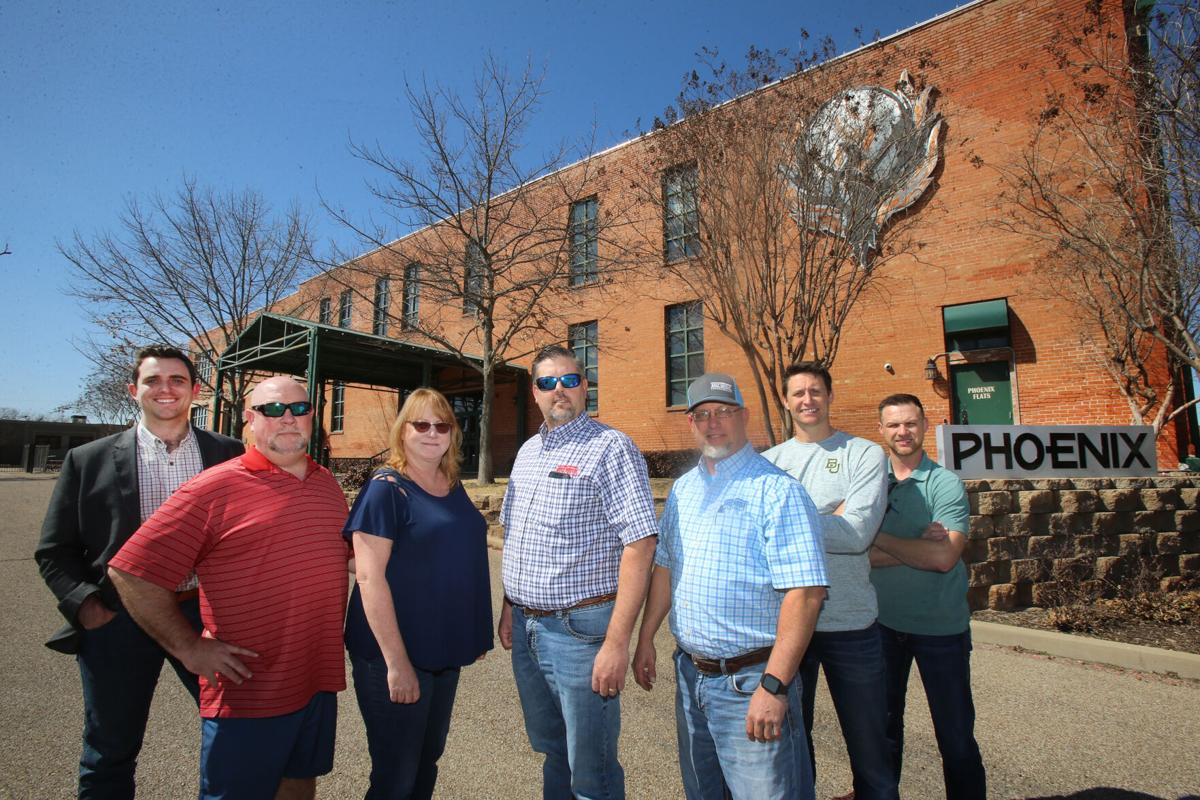 A Baylor University regent and the owner of a local construction company have joined to buy The Phoenix Ballroom, a hulking structure on South Third Street affording a front-row seat to downtown development.
Regent Todd Patterson, a Houston patent attorney with a Waco office, collaborated with Built Wright Construction's Steve Wright and Mike Voss in acquiring the two-story building that has hosted thousands of weddings, corporate events and proms the past few years. Previous owner Leslie Henry placed the freshly remodeled structure on the market in October, with real estate agent Colt Kelly announcing a $4.3 million asking price.
The buyers, who comprise WPV Development, will place more than a dozen upscale apartments on the top floor while transforming the ballroom on the bottom floor to mixed uses including professional office, commercial and dining. Wright and Patterson, in phone interviews, said dining cuisine remains under discussion, but both said a fine steakhouse tops their lists.
Henry will remain at The Phoenix Ballroom through June, having committed to honoring all reservations through that month, she said.
"She deserves credit for what The Phoenix has become, its attractiveness to local investors," Kelly said. "It has become a success story."
One might say its geographic location is unmatched. A new Embassy Suites hotel and a Hyatt Place property will rise within walking distance. Magnolia Market at the Silos, fresh from a $10.4 million expansion, operates just up the street and stands easily visible. Work is wrapping up on Pivovar, a Czech-themed restaurant, brewery and hotel at Eighth Street and Webster Avenue.
Czech investors said an office tower could arise next to Pivovar.
Last but certainly not least, the $100 million Riverfront project on Lake Brazos is taking shape to offer dining, shopping, apartment living and lodging.
Upon listing the property, Henry said it was not a COVID-19 casualty. She said the building legally could accommodate almost 600 people, but she had maintained a self-imposed occupancy limit of about 400 people. The pandemic caused her to trim that number further, but the building remained in use.
"I've been doing this 12 years, and I'm ready to see what else life has for me," Henry told the Tribune-Herald in October of her decision to sell.
The building now housing The Phoenix Ballroom was built in 1907. Users have included Hamilton-Turner Grocery Co. and several divisions of Crawford-Austin Manufacturing Co., which made furniture, awnings, tents and venetian blinds. Later occupants were Ozark Leather Co., which made saddles there, Spirit Graphics and T-Shirts Plus, according to a fact sheet Kelly provided.
Henry bought the structure in 2007, shortly thereafter launching an 18-month renovation that included replacing the heating, ventilation and air-conditioning systems and restoring swaths of hardwood.
The ceiling and interior decorative columns also received fresh looks.
"We're going to have a residential second floor, with some commercial and professional office on the first, all while preserving the beautiful architecture as it now stands," Patterson said.
He founded what became the Patterson/Sheridan law firm in Houston, which has gained prominence in patent and trademark law. Patterson established a Waco office when veteran patent litigator Alan Albright became judge of Waco's federal district court. Waco has quickly become a hotbed of patent litigation, and a trial involving $1 billion patent infringement claims against Intel even kicked off in the Waco court Monday.
Patterson signed a lease on the second floor of the former 4-C Business College property at Eighth Street and Washington Avenue. His office, which includes former McLennan County District Attorney Abel Reyna, will operate above the Tecovas boot store bound for the ground floor.
"Waco is such a great area, with a lot of potential for growth," Patterson said. "We're continually seeing buildings change ownership, people wanting to contribute to the vibrancy of Waco. They are aware of the history these older buildings represent, and they want to maintain that history."
Patterson said he met Wright about five years, winning a hunting trip to Wright's ranch in Colorado, where they stalked elk and mule deer.
Kelly, who marketed The Phoenix, said interest among buyers swelled when the price dropped from the original $4.3 million to about $3.9 million. Wright said $3.9 million was in the ballpark of the final sales price.
He said further investment could approach $1.5 million.
"I'd like to see a high-end steakhouse, something like 135 Prime or Diamondback's. It has a good kitchen," Wright said. "We will have about 13 apartments on the second floor, one 2,100 square feet with three bedrooms, one 1,700 square feet and one 1,600 square feet. Most of the others will be one-bedroom units of about 800 square feet."
He said interest already is percolating, and lease negotiations have started. He said monthly rates will range from $1.50 to $2 a square foot.
Clay Fuller, with Turner Behringer Real Estate, represented Wright, Voss and Patterson in their pursuit of The Phoenix Ballroom.