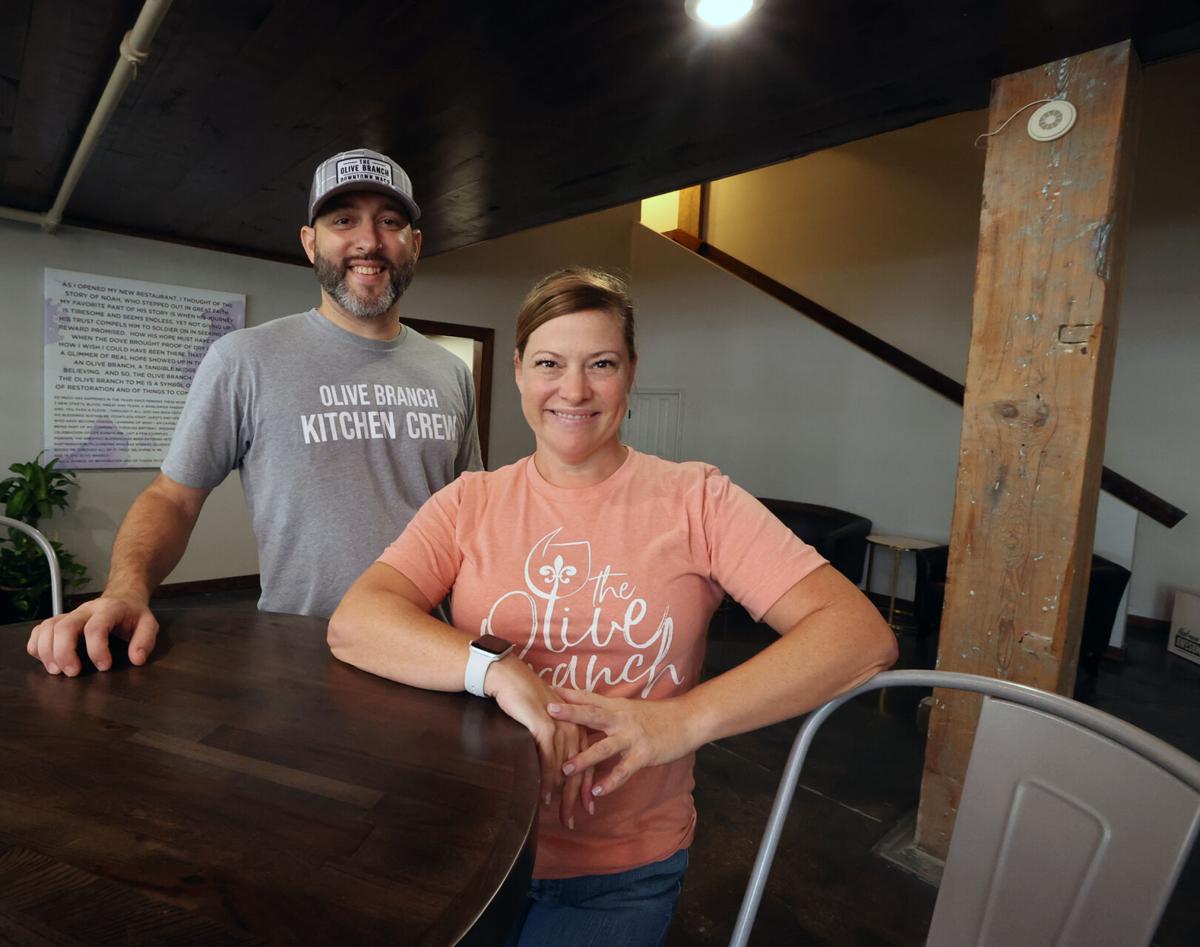 Leah Stewart took a chapter from Noah's experience with water when she chose a name for her downtown restaurant in 2003.
Alas, her Olive Branch eatery suffered its own encounter with a rising tide in February, when Waco's ice storm burst pipes above her ground-floor space at River Square Center.
But Stewart has recovered nicely to reopen last Friday, and there are no reports of her dispatching a dove to check on flood damage. One might recall that Genesis 8:9-11 recounts Noah prayerfully sending out a dove from his ark after a 40-day flood in hopes of finding a dry spot. The bird returned with an olive branch.
Sitting in her remodeled digs on the first floor of River Square, Stewart said the five-month pause between Feb. 14 and July 14 could have left her business high and dry, but didn't. Stewart used the break to ponder Olive Branch's future, its place in a downtown brimming with potential. She opted to launch dinner service, crafted an appetizer menu, vowed to beef up the bill of fare, so to speak, knowing nighttime diners may arrive hungrier.
Those appetizers include crispy brussels sprouts, fried green tomatoes, fried goat cheese, wild mushroom au gratin, charcuterie board, fruit and cheese plate, sliders trio and garlic herbed oil, according to a list Stewart provided.
Fortunately, she said, the new local owners of River Square and her insurance carrier, Pinnacle Insurance Group, did right by Olive Branch. She received about $150,000 to replace contents and lost business income. Local business leaders Clifton and Gordon Robinson, who now count River Square in their Brazos River Capital portfolio, launched repairs to the Spice Village and Olive Branch space,as well as what the Tribune-Herald now occupies.
"Pinnacle took very good care of us," said Stewart.
Last Sunday, less than a week into Olive Branch's reopening, between 300 and 400 diners enjoyed brunch at Stewart's home away from home, where work crews and Stewart's staffers worked almost daily since mid-February to replace refrigerators, iPads, computers and other kitchen equipment rendered worthless by standing water. Stewart said she, co-owner Michael Carney or other staffers showed up daily to meet delivery trucks and contractors.
Stewart expects downtown's continued development and Spice Village's return later this summer from temporary quarters at 924 Austin Ave. should bolster Olive Branch's attendance. She's eager to see what other River Square neighbors contribute to her dinnertime traffic flow. She is aware that Trojan Cork & Keg and Cricket's Grill and Draft House can attract lively crowds many nights.
The Olive Branch previously closed daily at 3 p.m., but later hours may capture the fancy of men wanting to relax with a meal and big-screen TV watching while their significant others browse through Spice Village's dozens of shops.
One big adjustment, said Stewart, has been calculating price points. COVID-19 has changed the dining world, creating scarcity and delivery hassles.
"We have had to recalculate all costs. We hadn't seen an invoice in five months," Stewart said. "There have been shortages all over."
Fortunately, Stewart and her crew were able to flex their experience at preparing meals. St. Alban's Episcopal Church provided space and kitchen equipment to fill orders Olive Branch had on its books in February, when Stewart's world changed, though not for the first time.
Stewart, a 1998 graduate of Baylor University, bought the former La Petite France eatery on Franklin Avenue, creating a niche for her soups, salads, baked goods, omelettes, French toast, wraps, pasta and pesto chicken. The restaurant also offered its own distinctive blends of coffee.
An opportunity presented itself to relocate to an exciting new development at Fourth Street and Austin Avenue, a mixture of residential living, retail and dining options. Moving parts delayed her move-in by 10 months, so her business was dormant. On that occasion she carried no insurance that would cover her lost revenue. She toughed it out before moving to River Square Center, where she really wanted to be all along.
Her remodeled space seats 100, with room for more tables once demand dictates expansion. Her staff totals 14, and she's hoping to hire more. Olive Branch has a new look and a new feel due to five months' undivided attention in response to February's natural disaster. About one year ago, she signed a fresh five-year lease, meaning River Square is home at least four more years.
Those entering will notice new tables and chairs, gleaming stainless steel serving and ordering bars, towering ceilings and treated concrete flooring.