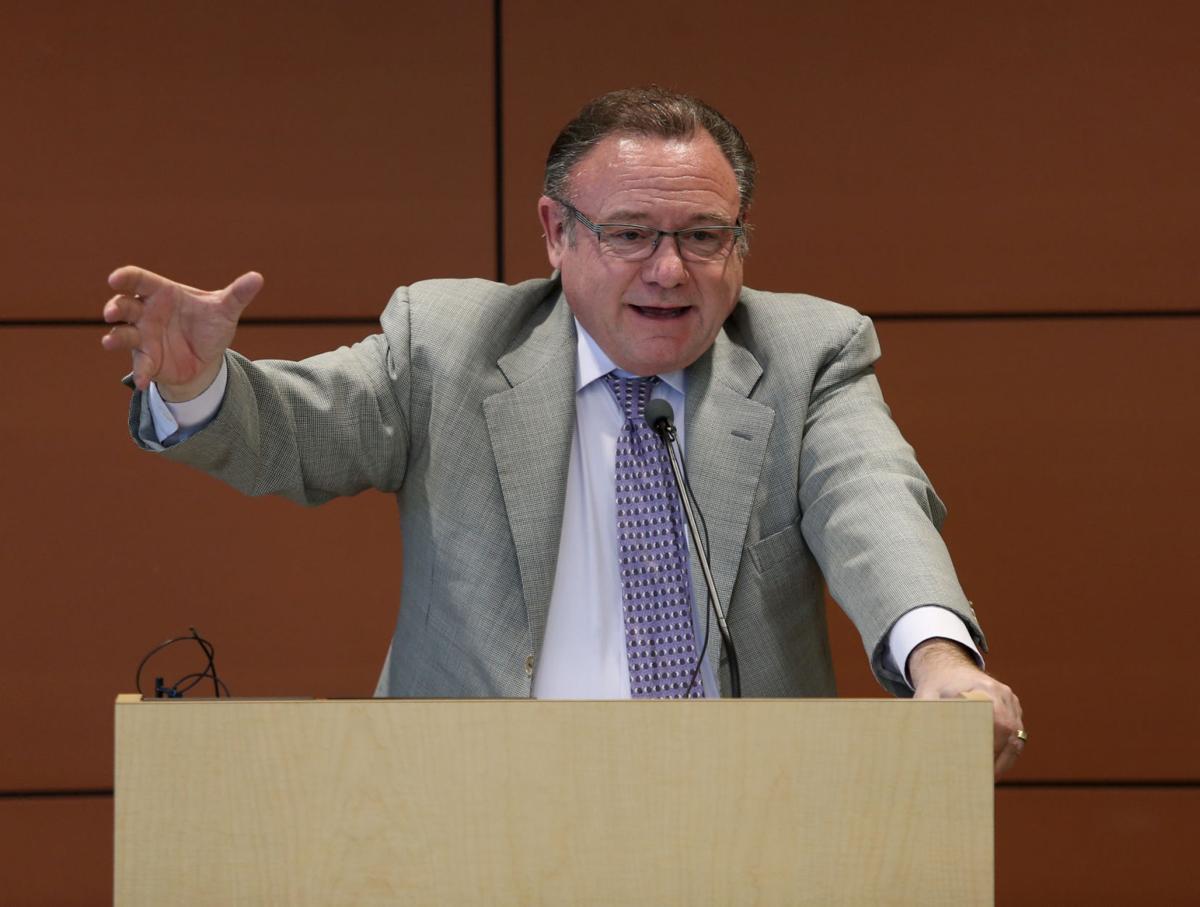 Texas economist and Baylor University graduate Ray Perryman predicted a tough road to economic recovery for the state after the "kick in the teeth" COVID-19 has delivered.
Little compares to the current situation in economic terms, Perryman said during a Q&A led by Terry Maness, dean of Baylor's Hankamer School of Business and Perryman's former teacher. More than 500 people took part in the virtual event.
"You have to go back a long way to find a long way to find a recession that wasn't caused by a structural problem in the economy," Perryman said. "Obviously, the mortgage bubble was one, the dot com bubble was one. … You really have to go back to the oil mess in the '70s for one that wasn't something we simply brought on ourselves by creating some kind of speculative bubble."
Perryman said before the pandemic, the country was in its 10th year of continued economic recovery.
"It wasn't perfect, it never is, but basically the economy was doing OK," Perryman said. "What that tells us is we didn't have an economic problem going into this. It was caused by a health crisis, a massive health crisis. That's atypical, but it also tells us … I think some folks along the way have lost sight of this, and that is if we want to solve the economic problem we have to solve the health problem."
Structural aims
He said keeping the economic structure that existed beforehand in place as the pandemic wears on is also crucial.
"It was fine when we started," Perryman said. "But when you have five months of a lot of people not having a job, small businesses not having any income, being forced to close or operate at a very low level, major industries like the airlines being decimated, if you're not careful, that structure could go away in the middle of that."
Perryman said people often compare the current pandemic to the Spanish influenza pandemic of 1918, but the two events do not have much in common from an economic standpoint. The United States was not a superpower nation, and the Federal Reserve had only existed for five years and had significantly less power.
"We didn't do much economic policy prior to the 1930s," Perryman said. "It's an entirely different situation, even though the (1918) pandemic was worse. … There just aren't a lot of parallels, there's just not. We're kind of building the airplane and flying it at the same time right now."
More debt inevitable
When asked about the two economic relief bills being negotiated in Congress as of Tuesday, Perryman said the federal government's debts have been out of control for the past 10 to 15 years, but more debt is inevitable.
"The short-term situation is we don't have any choice but to do some stimulus," Perryman said. "It comes down to what I said earlier. We have to keep the structure together. You can't have, all of the sudden, people that are hardworking folks … suddenly have no income for five or six months and expect to get by."
He said the execution of current phases of COVID-19 relief measures might not be "efficient," but it marks the first time the federal government had encountered such a situation and there may not be an optimal way to handle something so volatile.
"I hate it from a long-term perspective. I think it's necessary for the short-term perspective," Perryman said.
However, he said the Federal Reserve's regulatory actions in the commercial, banking and mortgage sectors have been effective so far.
"There's a whole lot going on behind the scenes at the Fed, so I think they're doing a pretty good job," he said. "Again, there will be a price to pay for that down the road."
Financial institutions likely will be fine as a result, he said.
"They've spent a huge amount of money keeping the system liquid in whatever way they needed to in the past few months, and I think we'll continue to see that," Perryman said.
He said since March, the Dow Jones Industrial Average would regularly trend up or down by 1,000 points over the course of a single day. Today the market is more stable, though daily news about developments in the pandemic still have immediate consequences.
Texas view
The state economy is in an unusual position, falling more than the national economy because of the disproportionate role of oil and gas in Texas. He said the industry has a "bright future" on the other side of the pandemic.
"We're showing an average job loss this year in Texas of about 702,000 jobs, and that's on a base of about 13 million," Perryman said. "So, that's a significant drop in employment, slightly more than we see in the nation."
He said the impact on the state's budget will be worsened by technological improvements the state government had put off in years prior.
"Texas has not met its needs for a long time. We have a lot of deferred maintenance in state government," Perryman said.
Perryman said he estimates the employment rate will return to pre-pandemic numbers on the state and national level by mid-2022.
Tourism changes
He said Texas' tourism and convention industry likely will come back in a different form, as people shift their behavior to keep themselves safe from the virus, but face-to-face meetings and trade shows are ultimately too important to disappear completely. He compared the virus to the long-term impact of 9/11 on commercial airlines.
"We don't know how long it will be until we have vaccines, treatments, herd immunity, some combination thereof," Perryman said.
He said competition between destinations will only intensify.
"You can have a lot of social disruptions that can serve to delay things," Perryman said. "I'm not sure direct cash aid was the best way to handle that, but some form of ongoing support for folks suffering at this time, A, I think is important and B, should be part of the package right now."
Concerned about COVID-19?
Sign up now to get the most recent coronavirus headlines and other important local and national news sent to your email inbox daily.