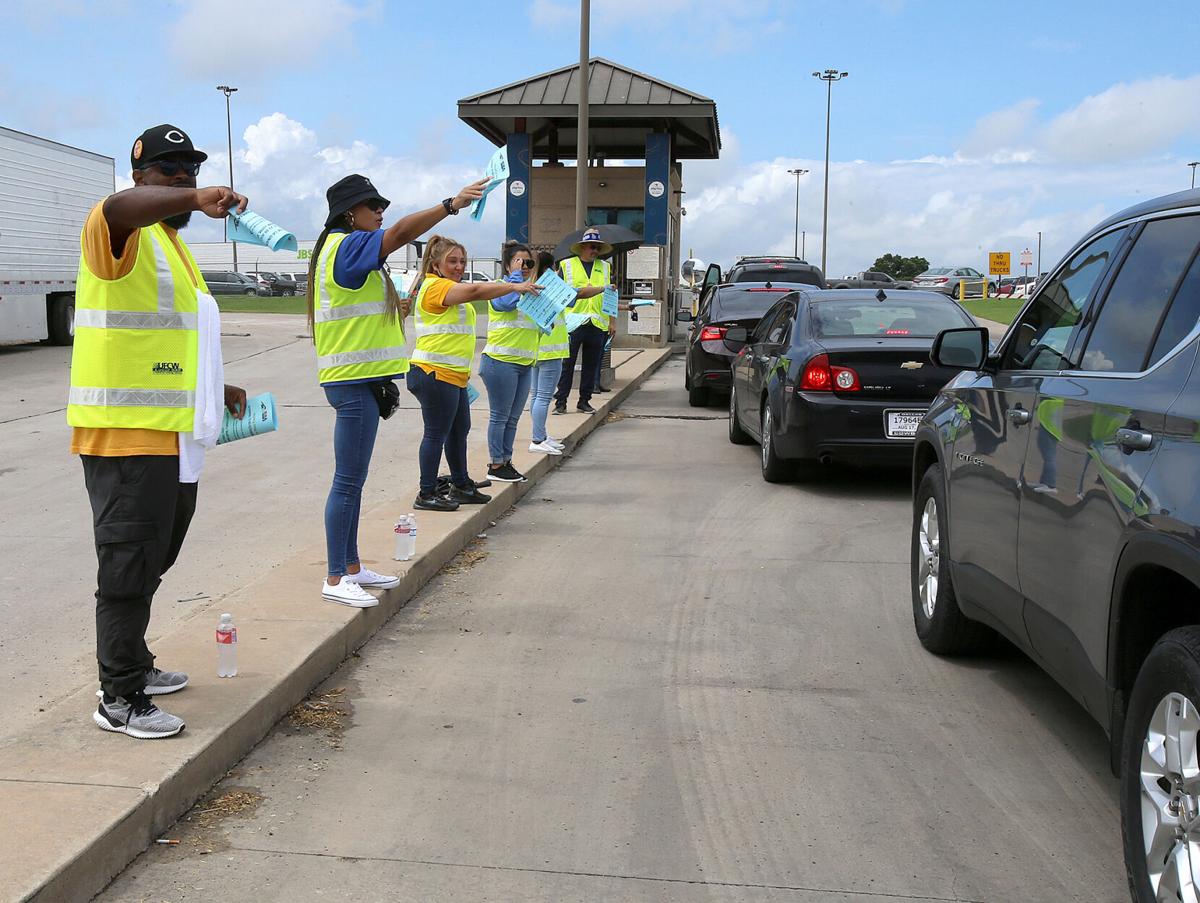 The local Pilgrim's poultry plant became unionized in July, and on Friday employees received the largest hourly pay increase in the site's history and gained access to a new worker safety committee that will hear concerns.
Production employees immediately see wages climb $2.14 an hour, while maintenance employees who keep refrigeration units working will enjoy a raise of nearly $4 an hour, said Gonzalo Reyes, organizing director in Texas for the United Food and Commercial Workers union. He spearheaded efforts to unionize the plant that employs nearly 500 on East Lake Shore Drive.
The Pilgrim's Waco website says the plant is now hiring, with hourly production employees starting at $14.74 per hour, maintenance staffers at $21.50.
"With today's union contract, Texas poultry workers at Waco Pilgrim's Pride have secured the highest pay raises in plant history and created the first-ever worker safety committee — sending a powerful message that workers have a stronger voice on the job when they stand together," union chapter President Johnny Rodriguez said in a statement. "Helping Texas families put food on the table during the pandemic, these brave frontline workers stepped up for us when we needed them most and have been essential to keeping our communities strong."
"Just four months after choosing to unionize, these hardworking men and women are achieving results that will help them support their families, build strong careers, and inspire many more Texans to stand up for the good pay and benefits they have earned."
The new union contract will last three years, Reyes said.
He said about 400 of the roughly 500 people employed at Pilgrim's in Waco have chosen to become union members. He said salaried workers such as supervisors, managers and clerks remain non-union.
Reyes said creating a safety committee particularly pleased employees.
"Workers will be involved, will meet with the company periodically to report findings and make sure problems are getting addressed," Reyes said. "COVID certainly is one issue, but when you work in manufacturing, with machinery, there could be safety concerns. They wanted to have a voice."
Meat processing plants became COVID-19 hotspots, particularly during the pandemic's earliest stage. The plants were deemed essential businesses, and the U.S. Centers for Disease Control and Prevention began closely tracking data relating to outbreaks, noting that employees work in close quarters and face risk of exposure.
Reyes noted that the Pilgrim's plant was the scene of a roof collapse in January, killing a contract worker and injuring two others who were working on the roof.
Another key provision in the union contract with Pilgrim's is daily overtime pay, which employees may qualify for after working nine hours.
No longer must they work more than 40 weekly hours to receive overtime pay.
"Some employees, especially on the second shift, go past eight hours," Reyes said. "Some work more than 12 hours a day. This benefits those guys."
Employees also were promised increased opportunities for advancement in the company. A bidding process enables them to apply for vacancies knowing that seniority and qualifications will be determining factors, he said.
The United Food and Commercial Workers union has 33,000 members in Texas.
Cargill and Sanderson Farms also operate poultry processing plants in Waco, employing about 700 and 1,200, respectively. Sanderson Farms is the only one that operates a facility in Waco where birds are killed on-site before processing.
Sanderson Farms announced last month it was increasing pay for hourly employees, marking "the third consecutive year the company has given an across-the-board pay increase for hourly employees as part of their ongoing effort to recruit and retain employees in today's competitive business environment."
With the increase, hourly line operators will make at least $16.70 an hour, up from $14.45 an hour, company spokesperson Lee Southwell said. Line operators qualify for additional rate increases every five years through 20 years, according to a press release on the raises. Updated hourly pay for truck drivers ranges from $21.25 to $24.99, while hourly maintenance staffers receive $20.85 to $29.77.
Southwell said line operators in 2018 started at $12.20 an hour.
Neither Sanderson Farms nor Cargill is unionized locally. Reyes said he would not be surprised to see pressure brought to bear to change that.
"Obviously Pilgrim's now offers enhanced benefits, and these are guaranteed," Reyes said. "If the company wants to change anything, it must bargain with employees. Others can make changes without employee input. We think employees have been recognized as essential, and should be treated as such."