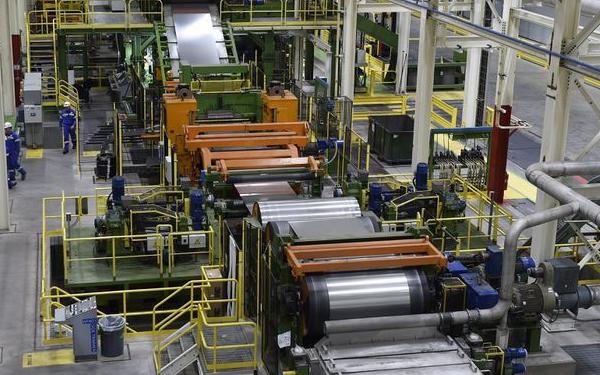 A Mexico-based company will make Waco its first greenfield manufacturing site in the United States, announcing plans to invest $100 million locally, create 121 jobs and produce as many as a few billion aluminum cans per year for customers along Interstate 35.
The Waco City Council and McLennan County Commissioners Court greased the skids to the tune of $6.8 million in economic development incentives Tuesday for Envases Group's foray into Central Texas. Each panel signed off on their part of a $4 million grant, and the Waco City Council signed off an an additional grant covering half the plan's expected real and personal property taxes for 10 years.
Envases' city and county tax payments would amount to a 26% return on the economic development grants in less than three years, Kris Collins, the Greater Waco Chamber of Commerce's industry recruiter, told commissioners. Waco's plant would be comparable to an Envases facility in Hidalgo, Mexico, that can produce 3 billion cans a year at full capacity, Collins said. The company has clients in the Dallas area and in San Antonio, she said.
The Envases project continues a string of positives that includes Amazon's confirmation it will place a fulfillment center in Texas Central Park that will employ 1,000 people, more during seasonal peaks, and pay at least $15 an hour, Collins said in a monthly report on economic development.
"We're now at the forefront of continued growth," Collins said. "Amazon performs an incredible amount of due diligence before choosing a site, encouraging others to take a look. We continue to receive interest from manufacturing, distribution and the 'green' industry."
Precinct 2 Commissioner Patricia Miller asked if any prospect has shown interest in eastern McLennan County, where her precinct lies.
"One is looking near Texas State Technical College," Collins replied.
The county has experienced substantial "economic and population growth" in the past 15 years and anticipates significant growth in the near future with new major manufacturing and warehousing employers relocating to McLennan County, according to the resolution. It has been about 42 years since McLennan County Court-at-Law No. 2 was created and 15 years since 414th State District Court was created, officials told commissioners.
The county needs to deal with this influx "at the front end," before the situation becomes critical, 414th State District Court Judge Vicki Menard said to commissioners during Tuesday's meeting.
"Whatever court we get should have family law jurisdiction," Menard said. "More people means more need for family law."
County Court-at-Law Judge Vik Deivanayagam, who oversees the specialty McLennan County Drug/DWI Court, suggested one new court be designated as a mental health court.
Collins said Envases is poised to buy a 60-acre site along Wycon Drive, build a $35 million manufacturing facility and outfit it with about $65 million worth of machinery and equipment.
Waco City Manager Bradley Ford told council members the facility likely would become one of Waco's top five tax generators.
The Waco Industrial Foundation owns the development site, "and is taking a loss on the land to make the deal work," Collins told commissioners.
Envases will receive $4 million from the Waco McLennan County Economic Development Corp. fund, which it can apply to land acquisition, extension of a natural gas line and infrastructure improvements, Collins said. The additional city grant effectively would cut the plant's real and personal property tax burden in half for 10 years.
Local officials also will nominate the plant for Enterprise Zone designation by the state, meaning it could qualify for sales tax refunds.
Collins said the facility will create 121 full-time permanent jobs, of which 113 must pay $15 an hour, plus benefits. She said another 129 indirect jobs will materialize as employee spending ripples through the economy.
Envases will need machinists, machinist mechanics, production staffers, generalists and administrative staffers, Collins told commissioners. At full employment, Envases must maintain an average wage of $44,500.
Waco City Attorney Jennifer Richie said the agreement requires 70% of Envases' employees to live in McLennan County, and at least 10% must live within 100 miles of the facility its first two years.
Asked by Precinct 3 Commissioner Will Jones about the plant's environmental impact, Collins said it should prove minimal. She said the plant will receive shipments of rolled aluminum to be heated during the molding process.
Collins said it will not serve as a site for heavy manufacturing.
She told the council she is collaborating with Envases on multiple job fairs.