The Regal movie chain is close to death, meaning Waco's 16-screen version on Woodway Drive will join others nationwide in closing Thursday.
AMC, a movie giant with a presence on South Valley Mills Drive, is not feeling so well either, its stock plummeting Monday on general concern over the future of cinema in the COVID-19 era and the absence of Hollywood blockbusters arriving anytime soon to attract skittish moviegoers.
Regal's corporate parent, Cineworld Group PLC, confirmed it will pull the plug on Regal Cinemas, a 536-location U.S. chain it acquired in 2018. The last straw might have been the announcement that the next James Bond thriller, "No Time To Die," would not arrive until April 2021, industry officials have said.
Watch now: Regal, Cineworld cinema shutdowns across US, UK
"In response to an increasingly challenging theatrical landscape and sustained key market closures, Regal will suspend operations at all theatres at close of business on Thursday . . . until further notice," said a statement on the Regal website. It did not say under what conditions theaters would reopen.
The Regal Jewel at 7200 Woodway Drive referred comment to corporate spokespeople, who had not returned Tribune-Herald inquires by late Monday.
"We're open today," said a staffer who answered the phone.
Beyond that, she said, she could not comment.
The Regal Jewel's movie lineup includes the old and new, with current releases such as "Unhinged" and "Tenet" sharing screen time with oldies "Black Panther," "Hocus Pocus," "The Secret Life of Pets 2" and "Magic Mike," as well classics "Star Wars: The Empire Strikes Back" and "Friday The 13th."
A 60th anniversary showing of Alfred Hitchcock's "Psycho," is scheduled for Sunday afternoon, but Regal Jewel's curtain will fall before then.
"Unhinged" also is showing at the Waco Hippodrome.
Waco's Hollywood Jewel, now Regal Jewel, opened its first eight screens in August 1997 and eight more a month later. Its unveiling effectively doubled the number of first-run movie screens in the Waco market. The owners touted several features as new to Waco, including stadium seating.
The next year, in 1998, Hollywood Jewel saw its spotlight dimmed with the arrival of the 16-screen Starplex Galaxy on South Valley Mills Drive.
Starplex, 333 S. Valley Mills Drive, now operates as AMC Classic Galaxy 16.
The Regal Jewel closed in mid-March as the COVID-19 pandemic began to become entrenched, and was the first first-run movie to reopen in mid-August after being given the go-ahead by governmental authorities. Like other movie houses, it mandated social distancing and the wearing of masks.
But the precautions did not protect its leaky bottom line.
"Both AMC and Regal started opening up U.S. locations in August, but sustained closures in states like New York have kept the movie industry scrambling for cash," Forbes reported in its coverage this week.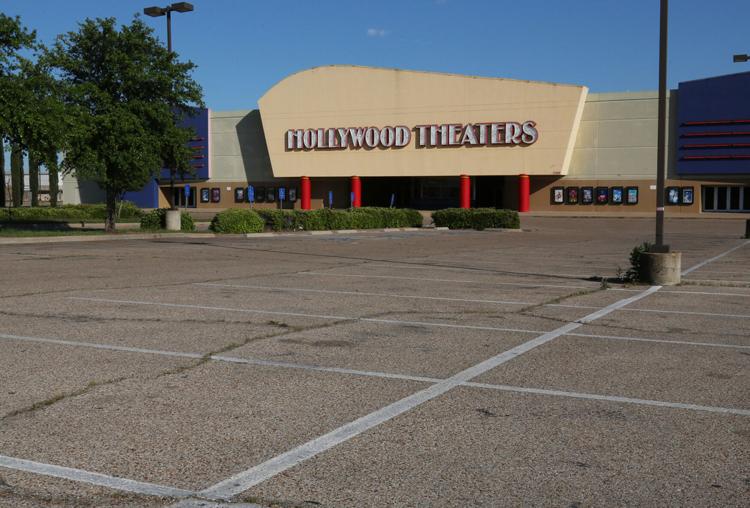 Theaters both in New York and Los Angeles have yet to reopen.
Stock in Cineworld, Regal's parent, dropped 36% on Monday, while that of AMC Entertainment plunged more than 11%.
The Wall Street Journal reported Monday that Cineworld, besides closing down its U.S. theaters, will shutter its 127 locations in the United Kingdom. Last month, Cineworld released midyear financials showing revenue fell nearly 70%, to $712 million, in the six months ending June 30 when compared with the first half of 2019, according to Journal reporting.
The Journal also noted that theater chains have been shaken by delays in release dates of major motion pictures. Warner Bros. said it would move "Wonder Woman 1984" to Christmas Day, from October. Disney altered release dates on 10 titles, the Journal reported, including delaying its Marvel spinoff "Black Widow" by six months and well into next year.
Meanwhile, Cinemark has not scratched plans to build a 14-screen theater at New Road and the Interstate 35 frontage road, part of a 143-acre mixed-use project being shepherded by NewQuest Properties of Houston.
"We have no material updates to share other than Cinemark is continuing to progress on its new theatre in Waco and looks forward to a mid-2021 opening," said Caitlin Piper, a Cinemark spokeswoman said via email.
Best movies that have premiered during COVID-19
#50. Relic
#49. Shirley
#48. Red Penguins
#47. The Wild Goose Lake
#46. We Are Little Zombies
#45. Mucho Mucho Amor: The Legend of Walter Mercado
#44. The Personal History of David Copperfield
#43. I'm Thinking of Ending Things
#42. Babyteeth
#41. Human Nature
#40. Marona's Fantastic Tale
#39. A Secret Love
#38. An Easy Girl
#37. Robin's Wish
#36. The Painter and the Thief
#35. My Darling Vivian
#34. The Social Dilemma
#33. La Llorona
#32. Fourteen
#31. Bad Education
#30. Buoyancy
#29. Feels Good Man
#28. She Dies Tomorrow
#27. The Nest
#26. A White, White Day
#25. Desert One
#24. Coup 53
#23. Disclosure
#22. The Go-Go's
#21. A Thousand Cuts
#20. Da 5 Bloods
#19. Bloody Nose, Empty Pockets
#18. House of Hummingbird
#17. Bacurau
#16. Sorry We Missed You
#15. Palm Springs
#14. Driveways
#13. Black Is King
#12. The Vast of Night
#11. On the Record
#10. Boys State
#9. Nomad: In the Footsteps of Bruce Chatwin
#8. Athlete A
#7. The Wolf House
#6. Crip Camp
#5. Welcome to Chechnya
#4. Rewind
#3. First Cow
#2. Hamilton
#1. Never Rarely Sometimes Always
Concerned about COVID-19?
Sign up now to get the most recent coronavirus headlines and other important local and national news sent to your email inbox daily.