It is big, brightly colored and a bit behind schedule.
The Containery at Fourth Street and Jackson Avenue, a conglomeration of shipping containers interlocked to create retail and restaurant space, was supposed to open in spring 2020. But inspections remain pending, at least two liens have been filed by contractors, and failure to meet deadlines for approved Tax Increment Financing Zone grants may cost the developer $488,078.
Local real estate agent Gregg Glime, who markets units in the 38,000-square-foot complex, said it continues to brim with potential.
"We have 36 lease spaces, ranging from 120 square feet to 6,000 square feet. We have five signed leases and 20 to 25 potential users who have asked that we keep them updated and inform them as soon as it's done," Glime said.
He said he believes city inspections remain to be finalized on "general construction-type stuff," including electrical, fire-suppression, heating, ventilation and air conditioning, though he said he does not know particulars.
Waco developer Bill Wetterman in 2017 went public with his vision for 319 S. Fourth St., where he would repurpose a decades-old garage and surround it with shipping containers previously used on cargo ships.
Responding to Wetterman's request for public backing, the Tax Increment Financing Zone board recommended the $2 million project receive $488,078 for streetscape and facade work. Wetterman told the TIF board he was impressed with the renewed energy downtown, and sought to join the excitement with The Containery. Wetterman knew the area, having created Behrens Lofts at 219 S. Fourth St., which he sold, then recently reacquired and converted to condos. He leased out space next door to Fabled Bookshop and Cafe.
But a combination of factors has put The Containery on pause.
The Containery failed to meet a Sept. 30, 2019, deadline to complete the project and qualify for its TIF grant, said -funded assistance, Waco economic development manager Kent George said. The TIF board agreed to extend the deadline to Dec. 31, 2020, but the Waco City Council never approved the extended deadline.
The TIF board's recommendation for the later deadline came with stipulations not part of their original agreement on the grant, one being "the colors of the containers being re-painted to match original renderings—being mostly solid gray along the Jackson Street side with a few containers painted other colors," according to TIF meeting notes George provided.
Conceptual renderings presented to the board show the majority of containers in either bright green, bright blue or bright orange.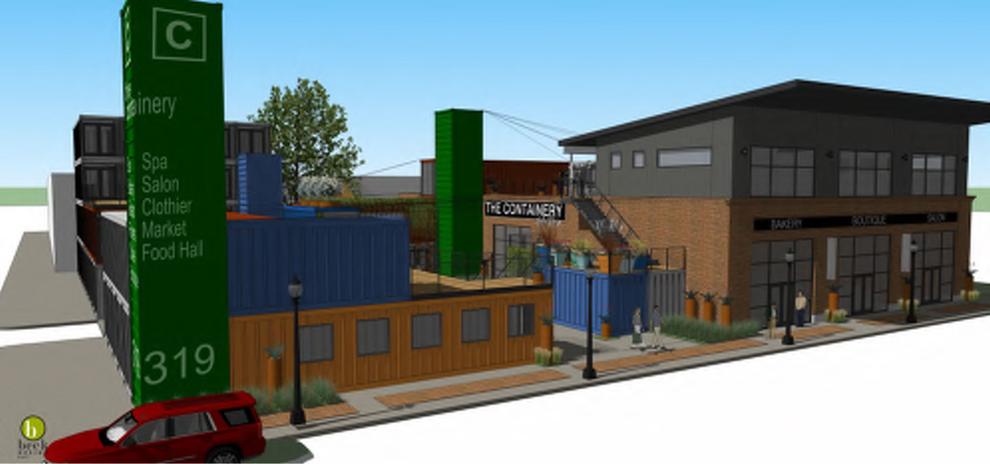 The Containery has received no TIF money, and no request is pending.
During the TIF meeting at which the stipulations were announced, references were made to unnamed city officials who had expressed displeasure with The Containery's color scheme, feeling it detracted from downtown's feel. At the time, paint work was incomplete.
Wetterman has not told the Tribune-Herald his thoughts on mandated color changes, and did not return calls Wednesday seeking comment.
Bobby Horner, spokesperson for the city of Waco's inspection services department, said The Containery "is not ready for habitation, is not ready for a certificate of occupancy." He said city inspectors are engaged in a waiting game, needing clarification from officials involved in The Containery.
Horner said his conversation with a plans examiner suggested changes were made during construction that the inspection department had not approved.
"To my knowledge, we have not received a revised set of plans from a design professional," Horner said. "We're waiting on information from their end."
Horner said completing the project "would be cool, it's so unique."
Mitchell Construction, according to records, has filed a labor materialman's lien for $244,917 related to its involvement in The Containery. Boen Plumbing, working as a subcontractor for Mitchell Construction, filed a labor and materialman's lien for $4,548 for work in September and October last year, and a $51,066 lien for work in November last year.
No one with Mitchell Construction returned calls seeking comment. A spokesperson for Boen Plumbing, who asked not to be identified by name, said the company is still owed the amounts for which it filed liens.
A public records search in the McLennan County Clerk's Office shows TFNB Your Bank for Life is providing financing to The Containery via a Property Assessed Clean Energy loan. Bank President David Littlewood said this vehicle is geared to benefit ecologically friendly projects such as The Containery that meet criteria related to low energy consumption and recycling.
A loan extension became effective Dec. 29, 2020, that would run until December 2044. Fourth & Jackson LLC, the corporate entity controlling The Containery, would make annual payments of $68,241, reflecting 6% interest.
Littlewood said TFNB Your Bank for Life remains heavily invested in downtown, and that The Containery was disadvantaged by evolving "right smack in the middle of a pandemic." He said The Containery is a fantastic project, one that generated significant interest and a waiting list before COVID-19, but now one on the road to recovery following a tough stretch.
"People have pushed the pause button," Littlewood said. "Tenants are noncommittal. Who wants to open at 25% occupancy? Provided the pandemic lifts and the economy remains stable, I think Waco is going to boom. The widening of Interstate 35 is 65% complete. You put a house on the market, and it sells within 48 hours. That's what our story is about, positive energy."