The Waco Downtown Farmers Market is doing fine, thanks, despite COVID-19. Young families, students, older folks and the simply curious make their way to the festivities each Saturday morning. They wear masks and maintain social distancing while browsing for fresh fruit and vegetables, honey, cinnamon rolls, bison meat, pork, fresh eggs and Tex-Mex treats.
Now located three years at Fifth Street and Washington Avenue, across from the stately McLennan County Courthouse, the market attracts an estimated 2,500 people to downtown between 9 a.m. and noon. The line forms early at the Lightsey Farms' display, where youngsters unload peaches, tomatoes, watermelons, cantaloupes, peas, squash, okra and cucumbers grown on sandy soil near Mexia, about 40 miles east of Waco.
They are carrying on the Lightsey family tradition of farming dating to 1918.
"They definitely have the longest line out here, though not necessarily the highest sales. People want their peaches," marveled Bethel Erickson-Bruce, who manages Waco's fruit-and-veggie swap meet, which Southern Living magazine this year deemed among the best such markets in the South.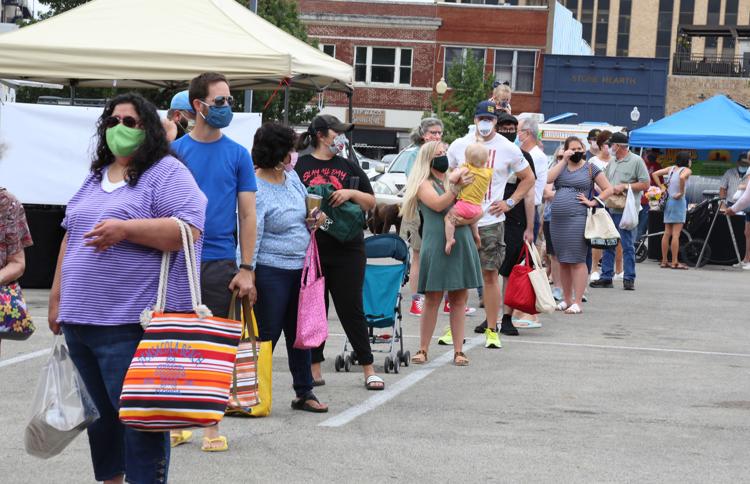 Mary Lightsey Haddon said the family works more than 300 acres, rotating crops and replanting as the season, market and climate dictate.
"We're short-handed, but we do the best with what we've got. Sometimes things just don't get picked," said Haddon, whose family also sells produce in Belton and on Old Teague Highway about 4 miles from the farm.
Vendors pay a flat rate of $30 to display their goods and goodies for three hours, Erickson-Bruce said. The market will return to its former four-hour schedule of 9 a.m. to 1 p.m. starting next month, she said.
Returning to its original location is a longer story to tell.
Before departing to its present location, Waco Downtown Farmers Market was ensconced near the 400 block of University Parks Drive, in a shaded grove near the banks of Lake Brazos. Planning for a $100 million riverfront project first dubbed Brazos Promenade, now simply Riverfront, to include dining, entertainment and lodging options, uprooted the market and sent it packing.
"We would like to move back to that site, which has been the plan since we left there," Erickson-Bruce said. "We're waiting for the development to move along. We were not far from the old fire department training tower, which is no longer there. We moved to an iconic location next to the courthouse. The county has been great to work with, and many farmers markets around the country are near courthouses. But our main reason for wanting to return is that we miss the trees, the live oaks, and we were near a waterway."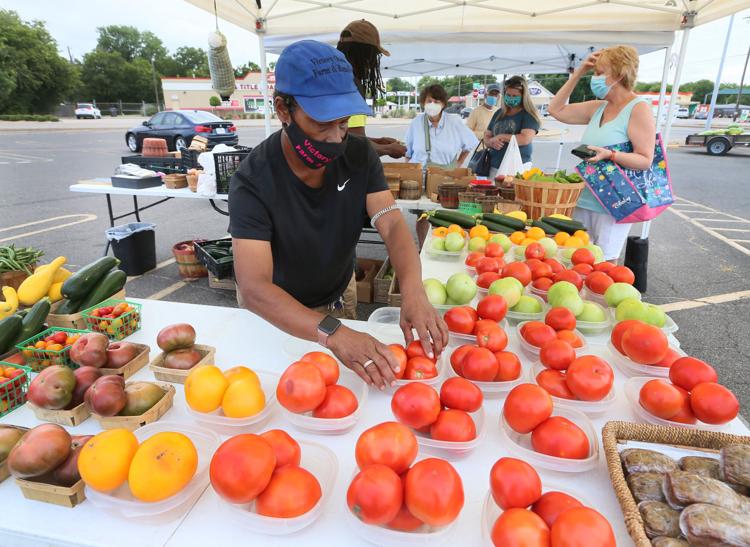 She said vendors and attendees gathering on Washington Avenue have no shade as they endure the Texas summer sun dancing off asphalt. Portable canopies offer the only relief.
Erickson-Bruce said bringing attention to Waco Downtown Farmers Market now is apropos, since National Farmers Market Week will be celebrated Sunday through Aug. 8, the Farmers Market Coalition has announced.
The coalition website states the nonprofit pursues three goals: "Farmers earn fair prices for the fruits of their labor by selling directly to consumers. Consumers gain access to fresh, nutritious, local produce. Communities regain a figurative 'town square,' experiencing the many positive outcomes of foot traffic and animated public space."
Waco's market, also a nonprofit, maintains an annual budget hovering between $125,000 and $150,000. Space rentals generate the lion's share, but the organization also sponsors fundraisers. Unfortunately, COVID-19 has put those moneymakers on hold, Erickson-Bruce said.
The vendor count also has suffered, averaging 35 to 40 per Saturday during a season when norms should shadow 50, she said.
"When the pandemic arrived in March and April, we weren't sure how it would affect everything," Erickson-Bruce said. "The first few weeks we were slimmer in numbers for both vendors and customers. Sales for those who did show up were very good, as people were doing their grocery shopping here. Sales have continued to increase, though the vendor count remains lower."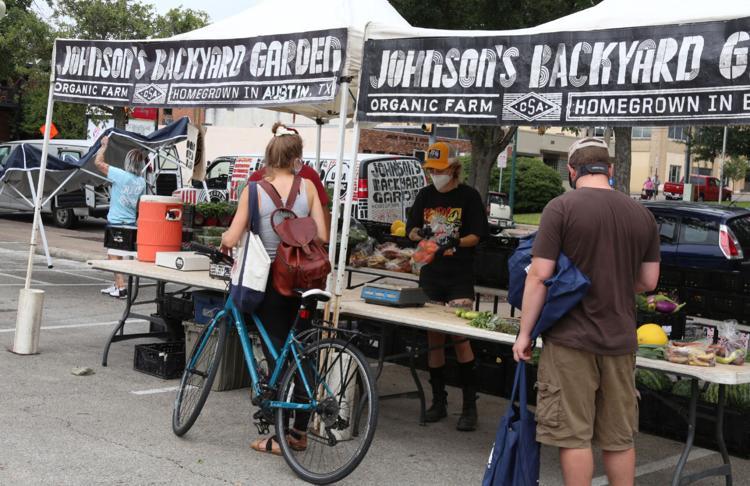 A changing vendor mix stimulates interest in the market, but longtime participants continue to generate rave reviews, she said.
"Homestead Bakery, which is affiliated with Homestead Heritage, is one of our most popular vendors," she said. "Their cinnamon rolls are delicious, but they're usually sold out with an hour to go."
Waco BAO's hand-fried dumplings "have been a huge hit," and Muchos Tacos and Alba's Pupusas, maker of El Salvadorian-style griddle cakes, also have proven popular. Other market stalls offer low-temperature pasteurized milk, house plants, succulents and salads from a hydroponic lettuce producer.
Craft items may occupy space at the market, but only at special events. The Farmers Market Permit Ordinance says the venue must feature 80% agricultural products including meat, cheese, fruits, vegetables, honey, wine, etc., with artisan goods making up the balance, according to the market website.
Most vendors accept a variety of payments, including plastic, but management encourages visitors paying with cash to bring small bills. The market also accommodates those using SNAP cards, known as food stamps.
"We have seen a sixfold increase in the use of food stamps at the market since the pandemic began," Erickson-Bruce said.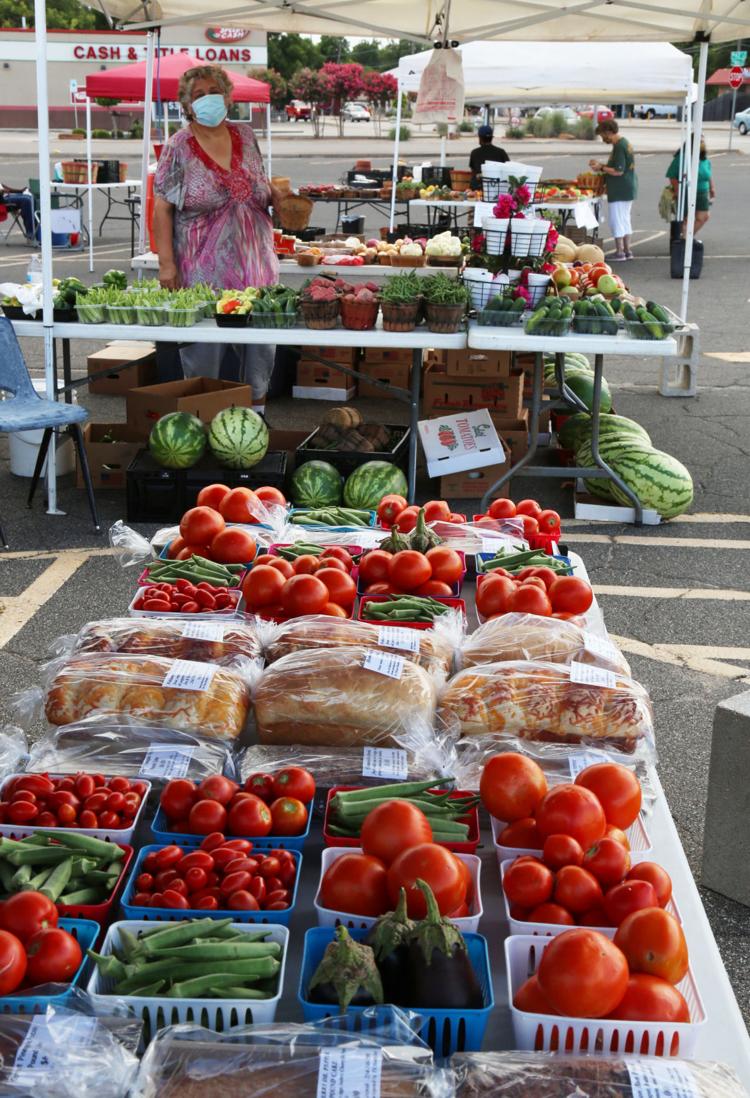 The market diligently enforces rules to prevent the spread of COVID-19, she said. It encourages visitors to stay 6 feet apart and requires them to wear masks.
Anyone refusing to obey the rules may be asked to leave and could face a response by the Waco Police Department, Erickson-Bruce said.
Vanessa Handy, who directs operations at the World Hunger Relief Farm locally, said the organization maintains a presence at the market, selling vegetables, meat, poultry, eggs, cucumber pickles and jams.
"It helps with our operating costs," Handy said of the revenue generated.
World Hunger Relief addresses food shortages wherever they are found. Handy said one noteworthy effort is participation in the vegetable prescription program spearheaded by the Family Health Center. Clinics make healthy food available to clients as part of a holistic approach to healing.
Concerned about COVID-19?
Sign up now to get the most recent coronavirus headlines and other important local and national news sent to your email inbox daily.