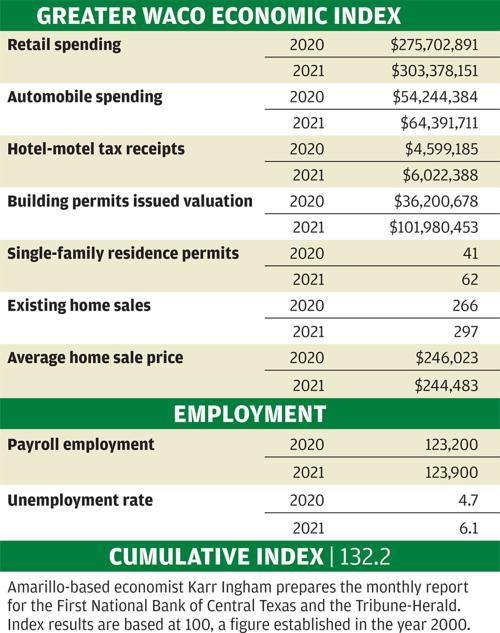 The Greater Waco economy exploded in March, with spending on cars, homes and hotel stays accelerating. So robust is the continuing recovery that several business people Thursday said they have jobs they can't fill.
"Travel around the city, and you'll see help-wanted and hiring signs popping up," said Kris Collins, senior vice president for economic development at the Greater Waco Chamber of Commerce. She said people who have spent their stimulus checks or have exhausted their eligibility for COVID-19-related unemployment benefits have opportunities to choose from.
"People need jobs they can move into as quickly as possible," Collins said.
State economist Karr Ingham released his Greater Waco Economic Index showing that March spending jumped 10% from March last year, when the pandemic began inflicting damage. Spending is up 4.1% for the quarter, January through March, in the metro area of Waco and its suburbs.
In fact, the $1.3 billion spent represents a quarterly record for the GWEI, said Ingham, who tracks data dating to the year 2000 in preparing his snapshot for the First National Bank of Central Texas and the Tribune-Herald.
The March report, said Ingham, hints at a total pandemic recovery in 2021. The raw GWEI score improved from 131.8 in February to 132.2 in March, but was down slightly from the 134.3 tally a year earlier.
The highlights include a nearly 19% increase in automobile spending year-over-year; a strong month for the lodging industry, with $6 million in hotel/motel revenues, a 31% jump from March last year. That is great news for an industry that was devastated by the pandemic and still has room for improvement. The $10.8 million in revenues for the quarter were 8.5% less than those the first three months last year, Ingham reported.
"If we stay on track, we'll end the year with a positive year-over-year performance in hotel/motel revenue," Collins said. "Have you been downtown, noticed the crowds, all the out-of-state license plates?"
Building permits issued in March for non-residential construction topped $101 million, dwarfing the $36 million in March last year. Amazon's presence accounts for half that March total, the company poised to spend $50 million on supplemental space for the $200 million fulfillment center it is building on Exchange Parkway. The center will employ about a thousand upon completion.
Local homebuilders are working overtime to meet demand for homes, as indicated by the 62 permits for single-family residences Waco issued in March, well above the 41 issued a year ago. The 158 permits issued during the first quarter ties the quarterly record set in 2019, Ingham said.
Nearly 300 existing homes changed hands in March, Ingham said, citing Waco Multiple Listing Service figures. The 726 homes sold during the first quarter matches a first-quarter record set in 2019, Ingham said.
Following months of steady increases, the average home sales price dipped less than 1% in March, to $244,483. The quarterly average of $245,184 was nearly 8% higher than the three-month norm last year.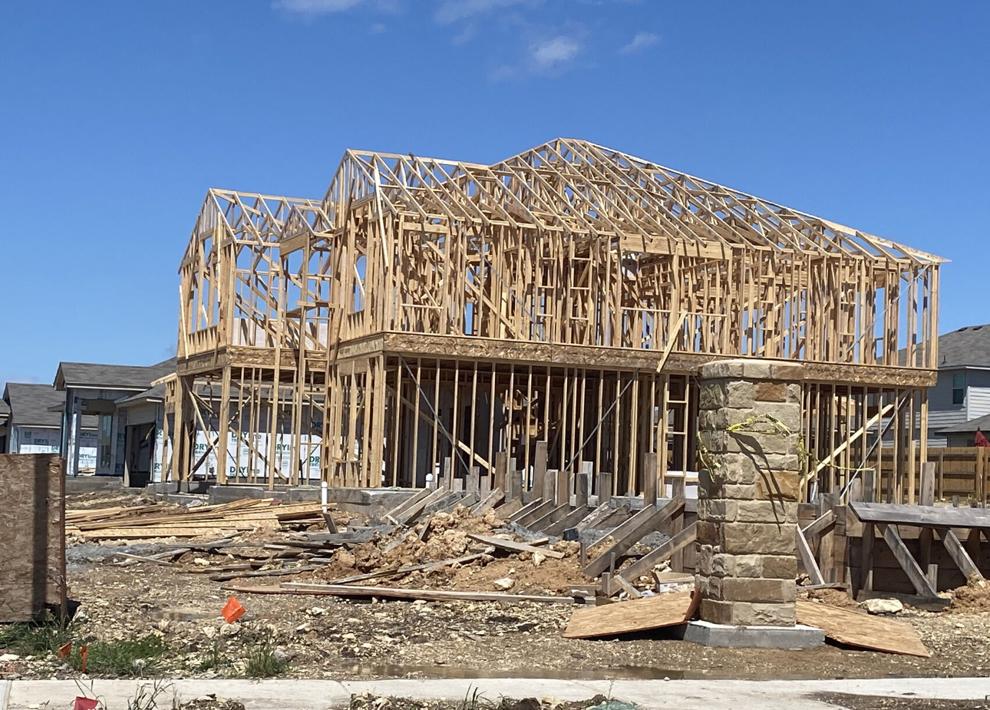 Employment numbers and job availability stimulated discussion among those attending the Zoom meeting Thursday on Ingham's findings.
The number of people holding jobs in March totaled 123,900, an estimated 700 more than were working in March last year, when the pandemic began to pick up steam. Collins, who presented Ingham's findings via Zoom, said 2020 was shaping up to become a record-shattering year economically.
The jobless rate, said Ingham, continues to fall slowly and stood at 6.1% in March compared to 4.7% in March last year. He said "unemployment rate movements typically lag behind the payroll employment numbers, and we should see improvements in both as the year progresses."
Sam Castillo III, whose family owns La Fiesta restaurant and operates a bar and pizza parlor at the Union Hall food hall downtown, said finding and keeping employees remains among his top challenges.
"We are seeing a shortage of manpower," he said. "We have people who don't show up for interviews, or leave during the middle of a shift, knowing they can find a computer somewhere and apply for unemployment with a click."
Waco Councilman Jim Holmes, an executive at First National Bank of Central Texas, said he's excited about new industrial prospects considering Waco, and by the expansion plans of existing industry, but both need workforces.
Sam Brown, a business banker at First National Bank of Central Texas, also noted struggles among business owners trying to fill slots.
"I wish whatever is making that happen would stop," he added.
Summing up his March report, Ingham said, "The Greater Waco Economic Index is quite likely to fully recover in 2021, though the pace of growth in the coming months will dictate the time frame for that."
"That will be a milestone to celebrate as well," Ingham said.