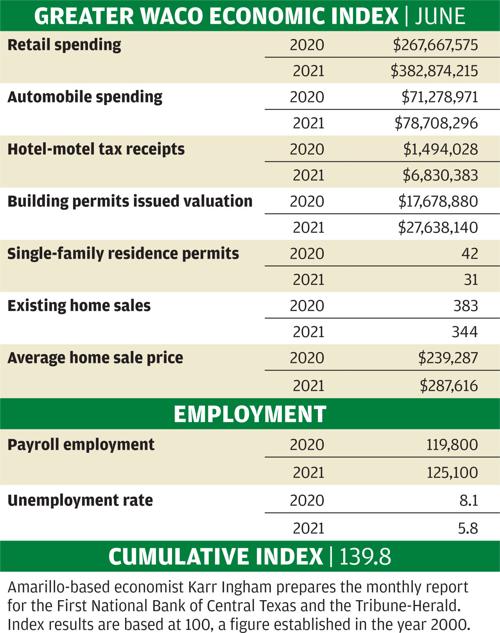 The last time economist Karr Ingham prepared a report on how Greater Waco was faring, SpaceX had not announced plans to build Mars-bound rockets in McGregor, the universities of Texas and Oklahoma were perceived as securely in the Big 12 fold, and the COVID-19 delta variant was only starting to gain a foothold locally.
What a difference a month can make.
The good news is the Greater Waco Economic Index performed well in June and even better during the first six months of 2021. Ingham uses data dating to 2000 to prepare the GWEI for the First National Bank of Central Texas and the Tribune-Herald. Its June raw score of 139.8 was up from 138.5 in May, and well above the 129.4 mark Greater Waco endured a year ago.
But the Sooners' and Longhorns' pending move to the Southeastern Conference certainly will create shockwaves for Baylor University, Waco and the Big 12, said economist Ray Perryman, who Thursday released an analysis of his findings on the college athletics shakeup's economic ramifications.
He considered two scenarios, Scenario 1 being the Big 12 remains largely intact. The eight teams in the league after Texas' and Oklahoma's departure would stay together and secure television revenue and attendance patterns similar to those in the American Athletic Conference, adjusted for specific characteristics of individual schools. Scenario 2, assumes the Big 12 is not maintained and individual schools must seek opportunities elsewhere, with ultimate performance mirroring the five most successful athletics programs in the Mountain West Conference.
Under Scenario 1, the remaining Big 12 communities could be expected to experience a $938 million reduction in annual gross product and the loss of 12,623 jobs between them. Under Scenario 2 annual gross product would suffer a $1.3 billion loss and the elimination of 18,063 jobs, Perryman reported.
Looking specifically at Texas schools, Waco, Lubbock and Fort Worth would take economic hits as home to Baylor, Texas Tech University and Texas Christian University, respectively. Scenario 1 would inflict a $397 million loss in annual gross product for the three communities combined, and the loss of 5,322 jobs. Scenario 2 would create a $569 million loss in annual gross product and serve to eliminate 7,615 jobs in Waco, Lubbock and Fort Worth, Perryman reported.
So, would the departure of Oklahoma and Texas short-circuit Waco's economic recovery, its tourism growth and downtown renaissance?
"In a word, no," Perryman said.
Still, the move's impact on tourism and economic development cannot be overlooked, he said.
Back to the GWEI, which offered better news. Spending jumped 43% year-over-year to $383 million in June. Year-to-date spending through the month hit $2.2 billion, a 16% increase compared with six months into 2020.
Vehicles continue to have curb appeal, with spending on automobiles braking at $79 million in June, $200 million in the second quarter and $380 million year-to-date, increases of 10%, 19% and 14%, respectively.
"It should also be noted that the automobile inflation rate — for new and used motor vehicles — is higher than it has been over the entire history of the GWEI, which makes the current gains even more impressive," Ingham said.
The lodging industry, battered by COVID-19, is "fully recovering and now setting new records. June inflation-adjusted hotel spending — not taxes collected, actual spending — was up by nearly 360% year-over-year, on the heels of the May hotel/motel total which was up by 367% compared to May of a year ago," Ingham wrote in his report released Thursday.
Permits to build new homes staggered to 31 in June, but one month does not a trend make, Ingham said. The 186 permits issued during the second quarter and the 344 secured through June are record-setting totals.
"The same is true of existing home sales — a lower June monthly sales total compared to June 2020, but sales records for the second quarter and year-to-date," Ingham said, reminding that homes moved rapidly in June 2020.
A total of 1,685 homes changed hands the first six months of 2021.
Average home sales price in June was $287,616, a 20% year-over-year increase. Twenty-one years ago the norm was $112,758.
"Through the first six months of the year, the total real dollar volume of housing sales in the Waco metro market is up by over 25% compared to the first six months of 2020, and again, is easily a record," Ingham wrote.
Permits issued to build stores, industrial plants and other nonresidential buildings carried a $282 million price tag for the year through June, an impressive 41% year-over-year increase. That is the second-highest six-month total in GWEI history, behind only 2013, when McLane Stadium was permitted.
Payroll employment "fully recovered the COVID losses in May and added to those gains in June," Ingham reported, applying seasonally adjusted estimates.
He said 125,000 people had jobs in June, a 4.4% jump from June last year but also more than in June 2020 "and the June estimate in all previous years."
"The re-emergence of COVID is of some concern, of course, with rising case numbers," Ingham wrote. "Time will tell if a second round of COVID actually occurs, or whether it will be any sort of economic event.
"A return to lockdowns is difficult to imagine at this point, which suggests the likelihood of continued solid performance of the greater Waco economy in the balance of the year. And even at that, the response of the Waco economy to last year's COVID, which is the economic event of a lifetime, was perhaps the most impressive of any Texas metro area," Ingham said.