They are called "Amazonians," and they gather under one roof to pick, pack and ship packages near and far. They derive their name from the Seattle-based e-commerce giant that employs them. Waco and its environs will need to make about a thousand available over the next two to three years.
Amazon is betting the community is up to the task, because Utah-based Layton Construction is setting a blistering pace at 2000 Exchange Parkway. Amazon announced it will open a massive fulfillment center there in 2021 where robots and humans, called Amazonians in the company's vernacular, will toil elbow-to-elbow.
Employees will be paid a minimum of $15 an hour.
The jobless rate in the Waco Metropolitan Statistical Area most recently stood at 6.4%, which would appear to give Amazon wiggle room in its pursuit of staffers. But one year ago at this time, pre-COVID-19, the jobless rate had dropped to 3.2%, which equates to full employment.
So the economic reality Amazon will face in Waco remains to be seen.
"There was a pretty popular movie with the line, 'If you build it, they will come,' and that's really what I believe," said Bill Clifton, who represents the Waco Industrial Foundation when prospects, including Amazon, pursue incentives to build or expand in the Waco area. Amazon struck a deal with the industrial foundation on 93 acres along Exchange Parkway, with the emerging structure's steel framing visible from Bagby Avenue.
"We may not have a thousand folks ready to go to work next week," Clifton said, knowing Amazon has not imposed such a timetable.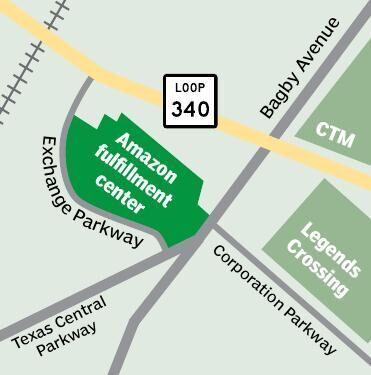 Amazon intends to "ramp up" employment over two years, said Kris Collins, the Greater Waco Chamber of Commerce's industry recruiter.
"That allows us more time to absorb the fulfillment center into the market," Collins said.
Amazon has its own training program, and its new hires will not have to know all the answers from day one.
"These are going to be advanced warehousing positions, logistical operations involving the movement of things," Collins said. "The center will have a technical component in its robotics systems. Amazon has a thorough program for training employees. If you do have experience in warehousing, great, but they will be just as receptive to those willing and eager to learn."
Ray Perryman, a noted economist based in Waco, said the Amazon fulfillment center would cause ripples in a community larger than Waco, so naturally there are questions about the city's ability to cope with its scope.
"However, there are thousands of people in the area who are jobless," Perryman said.
Before the pandemic, there were 2,155 people in Waco unemployed, a figure that has grown to 4,429, he said.
"We expect conditions to improve once the health crisis is dealt with, but the fact that even at its strongest the Waco labor force had thousands of people looking for work speaks to the ability of the area to support the location," Perryman said of the fulfillment center. "In addition, the possibility of jobs will pull people from outside the area. Waco has a pretty wide trade area, and workers commute from surrounding communities."
Tiffany Gallegos Whitley, Prosper Waco's new director of workforce development, recently told the Tribune-Herald several local partners, including McLennan Community College and Texas State Technical College, have joined forces to improve access to training, especially among those ages 18 to 24 with little or no education or training beyond high school.
Whitley said the initiative hopes to work directly with businesses to customize training if necessary, and offer rapid response to employment needs, with some programs lasting fewer than six weeks.
Waco Mayor-elect Dillon Meek said he applauds efforts to create a skilled workforce, one that well serves Amazon but also other companies that may cast their lot in Greater Waco. He said institutions must ensure locals get training and opportunity to develop technical and "soft" skills.
"It is my hope, my expectation that Amazon is not going to be the last, that there will be additional employers moving to the Waco market that pay strong wages and offer a good benefits package," Meek said. "I look forward to sitting down with the newly convened council, the staff and management to work out an innovative and forward thinking strategy."
Waco Council Member John Kinnaird, whose term is expiring, said during Amazon's announcement ceremony he would favor allocating to workforce development tax money generated by the $215 million Amazon facility.
Meek said Kinnaird's suggestions merits consideration.
Clifton said Amazon's announcement may open the floodgates.
"I've worked in this area since 1996, and I've never seen such interest in our community," Clifton said. "Does that mean we're going to close all the deals we're working on? No. It's like the insurance business. You don't get them all, but I think we'll get more than our share. From a macroeconomic standpoint, I can't say why we're seeing so many prospects, but it bodes well."
The Amazon site is in Texas Central Park, a master planned business park covering 3,700 acres bounded by U.S. Highway 84, State Highway 6 and Interstate 35. Land users have access to natural gas, electricity, water and wastewater service and Union Pacific rail. Its more than 85 occupants include Allergan, Caterpillar, Tractor Supply and Mars Wrigley Confectionary.
Chris Evilia, executive director of the Waco Metropolitan Organization, said local leaders for decades have groomed this park for excellence.
"We've forecasted that something significant would go into that general vicinity. We didn't necessarily see Amazon specifically, but we knew something big would go in there, and we planned accordingly," Evilia said, mentioning the involvement of Waco, McLennan County and the industrial foundation.
Bagby Avenue, once a two-lane road, now serves as a major feeder street near Texas Central Park. And the entire interchange at Interstate 35 and Loop 340 has been rebuilt, accommodating Baylor Scott & White Hillcrest, Central Texas Marketplace and Legends Crossing.
Next, when funding allows, the Texas Department of Transportation will tackle the $45 million "mall-to-mall" project in which the loop between I-35 and Waco Drive — or between Central Texas Marketplace and Richland Mall — will be reworked to include continuous frontage roads and new on ramps and off ramps.
The upgrade should improve traffic conditions near Texas Central Park.
"We're hoping construction will begin within a year," Evilia said. "Waco will relocate utilities, and state and federal funds will pay the rest."
Perryman said the center's multiplier effect should prove substantial.
"With Amazon paying 1,000 people decent wages, there will be an influx of new money into the area," he said. "These workers will go out and support local businesses of all kinds—restaurants, entertainment venues, retail stores, service providers, car dealerships, and everything else. … The multipliers on a location like Amazon are substantial, even if less obvious than for some industries."
Near the construction site, changes already are appearing.
Waco real estate agent Gregg Glime is advertising acreage available for industrial development. Glime said the land is controlled by a local investment group, and Amazon's presence is a clear selling point.
<&rdpStrong>Employment during COVID-19 by the numbers</&rdpStrong>
Employment during COVID-19 by the numbers
International Labour Organization predicts millions of global job losses
227 hospitals furlough or lay off health care workers
Working remotely becomes a reality for millions of Americans
Unemployment claims eclipse 30 million in U.S.
Government boosted weekly unemployment benefits by $600—but failed to renew payments
26.7 million workers exposed to infection monthly in March
With $600 supplement, unemployment paid more than wages in 38 states
Senate doesn't pass 'Heroes Act'
Education Department garnishes wages of 285,000 workers
Amazon hikes minimum wage by $2 per hour, for a limited time
Hundreds of health care workers have died from COVID-19
52% of essential workers are women
Many furloughed workers will not return to work
Walt Disney World lays off 28,000
71% of top earners are working from home
50% of American households lost hours or jobs in April
Wage recovery expected to take 5 years
Only 71% of unemployed workers receive benefits
Pay for transportation workers grows 3.2%
7.5 million hotel workers are out of a job
More than 35,000 airline workers furloughed and laid off
Women's advances in the workplace unravel
86% of at-risk jobs pay low wages
Restaurant industry loses 417,000 jobs
73% of U.S. workers report mental health issues
Colleges cut majors, furlough faculty
Concerned about COVID-19?
Sign up now to get the most recent coronavirus headlines and other important local and national news sent to your email inbox daily.