Chip and Joanna Gaines are not average Joes when it comes to marketing and business development, but they have found common ground with those who believe downtown Waco could use yet another coffee shop.
They have opened Magnolia Press at Eighth Street and Webster Avenue, where work crews swarmed in the days leading up to a soft arrival during Silobration last weekend.
"We opened early for you," says a sign outside the 5,000-square-foot establishment a football field's length from Magnolia Market at the Silos, cater-cornered from The Findery and within walking distance of The Backyard Bar Stage & Grill. A grand opening is set for mid-November, said Magnolia spokesman John Marsicano, in an email message to the Tribune-Herald.
Traffic on Wednesday flowed between the Silos and Magnolia Press, joining there visitors from California, New Mexico, Utah and Iowa, identified by license plates on vehicles near the front door. Orders were placed by customers whose names were called by staffers dressed mostly in green with gold lettering. Enlarged vintage photos of Waco scenes hang here and there. Packaged coffee beans and Magnolia-branded apparel share shelf space.
Magnolia Press is open 7 a.m. to 7 p.m. daily, joining the market in closing on Sundays.
All across downtown
Meanwhile, Lighthouse Coffee & Wine has opened quietly at 624 Washington Ave., near the McLennan County Courthouse and Z's at the Curry, where passersby may notice a mural with a message: "You Look Nice Today Wacotown." There on Wednesday barista Hope Wissel, a Baylor University junior from Houston, talked about making Lighthouse stand apart.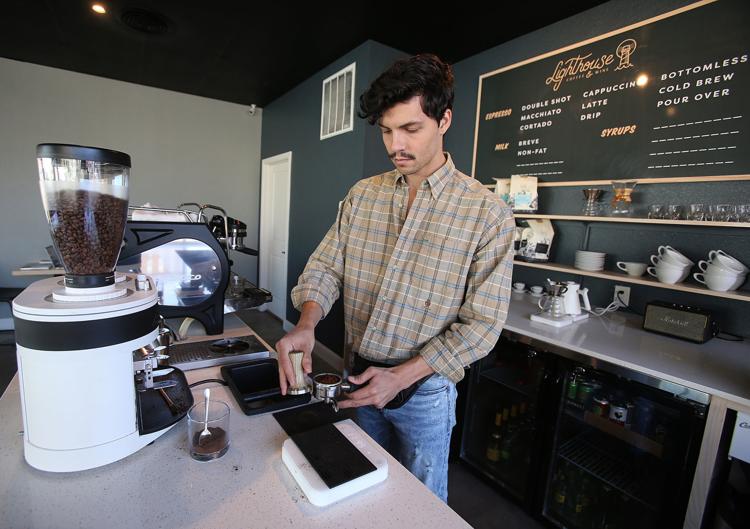 The shop, she said, serves coffees from beans shipped from Olympia Coffee Roasters in Seattle, Washington, which reportedly does business with selected farms in Colombia, Kenya, Guatemala, Ethiopia and El Salvador. Flavorings are produced in-house, said Wissel, who added Lighthouse will showcase its product line during a grand opening scheduled Saturday morning.
Wissel, a journalism major, said her resume includes time at the popular Common Grounds coffee shop on the Baylor campus. She sees little, if any, overlap in customer bases at Lighthouse and Magnolia Press.
"I see Magnolia as kind of a tourist spot. You have to go there once," she said. "We are more for the locals, I believe. The sheriff's office is right down the street. There are professionals who live and work downtown. Students are making themselves at home, taking advantage of the abundance of natural lighting we have through the windows, making it easier to study."
Lighthouse owner Joe Brower said in an interview he does not view downtown as becoming overserved when it comes to coffee shops.
"Visit some of the other places, and you'll notice they are packed out. There is no place to sit," said Brower. "I've heard complaints about that."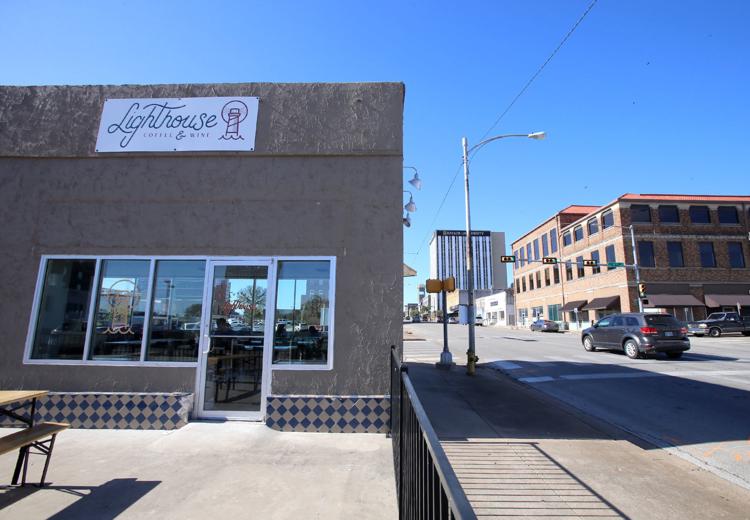 Brower said Lighthouse falls under the same limited corporation that owns Barnett's Public House in the 400 block of Franklin Avenue. The LLC also controls The Olive Branch Bakery & Cafe, which provides pastries to Lighthouse.
Coffee fixes, it would seem, are available on most downtown corners.
The Hustle co-working space at 605 Austin Ave. offers coffee service as a perk. The privately operated WacoWork venue at Sixth Street and Columbus Avenue advertises its "liquid sanity," coffee and beer on tap. The regularly scheduled opportunity for local entrepreneurs to pitch their business plans to would-be investors is called 1 Million Cups, and its logo features a steaming cup of coffee. Attendees are encouraged to drink their fill.
Waco's new home-owned bookstore, Fabled Bookshop & Cafe at Fourth Street and Franklin Avenue, includes a wall-dominating coffee service.
Veronicka Thompson, spokeswoman for WacoWork, said coffee became a priority upon Blake Batson's decision to have his own office there. He owns the Common Grounds establishments locally.
"We offer Waco-based Native Sons Coffee," Thompson said.
Growing opportunities
Brett Jameson, who broke the ice downtown when he opened Dichotomy Coffee & Spirits on Austin Avenue nearly six years ago, said he does not fear the growing competition. He does suggest, however, that there are those who live and work outside downtown who crave morning Joe.
"There are opportunities in other parts of town," he said. "If we opened anything else in Waco, it would definitely not be downtown. We continue to do well. September was a little bit down on the coffee side. I think that had something to do with the work on Interstate 35. It's also been warmer than usual, until this week. People don't want as much coffee."
Jameson noted Dichotomy also has its liquor business to provide a lift.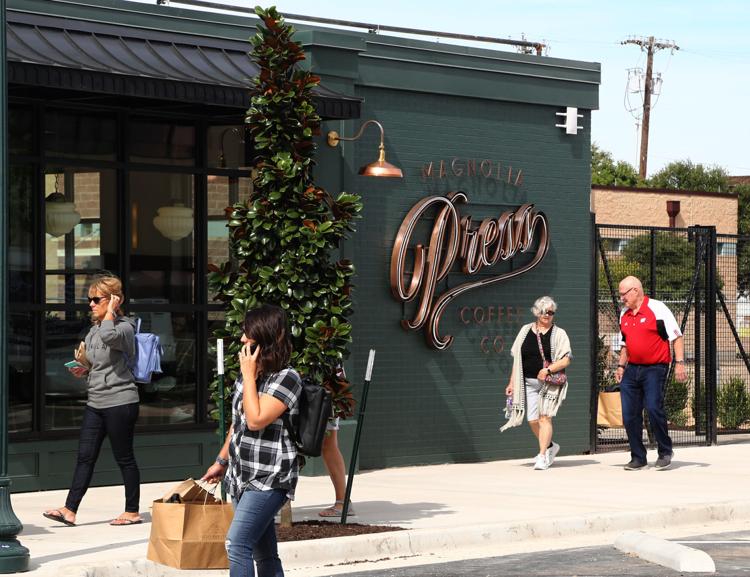 Magnolia Press occupies 5,000 square feet in the 13,000-square-foot former CrossFit Waco building, meaning the Gaineses have plenty of space for complementary attractions and retailing. Magnolia spokesman Marsicano said he will provide more details about use of the remaining space in coming weeks.
He said Magnolia Press will accommodate about 175 coffee drinkers and diners, counting the outside seating. Work continues as well on paving the gravel surface around the coffee shop, which to date has been used to offer free parking for patrons of nearby Magnolia Market at the Silos.
Besides specialty coffees, hot cocoa and teas, the menu at Magnolia Press on Wednesday included a lemon blueberry roll, Magnolia Press chocolate cake and a savory artichoke croissant, all priced at $4.50. A pumpkin spice latte appeared under the "seasonal" offerings on the menu board.
Backpacks and laptop computers were plentiful, signifying a strong student presence, but gift-toting visitors also were in abundance.
"I like coming here because, how can I put this, it's a less local place," said Emily Sedate, a 22-year-old Baylor University religion major from Houston. "I like to meet new people. The Magnolia factor, as people call it, doesn't seem to be going away. It's not going away, which is fine by me. They have been good stewards of the space they've acquired. I've not grown tired of anything they've introduced, and I've been here six years."
The business news you need
With a weekly newsletter looking back at local history.