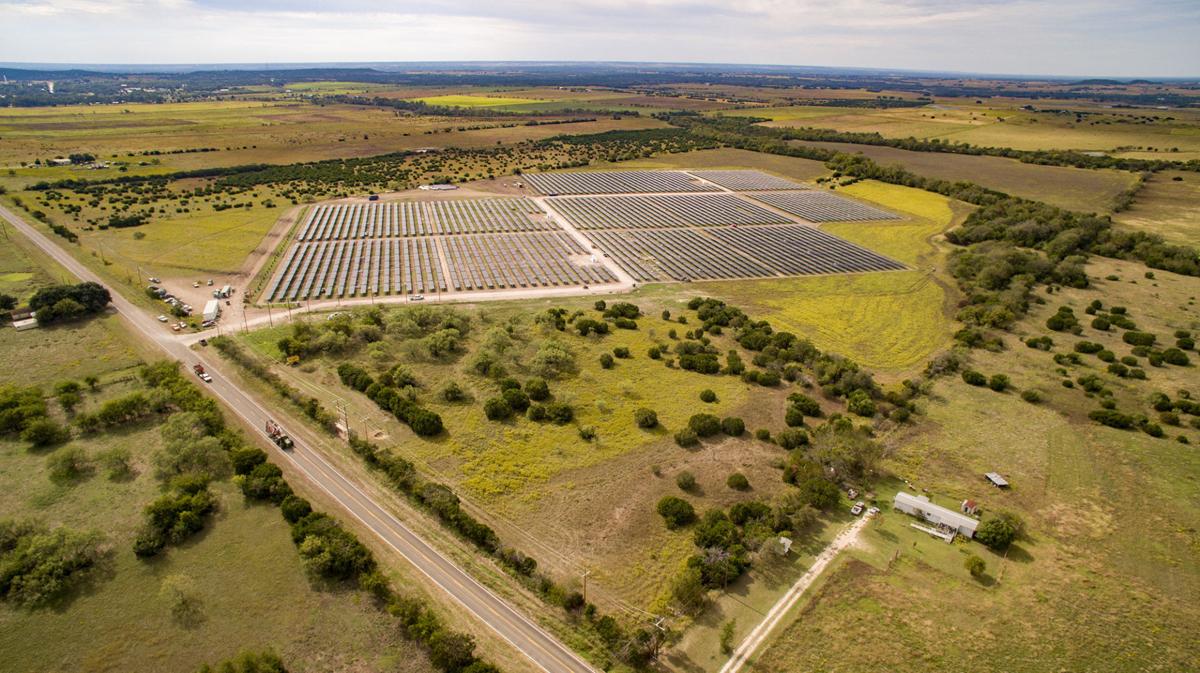 California-based Cypress Creek Renewables will invest $13 million to build a solar farm near Bruceville-Eddy, partnering with McLennan County and the Greater Waco Chamber of Commerce on a project that will support the energy needs of about a thousand homes yearly.
Construction of the 13-megawatt solar farm on 88 acres will begin in the fourth quarter of 2017, and the farm should begin operating within six months, according to a news release issued by the Waco chamber.
"While under construction, the project is expected to support 100 related jobs, and Cypress Creek is expected to utilize a significant number of local contractors to establish the site," the release states.
"This is exciting," McLennan County Judge Scott Felton said. "I think this emphasizes the county is compatible with all types of businesses. We love to attract big ones, but we also need smaller and middle-sized ones. Having diversity in our energy sources also is a plus."
The county approved five years' worth of tax abatements, ranging from 65 percent the first year to 30 percent the past two years, Felton said.
Kris Collins, senior vice president of economic development at the Greater Waco Chamber of Commerce, said the chamber and county collaborated with Cypress Creek Renewables to find a suitable site fitting its criteria. It wanted to place the farm and its 45,000 solar panels less than a mile from an Oncor substation and outside the city limits of any municipality.
Cypress Creek reportedly is partnering with The Woodlands-based TriEagle Energy to market the electricity it produces.
"They wanted not to intrude on cities and neighbors in residential areas," Collins said. "Cypress Creek will produce electricity that goes directly into the power grid for distribution by Oncor. It's a very low maintenance facility that will not need a water system or require wastewater discharge."
A California company is looking to build two solar farms in McLennan County, in a partnershi…
Collins said securing a commitment from Cypress Creek "guarantees a renewable energy source in the local market. It increases the tax base but does not put constraints on local infrastructure."
She added, "I'm sure the Bruceville-Eddy school district will see a significant benefit in terms of tax revenue due to this project, and we are excited to have the farm as part of our business community."
Cypress Creek spokesman Jeff McKay said the company is placing solar farms in "multiple counties throughout Texas," and is interested in pursuing additional projects in McLennan County.
He said the introduction of solar-generated power into the grid promotes the company's goal of providing affordable and clean energy to as many homes and businesses as possible. He added solar-generated electricity is becoming less expensive, "with costs at or below market value."
The typical life span of a solar farm is 30 years, McKay said.
Cypress Creek Renewables in June confirmed it wanted to build two solar farms in McLennan County, one near Bruceville-Eddy and another within the city limits of Robinson. The Robinson City Council approved a zoning change and a special-use permit for about 54 acres near 1633 Greig Drive.
The proposed plant in Robinson would require a $6 million to $9 million investment, said Cypress Creek spokesman Shane Shields. The company has to perform a utility study before work can proceed.
The solar plan in Robinson will contain rows of photovoltaic cell panels with an anti-reflective coating mounted on posts set in the ground. The panels would be no more than 25 feet high and pivot to follow the sun throughout the day, according to the company's application with the city.
"Solar energy is essential and desirable to the public convenience and welfare," the application states. "Demand for electricity has increased in recent years, and our society is currently dependent upon conventional sources of power such as coal, gas and nuclear energy.
"Conventional sources of electricity are expensive, finite resources that require significant environmental disruption and public safety risk to maintain or extract. Solar energy is a clean, cheap, unlimited resource with little environmental impact," according to the application.
McLennan County created its third reinvestment zone this week so it can provide tax incentiv…
Holt Kelly, owner of Holtek Solar, applauded the arrival of the solar farms, saying solar "is a viable part of our energy solution, and people are very interested in it. I may get a few nibbles with the increased exposure."
Kelly said he installed 36 solar panels adjacent to the Jubilee Food Market at North 15th Street and Colcord Avenue. They offset energy costs related to Mission Waco's Urban REAP project that features an aquaponic system, greenhouse and composting machine, Kelly said.
With more than 5 gigawatts of local solar farms deployed or in development in 15 states, Cypress Creek Renewables claims to be the largest and fastest-growing dedicated provider of local solar farms in the United States. It has invested $2 billion in projects.
The business news you need
With a weekly newsletter looking back at local history.