Waco, home of the Baylor Bears, is getting its own Black Bear Diner.
Founded in 1995 in Mount Shasta, California, the chain has grown to 141 locations in 14 states serving breakfast all day, burgers, sandwiches, salads, chicken-fried steak, cobblers, milkshakes, bread pudding, chicken-apple sausage, French toast and a belt-busting menu item called The Volcano, featuring three sweet-cream pancakes, two sausage links, two slices of thick-cut smoked bacon and two eggs, according to the Black Bear Diner website.
What's more, each restaurant is decorated with wood carvings of bears, some in action mode as skiers, fighter pilots and grape stompers.
They are all the work of "chainsaw mastermind" Ray Schultz, who will take custom orders from individuals, according to the website.
Black Bear Diner will take 5,200 square feet in a retail strip under construction near a Loop 340 entrance to Central Texas Marketplace. Kay Jewelers and Spectrum also have committed to the location, said Dan Frey with Endeavor Real Estate Group, which is marketing the site.
Frey said occupants likely will open early next year.
Personally speaking, a Black Bear Diner in Oklahoma City enjoyed brisk business during the Phillips 66 Big 12 Conference Women's Basketball Tournament in March 2019. The Baylor Lady Bears won the tournament on their journey to a third national title under coach Kim Mulkey.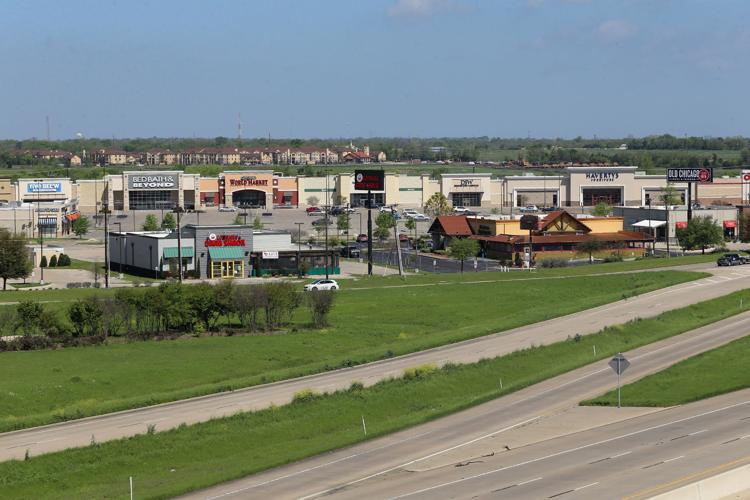 Changes are in play elsewhere at Central Texas Marketplace.
HomeGoods, founded in 1992 as an off-price retailer of home decor, tableware, bedding, bath, pet and gourmet kitchen supplies, reportedly is looking hard at the former Sports Authority space next to Petco, which was more recently occupied by a Forever 21 store.
HomeGoods stores average 25,000 square feet "and feature a spacious environment with bright, wide aisles organized by department for ease-of-shopping," and the chain avoids promotions and sales, generally offering prices 20% to 60% less than those found on comparable merchandise at other retailers, according to its website.
HomeGoods, Marshalls and T.J. Maxx are corporate relatives.
Bath & Body Works has confirmed it will place a store next to Ross Dress For Less, filling two retail spaces previously occupied by Payless ShoeSource and a women's fashion boutique in recent years.
The chain specializing in fragrances, lotions and candles also operates a store in Richland Mall that recently reopened.
Central Texas Marketplace spaces formerly occupied by Forever 21 and Dressbarn are vacant and available. Pier 1 Imports is holding a quitting-business sale.
On the positive side, Logan's Roadhouse has reopened. Its parent, CraftWorks Holdings, filed for Chapter 11 bankruptcy protection, furloughed thousands of employees and shuttered all 261 Logan's locations. Speculation was rampant the stores may never reopen as COVID-19 took its toll.
But the Logan's in Waco is up and running, though compliance with state pandemic orders means it must limit occupancy to 50% of capacity until further notice. Word is the Waco location is gradually adding items to the menu.
The Old Chicago Pizza and Taproom location in the marketplace remains closed, but an Old Chicago franchisee reportedly is interested in buying it, real estate agent Jim Peevey said. It was previously a corporate location.
Tesla START graduates
Texas State Technical College has graduated its first Tesla START training program, and students completing the 12-week endeavor now can work at Tesla Service Centers in North America, TSTC reported.
Classes were held at the Kultgen Automotive Center at TSTC's Waco campus, but due to safety precautions related to the COVID-19 pandemic, some lessons were shifted online to the Tesla Service Center in Dallas.
There are seven other Tesla START partnerships with colleges in California, Florida, New York, North Carolina, Ohio and Washington. The program launched in 2018 and has had more than 300 graduates to date.
RNR Tire
RNR Tire Express & Custom Wheels continues its push into the Greater Waco market, having bought the longtime AAMCO Transmissions building at 1328 S. Valley Mills Drive, next to a Little Caesars restaurant.
Already operating at 803 N. Hewitt Drive, the RNR franchising team of Cary McPherson and David Belt will add South Waco to their locations in Bryan, Killeen, Lufkin and Tyler, Belt said. The Waco store will open following major renovations, he said.
The chain, based in Tampa, Florida, is creating a niche by offering in-house financing and reasonable monthly payments, Belt said.
"It's hard to spend $800 to $1,000 on tires in one throw," Belt said.
RNR offers tires, wheels and services including alignments.
This is the second local venture for Belt and McPherson, the team having opened Action Rent-To-Own years ago, later selling it.
Colt Kelly with Kelly Realtors Commercial represented RNR in the purchase.
Dillard's menswear
Dillard's continues to spend money at Richland Mall.
Fresh from spending more than $8 million to create its new home in the former Sears space in the retail center at Waco Drive and State Highway 6, the department store has secured yet another permit to tweak the separate menswear shop.
The new permit is valued at $417,635, according to the city.
Dillard's operates two locations in the mall, one being the newly renovated site covering 125,000 square feet and loaded with fresh fixtures, display areas, lighting and merchandise, the other the men's shop elsewhere in the mall. The men's area, which includes the suit department, will be upgraded and expanded, according to a description on the permit.
Housewares will move from its cranny in menswear to the new store.
Building permit roundup
Other building permits of note issued in recent weeks include the following:
Phase 2 of Magnolia Market at the Silos' $10 million-plus expansion at South Eighth Street and Webster Avenue
H-E-B, 1821 S. Valley Mills Drive, curbside grocery pick-up location, including expanded storage area and cooler, $100,000; H-E-B, 9100 Woodway Drive, $300,000, to add space for curbside service
Finish-out for Village Pizzeria, 720 Franklin Ave., Union Hall food hall
Commercial shell, 2720 W. Loop 340, Central Texas Marketplace, Highline Real Estate Group, $1 million estimated cost
Replace metal roof on Putt Putt Golf office, reroof miniature train station and train workshop, Lions Park, 1715 N. 42nd St., Cen-Tex Roofing.
Concerned about COVID-19?
Sign up now to get the most recent coronavirus headlines and other important local and national news sent to your email inbox daily.