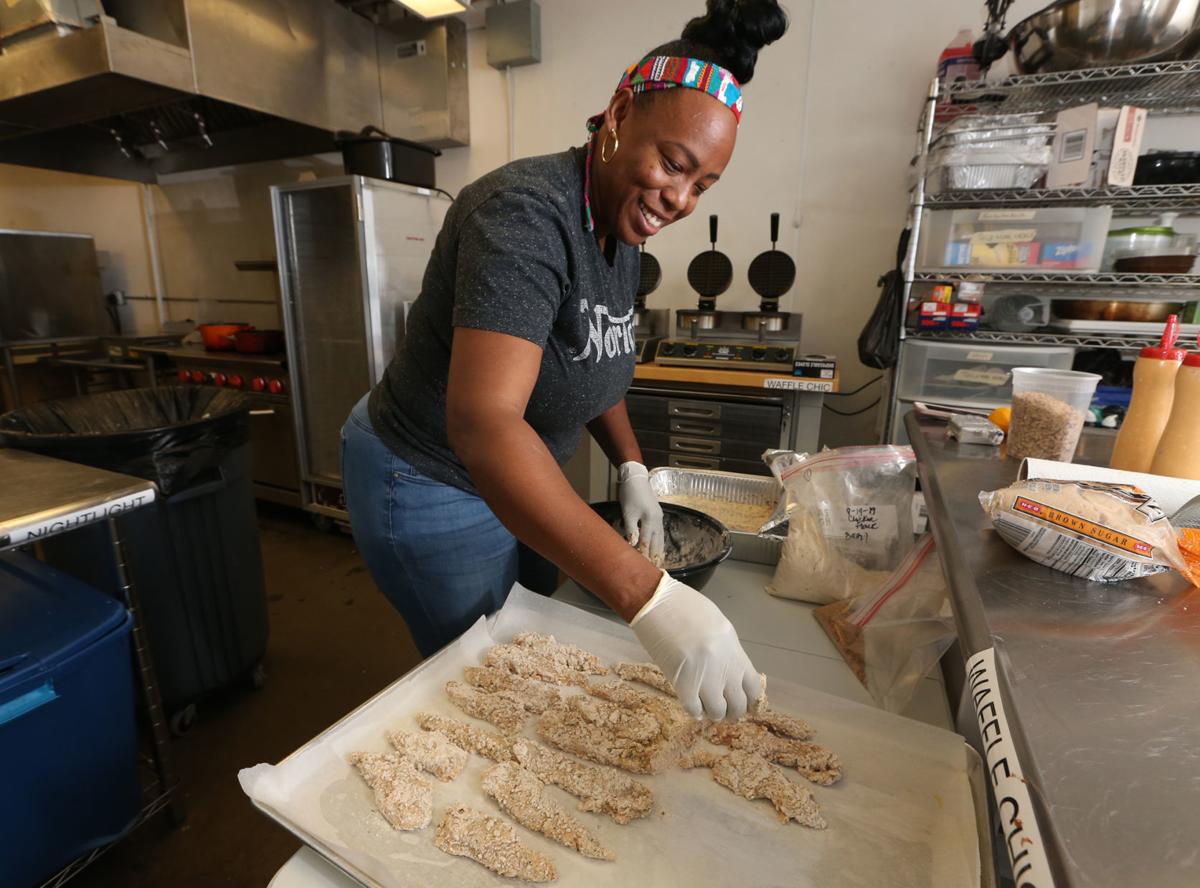 John Hagan assures he is not playing a game of chicken with Bush's, the chain Waco diners have been flocking to for years, the cock of the walk, so to speak.
Hagan is not looking to ruffle any feathers. He is just very confident in the viability of his own franchise, Golden Chick, which continues to spread its wings locally. Hagan, who the week before last opened his fourth area location, is repurposing an old Dairy Queen on Interstate 35 to create a fifth and is continuing a search for construction sites in China Spring and Robinson.
His new joint at 3601 N. 19th St. is about a football-field away from a Bush's Chicken, where carhops efficiently take and deliver orders, rain or shine.
"Do you think I should be worried about Bush's?" Hagan said, laughingly responding to a question. "I really don't look at the competition. If you're competing against people, you're in this for the wrong reason. We hope to provide a good product and good service. I used to be the most competitive person on earth, but the Lord changed me. I try to pattern my attitude, and how I react to people, after Matthew 5," referencing the gospel that includes Jesus' Sermon on the Mount, the Beatitudes and Lord's Prayer.
Hagan, of Cleburne, now owns and operates 14 Golden Chick locations. His first, on Hewitt Drive, continues to perform well. Its success and the restaurant boom in Greater Waco convinced him to pick up the pace, though he said he had already made commitments to build on several sites even before new restaurants started to appear on nearly every corner.
His son-in-law, Edgar Solis, oversees operations in Greater Waco.
Hagan said longtime friend Tom Wright, with Built Wright Construction, persuaded him to get involved in a fresh strip center on North 19th Street, "something new in a neighborhood with nothing positive in a long time."
Besides Golden Chick, Hagan will open there a Hagan's Handcrafted burger joint like one operating on Hewitt Drive. Domino's Pizza also has a presence.
"I love hamburgers, came up with my own recipes and opened a restaurant back in 1999," Hagan said. "I always wanted to go back and do it again. Everything is made from scratch. We make our own batter for the onion rings and okra. I'd put our okra up against anyone. We'll probably put more locations in Waco, but as of now, I haven't signed leases or bought property."
Golden Chick can trace its founding to San Marcos more than 50 years ago. The chain originally operated as Golden Fried Chicken, becoming Golden Chick in 1993, four years after it was acquired by an investment group.
The concept has grown to more than 150 locations.
Baylor license plates
Baylor University is offering new school-branded license plates for drivers wanting to show their support for the Bears while on the road.
The plates, available to Texas drivers, feature a prominent green-and-golf color scheme and the interlocking BU logo, according to a Baylor press release.
Price options start at $35 a year, and a portion of proceeds supports scholarships.
Baylor's license plate partnership is with MyPlates, a Texas-based company that partners with the Texas Department of Motor Vehicles.
Waco wages
Here's a toast to wages in Waco, courtesy of the Greater Waco Chamber of Commerce. It has secured the services of Readex Research to conduct a confidential survey of pay and benefits at local companies.
Those taking part will receive free copies of the results, while nonparticipants wanting the information must pay $100. The study will provide a breakdown and comparison of local wages, and identify benefits offered locally.
The report "will give us at the chamber of commerce a better understanding of the companies and workforce within the Waco area, and will better equip us to serve you and businesses considering our area for new facilities," according to a press release.
As an incentive, the chamber is promising one participating company a tour of Waco's award-winning whiskey company, Balcones Distilling, for up to 12 staffers. They will conclude their walk-through in the tasting room.
The survey closes on Dec. 31, according to the press release.
Dat Dog
Dat Dog, a New Orleans franchise chain specializing in gourmet hot dogs and sausages, has included Waco in its expansion plans.
"While there are no set locations at this point, CEO Paul Tuennerman believes the Austin and Waco markets can each support one location," according to a Dat Dog press release. "There is already a location in development in (Houston)."
The chain's menu includes sausages made with alligator, duck and crawfish "to be decorated by any combination of their 30 toppings," the release states.
Becoming a franchisee requires payment of a $50,000 fee, with the total investment ranging between $992,000 and $2.8 million, according to the press release.
Big Idea
Waffle Chic, 1500 Columbus Ave., home to Southern style chicken and waffles, is the latest winner of the Big Idea Challenge sponsored by Extraco Banks.
Owner Shamica Evans will receive a $5,000 cash prize and six months of free access to the Hustle coworking space at 605 Austin Ave. Waffle Chic will use the money to install equipment that would allow it to open for business more often, according to a press release from Start Up Waco.
More than 50 applications were submitted for the latest Big Idea Challenge, designed to assist fledgling businesses. Finalists besides Waffle Chic included Alexa Wible, personal trainer and owner of Strong Moms in Training, who received $2,500 and six months of access at Hustle. Daniel Lasher, owner of ToGetHome, received $1,000 and three months of access at Hustle.
Food Truck Showdown registration
Registration has begun for next year's Texas Food Truck Showdown, which will be held March 28 in downtown Waco.
The business news you need
With a weekly newsletter looking back at local history.