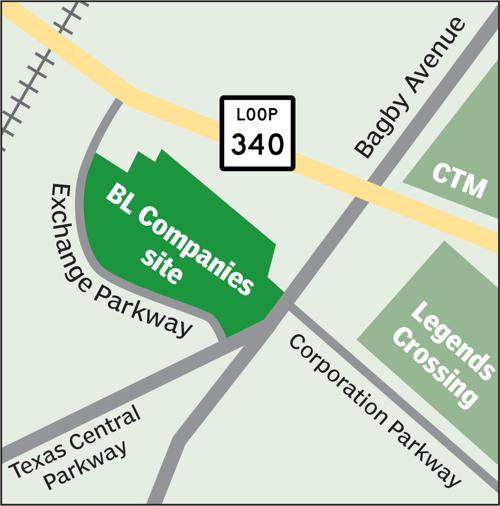 A national company that has handled projects for the likes of Amazon and FedEx, among many others, has a permit to lay the foundation for a 700,000-square-foot distribution center and warehouse in Waco's industrial park.
Heavy equipment has arrived to install waterlines on the 93-acre parcel, and the city of Waco inspection services department and the local Associated General Contractors of America office confirmed the building would cover 700,281 square feet at 2000 Exchange Parkway. BL Companies secured the permit, but the intended user of the building remains a mystery.
Putting a structure that size in perspective, consider the hulking Coca-Cola Minute Maid plant at Imperial and Hewitt drives occupies 660,000 square feet. Richland Mall covers 708,000 square feet at highways 84 and 6.
And right across the street from the ongoing project, at 1800 Exchange Parkway, stands a 688,000-square-foot Army and Air Force Exchange Service facility that warehouses merchandise trucked to stores on military bases.
But local officials are not commenting on what purpose the new complex might serve or the number of people it could employ. It will occupy prime space in Texas Central Park, an almost 4,000-acre industrial zone with convenient access to U.S. Highway 84, Loop 340, Interstate 35 and Bagby Avenue, rail service provided by Union Pacific and land lots controlled by the Waco Industrial Foundation, which often sells at below-market prices.
"I am not at liberty to say anything about an economic development project," said Kris Collins, industry recruiter for the Greater Waco Chamber of Commerce, when asked about the building permit.
Collins works closely with the Waco Industrial Foundation, serves as the chamber's senior vice president of economic development and updates city and county elected officials regularly on major projects.
City of Waco Planning Director Clint Peters likewise demurred.
"It is my understanding a permit has been issued for site work, for a foundation, but they have submitted no plans," Peters said. "I don't know what's being built and won't until those plans are submitted. The Waco Industrial Foundation has not shared that information."
The foundation controls the site in question, which the city of Waco annexed earlier this year at the foundation's request. In May, when the Waco Plan Commission voted to recommend the council annex the land, Peters told the Tribune-Herald the city has a longstanding agreement with the foundation not to annex properties until the foundation is ready to sell or develop them.
Signs announcing the land's availability are posted on the site.
Foundation-owned property is in the city's extraterritorial jurisdiction, meaning the city holds sway but does not levy taxes. The Waco chamber manages much of the day-to-day functions of the foundation, which was formed in 1952 and is formally led by a 24-member volunteer board.
McLennan County Judge Scott Felton said he could not comment on apparent progress in developing the 93-acre site. The Waco City Council and McLennan County Commissioners Court must both agree to spend money from a taxpayer-supported fund used to entice and assist industry.
"Not yet," Felton said, when asked if money had been earmarked to accommodate the potential user of the acreage on Exchange Parkway.
Army and Air Force Exchange Service spokesperson Chris Ward said AAFES is not expanding its presence in Waco. He said management is aware of plans underway to develop the land across the street.
While not specifically addressing the property on Exchange Parkway, Collins said the economic development office "has a strong pipeline of activity that could result in additional job growth for the market and capital investment for the area, both of which are good things. Despite everything happening in the world right now, this could be a strong year for announcements."
News last week that Tesla will place a vehicle manufacturing plant in Austin employing about 5,000 also had Collins thinking positively.
"I think we're in close enough proximity to that market that there could be a regional spinoff. That could represent opportunity, if one considers the impact other manufacturing facilities have had around the country," Collins said.
Waco-based economist Ray Perryman agreed.
"Having the Tesla gigafactory in Austin brings many benefits, some of which will spill over to firms across the state," Perryman said by email. "In the near term, it offers a large number of jobs at various skill and education levels that will directly benefit the economy and have positive effects on other segments. It also has the potential to create a clustering effect of other firms in the Austin area."
It also puts a big player in battery technology near the University of Texas, where a co-inventor of the lithium-ion battery recently has continued to take part in new battery developments with his colleagues.
"Battery technology is certainly one of the growth areas of the future, and much of the pioneering work occurred at the University of Texas," Perryman wrote. "The Tesla facility opens up a new opportunity for Austin to be at the center of the emerging expansion and build on current synergies. Entities across the state, including those in Waco, have enhanced opportunities to provide products and services to the gigafactory."
Perryman said his economic modeling shows the first phase of hiring will generate more than 21,000 jobs and $1.7 billion in local gross product, factoring in the ripple effects of spending on the economy.
"Waco has the potential to capture some share of the increase in business activity and opportunities," he said. "In particular, there may well be training opportunities associated with TSTC (Texas State Technical College) for various elements of the supply chain and, two, with truck and SUV manufacturing now taking place in Arlington (GM), Austin (Tesla) and San Antonio (Toyota), there may well be suppliers of components that would benefit from a central location such as Waco."
The website for BL Companies, the firm that secured a permit for work on the 700,000-square-foot building foundation in Waco, shows it has offers a variety of services, and that it has done architectural work for an array of companies, from FedEx to Columbia University, and has overseen multiple retail developments.
Local news reports by masslive.com and by The Sun Chronicle in Massachusetts show BL has worked on Amazon distribution centers in that state, with one approved last summer and one starting the permitting process earlier this month.
The business news you need
With a weekly newsletter looking back at local history.