---
A Dallas-based hotel developer's vision of building a Marriott SpringHill Suites hotel on Interstate 35 across from Baylor University is moving forward after receiving a city variance to allow a seven-story building.
DBG Investments is proposing a hotel with 125 suites at 115 S. Jack Kultgen Expressway, at the current site of the Executive Inn and Suites budget motel, which the firm already owns. The new hotel would have multilevel parking, an indoor- outdoor pool, a bar, some food service and a rooftop deck with views of Baylor University, downtown and McLane Stadium.
The city's Zoning Board of Adjustment last week voted unanimously to allow a variance for the hotel in a zoning category, C-3, that otherwise allows only four stories.
Arjun Demla, an associate with the partnership, said the vote allows the project to move forward, and he hopes to see it completed in time for the 2017 Baylor Bears football season.
"We're really excited about the project, and the city of Waco has been very gracious to work with us," Demla said. "It's a good time to be in Waco. Everything is growing."
He said the firm is about halfway through the process of getting a SpringHill Suites "flag" from Marriott, indicating it meets the hotel brand's standards.
City planning director Clint Peters said it appears the Waco hotel would have amenities and finishes beyond what is typical of SpringHill, a limited-service, suites-only brand that can be seen in 300 locations across the country. The one in Woodway off Highway 84 offers rates of about $125 a night.
The hotel would replace an aging mid-1980s motel that has been known variously as the Lexington Inn, America's Best Value Inn and Executive Inn and Suites.
"I think that's really going to improve the look of that part of the interstate," City Manager Dale Fisseler said. "A multistory facility like that creates a little more excitement along the highway when you're driving by. It's a vast improvement over what we've seen."
The Board of Adjustment last Thursday discussed whether a seven-story hotel would obstruct views of downtown Waco but concluded that the hotel's orientation with its skinny side toward the interstate would minimize the effect, Peters said.
He said the C-3 zoning was adopted decades ago, and the four-story height restrictions were probably meant to protect neighbors from being eclipsed. Peters said this is the first time the height restrictions have been an issue for development in the immediate area.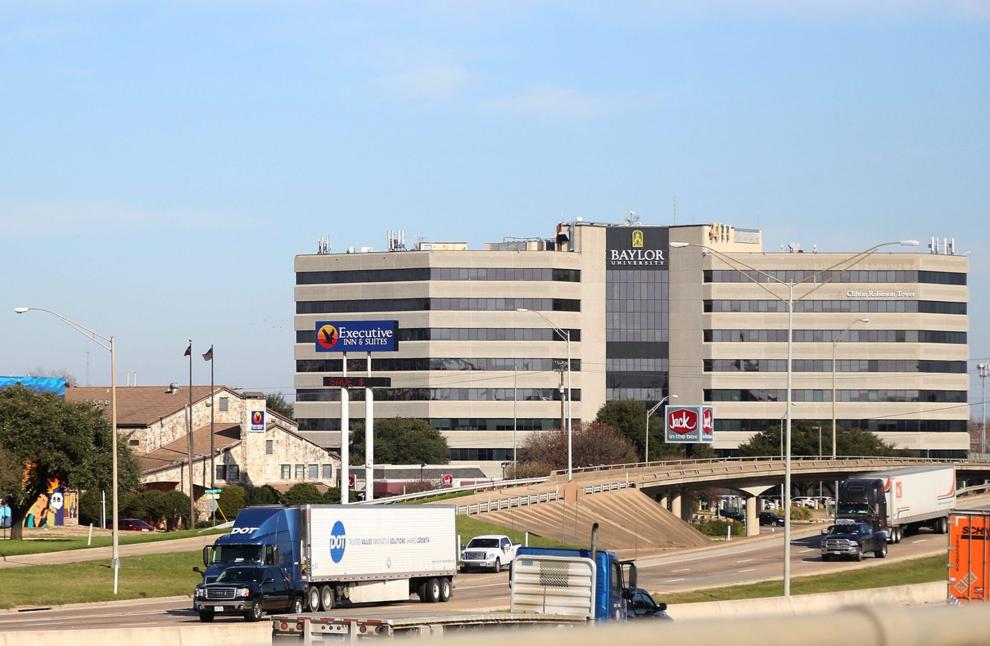 City Center Waco executive director Megan Henderson said she is confident the hotel won't hinder downtown's "viewshed," and it will add quality "middle-upper range" hotel rooms needed in downtown.
Carla Pendergraft, director for marketing at the Waco and Heart of Texas Convention and Visitors Bureau, said she welcomes the hotel, though it is only the beginning of what is needed in an underserved Waco lodging market.
"It will be absorbed, but I think there will still be huge unmet demand," Pendergraft said. "I think people are not staying in Waco right now because they can't find a room. They're going to Temple or Hillsboro or just going to Waco for a day trip."
The area around Baylor and I-35 has lost several hotels in the past few years, including Hotel Waco, Old Main Lodge and the 148-room Clarion Inn, which was a couple of blocks from the proposed site.
Overall in the Waco market, the number of rooms in the past three years has dipped while demand has increased. As a result, Waco in 2015 had an occupancy rate of 68.3 percent, the third-highest of any city in Texas, according to Source Strategies of San Antonio.
But she said convention bookers still need additional large, upscale hotels with conference space and food service. City officials have continued to discuss the need for a large full-service hotel on the riverfront at Interstate 35, but no firm plans have been made.
Fisseler, the city manager, said he doesn't think the SpringHill Suites would be direct competition for that project, which is being envisioned as a "signature" hotel for Waco.
Bland Cromwell, a real estate broker with Coldwell Banker Jim Stewart Realtors, said demand for new hotel space is strong across the board. He is working on a couple of limited-service hotel projects that could bring more than 200 rooms to the downtown section of I-35 north of 11th Street.
He said the success of Magnolia Market has added fuel to an already smoldering hotel market in Waco.
"There's certainly demand, and I don't think it's a temporary thing," Cromwell said. "We've got a winning sports team and an interstate. You add something like Magnolia and you've got a perfect storm."