Renowned Waco photographer Fred "Gildy" Gildersleeve trained his storytelling camera on a new furniture store downtown about a century ago.
It was the Stratton-Stricker Furniture Co. at Eighth Street and Austin Avenue, and thousands of people crowded into the shot.
Developer Peter Ellis placed a blowup of that black-and-white picture on his construction site at 800 Austin Ave., where crews in hardhats Monday were installing wiring and toting lumber. Ellis and his Anthem Group are spending $5 million to renovate the long-vacant building, with a department store concept called "Stories" on the first three levels, and urban lofts and a roof garden upstairs, he said during a tour Monday.
Ellis said he hopes to honor the building's heritage by making it a shopping destination once again, filled with imported rugs and other home furnishings, as well as a chef-driven restaurant and a walk-up beignet bakery.
At his grand opening, targeted for May or soon thereafter, he wants to re-create the look and feel of the Gildersleeve scene, hoping at least a thousand smiling guests will celebrate with Ellis what he's done with the place, his contribution to continuing development along Eighth Street. His Stratton redux is steps from the expanded Waco Hippodrome and a block from new Union Hall.
Ellis announced his plans for the Stratton Building six years ago, and he secured about $1 million in Tax Increment Financing Zone assistance. He is pursuing a National Register of Historic Places designation for the Stratton, so has walked a fine line in replacing all the plumbing, electrical and HVAC components, updating utilities and installing new amenities such as an elevator.
Ellis counts seven levels in the building, counting the basement as well as the mezzanine that wraps around the wide-open ground floor. The Stratton Lofts will take up three floors, and a new roof garden counts as a seventh level.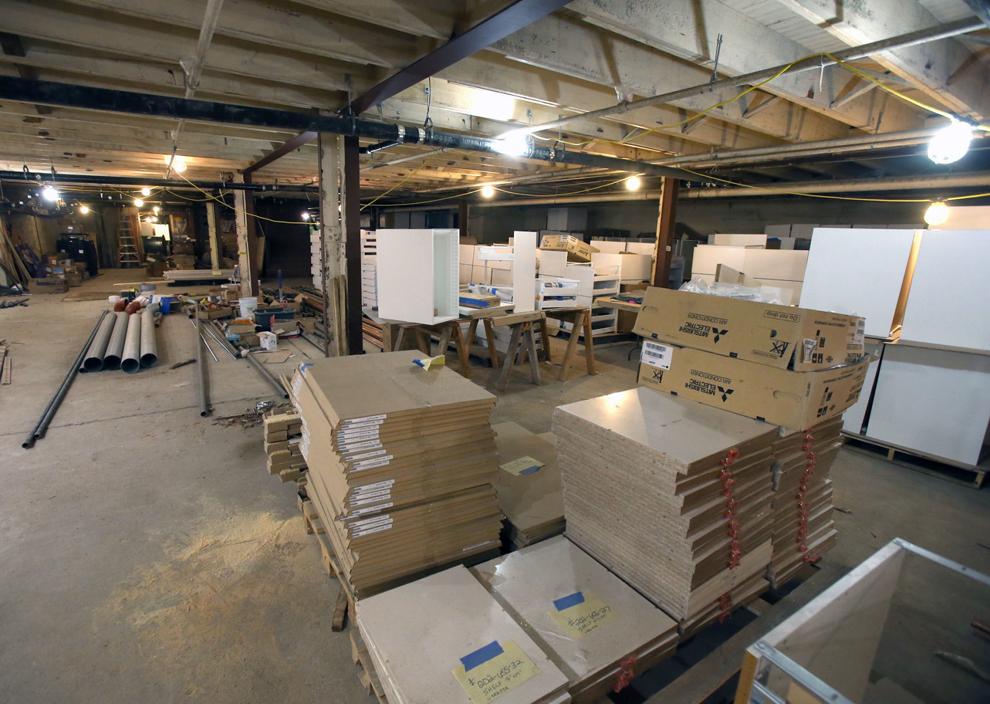 Stories, so named because of the Stratton's multiple levels and the "back stories" retail tenants may share, will become Waco's newest department store, he said. He has room on the lower floors for 30 retail tenants, all of which will share a sales staff and check-out registers. Spaces are for lease for $300 to $1,500 per month.
"Ample showroom and retail space is being carefully curated for this vendor collaboration and will be located on the first two stories of the building," the brochure explains. The space is visible through 150 feet of glass that wraps around the brick structure, located across Austin Avenue from the state office building occupying the former Raleigh Hotel.
"The department store contains 20-foot windows, tin ceilings, a beautiful grand staircase, with an historic gallery-style showroom," said his brochure.
Meanwhile, the lofts will have six variable floor plans ranging in size from 500 to 800 square feet, featuring original longleaf pine floors, tin ceilings and large windows with expansive city views. Leases will range from $1,000 to $1,500 per month, including utilities.
Ellis said inquiries continue to mount, and he has signed pre-lease deals. He's hoping to have living units ready for occupancy by March, the department store operating by March, and "everything done by summer."
"Housing is critical for economic stability," Ellis said. "We see people bringing their whole life downtown."
Ellis said that for the department store, he wants artisan goods long on quality and uniqueness. Carpeting from Morocco already appears on his list, and Ellis welcomes displays of pottery, designer furniture and custom apparel, including handmade boots and belts.
Renderings show a ground floor with payment registers, a retail clothing area, fitting room, bridal area, men's and women's restrooms and stairs to the basement. The second floor mezzanine, meanwhile, includes more registers, a restaurant, bar, bakery, floral shop, kid's zone and a lounge/library/office zone, according to drawings in the brochure.
"The restaurant space is still up for grabs," said Ellis.
"We really are going for the origin of the historic department store model, allowing for variety within a densely urban setting, where locals have a chance to access inspired and quality goods, from artisans and sustainable-practice enterprises," Ellis said in a news release.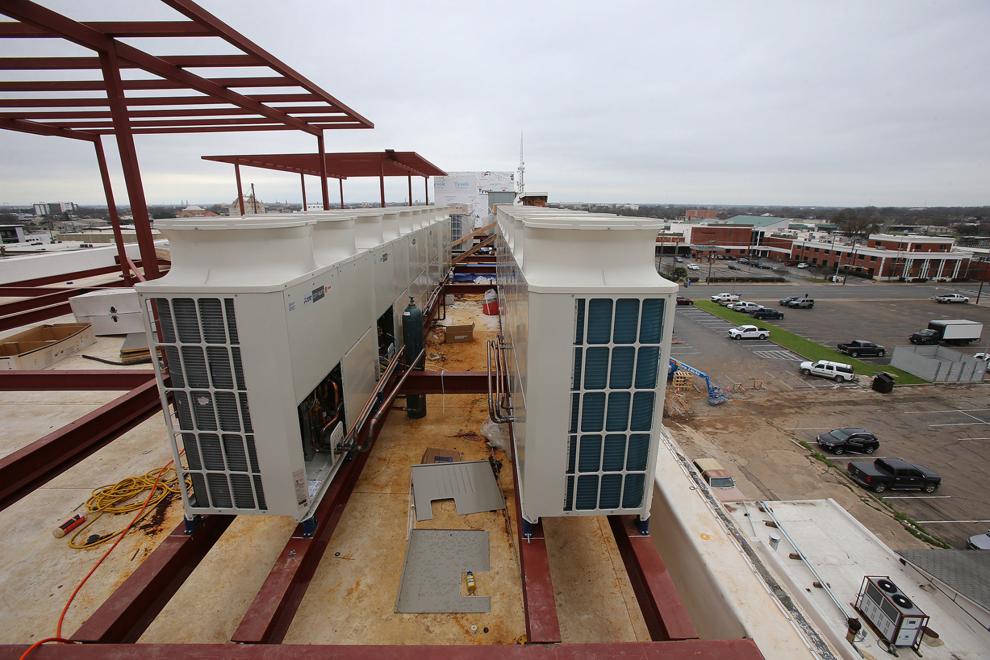 A newly installed seventh floor, with the name Earthen Skye, will afford a panoramic view of downtown and beyond, said Ellis, who led a tour Monday that included climbing flights of stairs to the windswept roof. Amenities will include "lively gardens and waterscaping," which up to 150 guests can enjoy while relaxing "amidst the bustling city," the brochure says.
The basement, meanwhile, will serve as home to The Brasserie, 6,500 square feet accommodating a kitchen, bar, lounge, restrooms and storage.
It could serve as a venue for live music and ticketed events.
Matt Cote, publicist for the new Union Hall food emporium attracting crowds downtown, said backers welcome a repurposed Stratton Building.
"We encourage entrepreneurship in downtown and believe that it all works to collectively strengthen small business in Waco and the community as a whole," he said in an email. He said the food hall, which opened in late January, is generating repeat customers, and generates the largest crowds between noon and 2 p.m. daily.
"We see from our data the food hall is not just a place for people to eat but a place to meet up and enjoy time with friends and family," he said.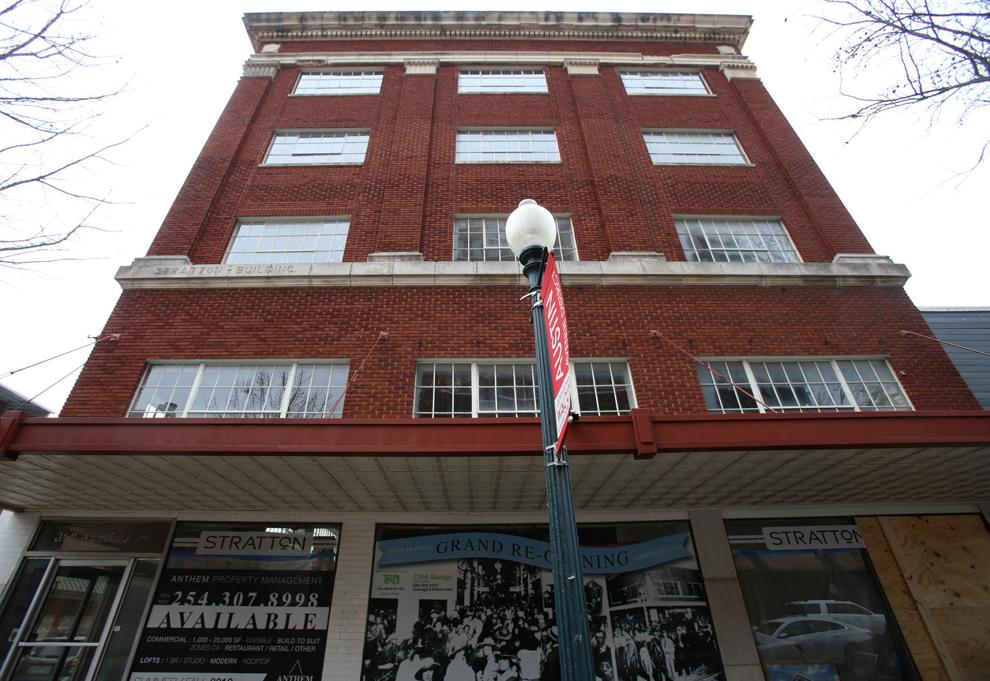 Jennifer Wilson, owner of Spice Village and a downtown retailer since 1997, said she heard of the Stratton Building's transformation. While not weighing in on its prospects, she said traffic at her 60-shop center has leveled off.
"We're still seeing traffic, but it's not increasing like it was two or three years ago," she said. "I really don't know why, though some may think getting off I-35 has become a little bit of a headache. Maybe they're driving through and not stopping for us. I do know we have had no change in our occupancy mix here at Spice in five years. People want to stay, and if anything, want more space. I know there is demand for retail space downtown."