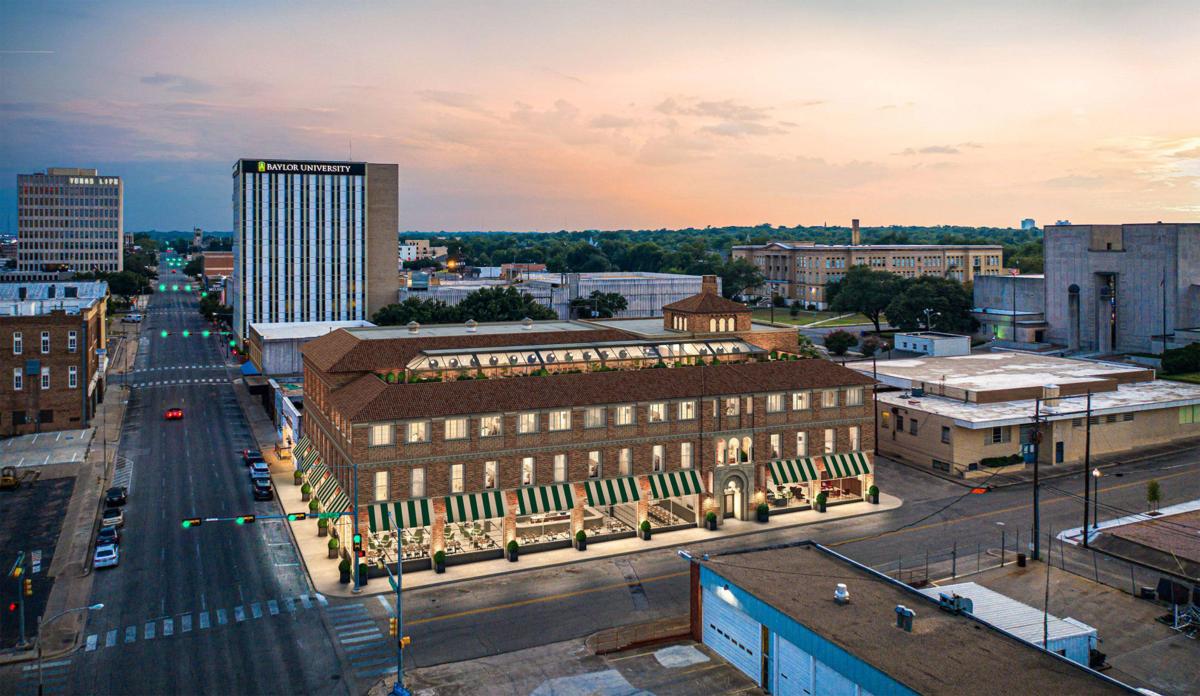 Magnolia-brand moguls Chip and Joanna Gaines will partner with Chicago-based Adventurous Journeys Capital Partners to transform the Grand Karem Shrine building downtown into a hotel featuring a rooftop terrace, a ballroom and a street-level cafe.
The Gaineses bought the three-story, 53,000-square-foot building from McLennan County last year, paying $930,000 for the structure that dates to 1928. They kept their plans under wraps until announcing the still-unnamed hotel in a press release Thursday morning.
It is scheduled to open in 2021 after an extensive restoration that "will evoke Joanna's affinity for timeless, classic details, while also preserving the building's rich history and highlighting its distinctive architectural features," the press release states.
Chip and Joanna Gaines became household names with their award-winning "Fixer Upper" reality show on HGTV, in which they chose what they described as the worst homes in the best neighborhoods for a makeover that featured Chip's demolition and construction prowess and Joanna's design skills.
AJ Capital Partners, meanwhile, has a resume that includes restoring the Chicago Athletic Association building on Michigan Avenue in Chicago and placing there 241 guest rooms, according to the firm's website.
"Reviving timeless, historical buildings is at the core of what we do," founder and CEO Ben Weprin wrote in the press release. "We are excited to partner with Chip, Joanna and the Magnolia team to bring an authentic hotel experience to the growing and lively community of Waco."
The firm's portfolio also includes the Pontchartrain Hotel in New Orleans, Thompson Nashville, Soho House Chicago, The Raleigh Hotel in Miami and the Isle de France Hotel Saint Barth. AJ Capital Partners employs 100 professionals in investment management, real estate development, marketing, design, construction and hospitality operations, according to its website.
'Spread like wildfire'
Carla Pendergraft, who markets the Waco Convention Center and recruits events and gatherings, said Thursday's announcement made her day.
"It spread like wildfire," Pendergraft said. "They talked about it on the 'Today' show, and our new director was interviewed by The Washington Post."
The new director, Todd Bertka, told the newspaper "Fixer Upper" and Magnolia have sparked a cottage industry, benefiting tourism, encouraging other ventures to take the plunge in Waco's vibrant inner city, and bringing in 20,000 to 30,000 people weekly.
Pendergraft said it is her understanding the new hotel would have 40 rooms.
Not a large number but a welcome addition as Waco continues to attract tourists and meeting attendees, she said. Hotels already under construction will bring 652 additional rooms.
"This hotel will be three blocks from the convention center parking lot on Fourth Street," Pendergraft said. "I think plenty of conventioneers and VIPs we host would love to stay there. It's also within walking distance of (Magnolia Market at) the Silos. I love that the beautiful old building is being repurposed and brought back to life from its death throes. And everything the Gaineses have touched becomes a tourist attraction. Even the Castle, which is not in the best of shape and is not open, people like to take photos in front of it."
"I think a Magnolia-owned hotel property is a different lodging destination than anything else we have in our pipeline," said Megan Henderson, executive director of City Center Waco, an advocate for downtown development.
"Obviously Chip and Joanna have kind of taken a page from the Disney playbook in really focusing on the customer experience," Henderson said. "They are working to create that wraparound visit. I also think people are responding to the idea of literally enjoying Joanna Gaines' fabled hospitality. From the very first bed-and-breakfast property they opened in McGregor, people have shown an eagerness to live as close as they can to a 'Fixer Upper' by choosing to stay in a Magnolia-themed and Magnolia-run property."
Number of needed rooms
Yet to be determined, said Henderson, is how many hotel rooms are enough.
"I'm very confident that our robust convention and visitors bureau will effectively market all properties and meeting spaces, and we won't just be shuffling and redistributing those already coming," Henderson said. "And there have been groups we could not get because we don't have the room blocks."
Robert Marshall, a history consultant and secretary of Waco Masonic Lodge, applauded the decision to make the Grand Karem Shrine building a hotel.
"That's brilliant. I love the idea, something I would have considered doing, creating a massive bed-and-breakfast," Marshall said.
He said he once was interested in acquiring the shrine. The 29-year-old said the edifice is brimming with history, having hosted many grand balls, banquets and visits from luminaries including FBI director J. Edgar Hoover and U.S. President Harry Truman.
"There was so much of it not being used," Marshall said. "Probably very few people know there is a bowling alley and basketball court inside."
Though the county sold the building to the Gaineses, work continues on relocating several county-related operations still there. McLennan County commissioners this week approved extending its lease by one month at a cost of $4,000.
McLennan County Judge Scott Felton said those efforts should wrap up by year's end or early next year. He said the county also sold to the Gaineses a county garage facility across Seventh Street from the former Grand Karem Shrine building for $500,000. It could be razed to provide additional parking, he said.
"The last time I was in the place we were showing it to Chip Gaines and his folks," Felton said. "It has a big ballroom floor made of hardwood, a high ballroom ceiling and really nice woodwork. It would have been very hard for us to make the significant changes needed while maintaining its architectural integrity. It's a real asset to the community, and they agree."
Commercial real estate agent Gregg Glime, who has 15 listings downtown, said the news Thursday ended months of rumors and speculation.
"We've already seen anticipation and interest from other users and new concepts focusing around this block," Glime said. "We are very fortunate to have Chip and Joanna in Waco. Their vision and ability to bring projects like this to life continues to be a catalyst for development downtown."
---
More

The design world is setting its sights on what styles will be big in the year ahead. The home remodeling and design platform Houzz is ahead of…