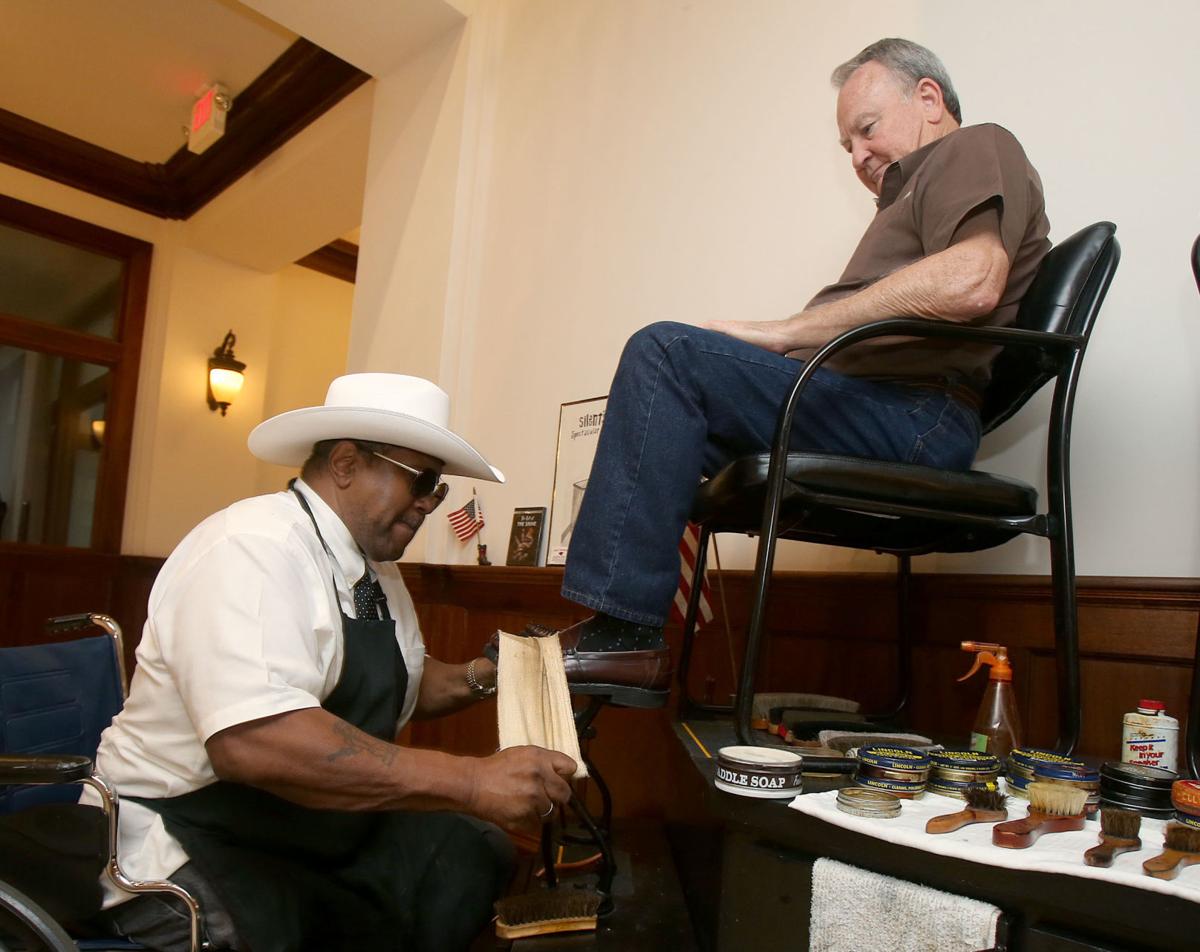 The man who calls himself Brother Silent blesses his patrons by anointing the soles of their shoes with a bit of frankincense and myrrh oil and guarantees his customers depart feeling like Johnny Cash, Brad Pitt or Barack Obama.
"I give them a little traveling grace," he said.
Robert Pearson said his customers also stroll away differently than when they arrived, leaving with a "glow on their toe" and feeling better from their "nose to their toes."
Silent and Pearson operate shoeshine stands in Waco. And while they may represent the last vestiges of a dwindling art form, they also serve unofficially as shining goodwill ambassadors for the city of Waco.
Besides leaving with shoes or boots that look much better, patrons who visit Silent's or Pearson's stands cannot help but leave feeling blessed and better off for having met them.
As Pearson puts it, "You pay for the shine but there's no charge for the conversation."
Silent eventually disclosed his first name is Reggie but declined to divulge his last name. He has been called Silent since he was a child, explaining it comes from Job 33:33, which says, "Be silent, and I will teach you wisdom."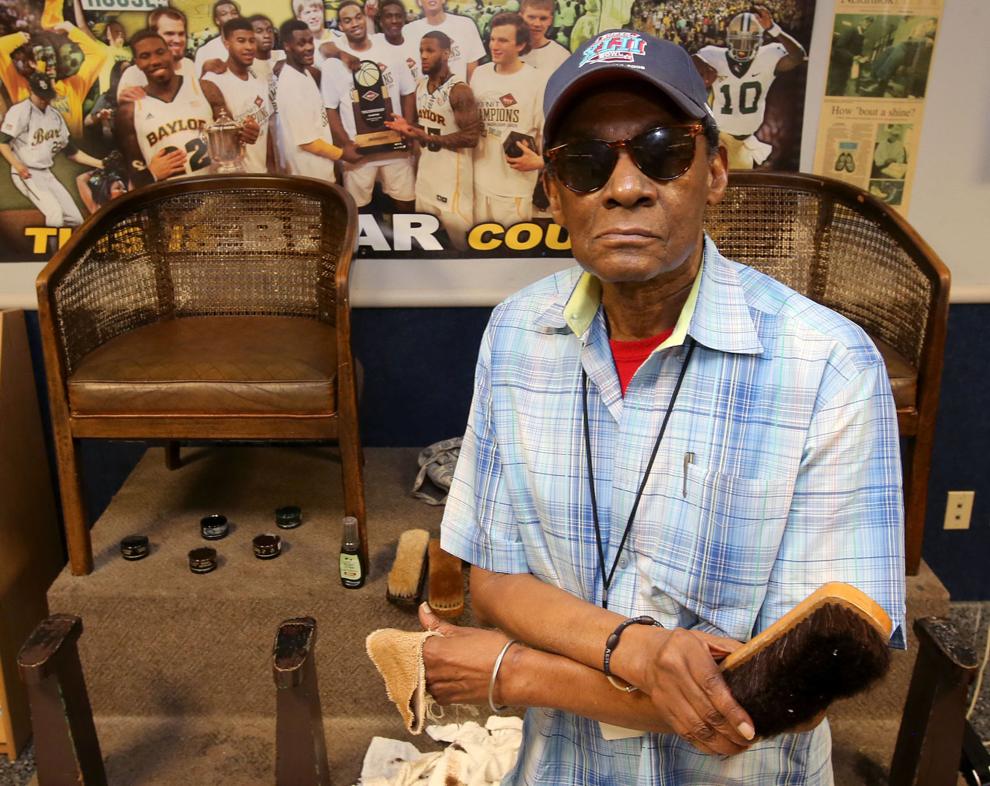 Pearson, 73, has had his shoeshine stand at the Waco Regional Airport for 13 years. But when he isn't shining shoes, he talks to travelers waiting for a ride, helps with their luggage, offers advice on Waco dining locations, gives directions or summons an Uber driver to give them a lift.
Pearson's stand is adorned with posters from Baylor University sports teams. He got to know many of the coaches, players and coaches from visiting teams who flew in to play in Waco.
Pearson ticks off a list of celebrities whose shoes or boots he has shined, including George Strait, Kix Brooks and Ronnie Dunn, Jessica Simpson, Brett Favre, golfer Fred Couples, plus a host of Baylor presidents and more.
Silent, 60, who rotates between stands at the Waco Hilton, Roosevelt Towers and the Marriott Courtyard in downtown Waco, also has rubbed elbows with and shined the shoes of his share of famous folks.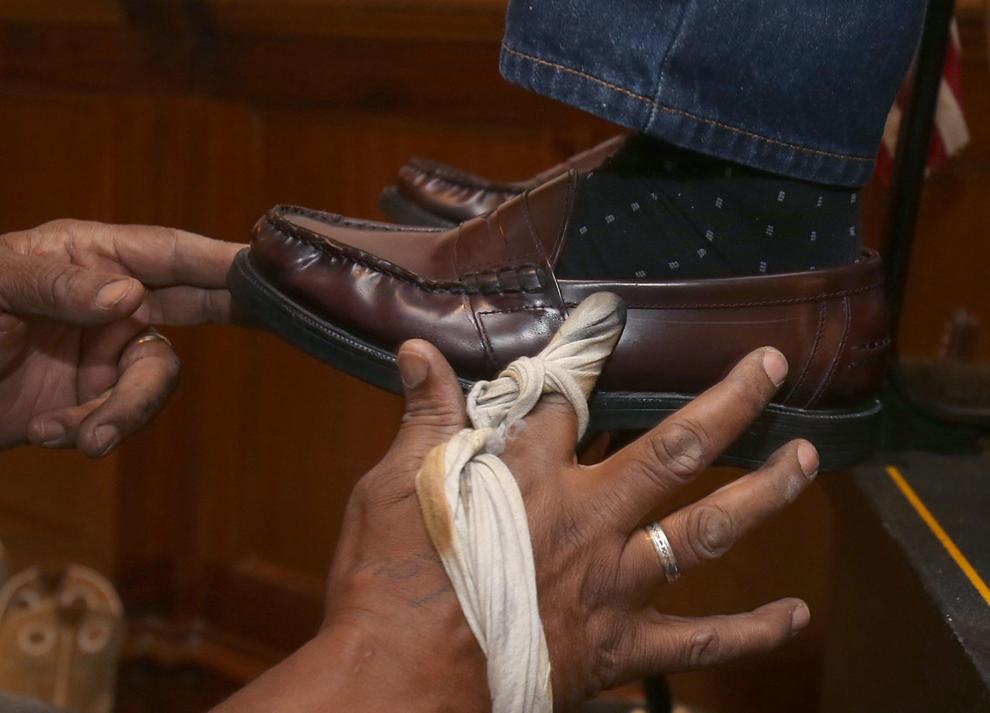 Silent's stand at the Hilton is in a prime spot outside the elevators, so he sees most everyone who comes and goes. A year ago, Silent looked up from his work in time to spot U.S. Supreme Court Justice Clarence Thomas coming out of one of the elevators. Thomas was in town to speak at McLennan Community College.
Silent hollered Thomas' name, and the justice, flanked by a security entourage, turned around and walked over to him. Silent invited him to step up for a free shoeshine, but Thomas' schedule wouldn't allow it. He said he would take him up on his offer the next time he was in Waco.
"At what other job do you get to talk to a Supreme Court justice?" Silent said.
Justin Edwards, area general manger of the Waco Hilton, was attending an event at the Waco Hippodrome with his family about five years ago and saw Silent working there. Edwards invited Silent to bring his stand to the Hilton, and it has become Silent's best source of customers, he said.
"He has been here ever since that night," Edwards said. "He is awesome. At the hotel, when guests leave, we ask them to fill out guest surveys about their stay, and we get a handful of positive comments about him each month. We were surprised. We really didn't think we would get so many comments. But that just shows you how interactive he is with the guests. People who don't even get their shoes shined just enjoy visiting with him."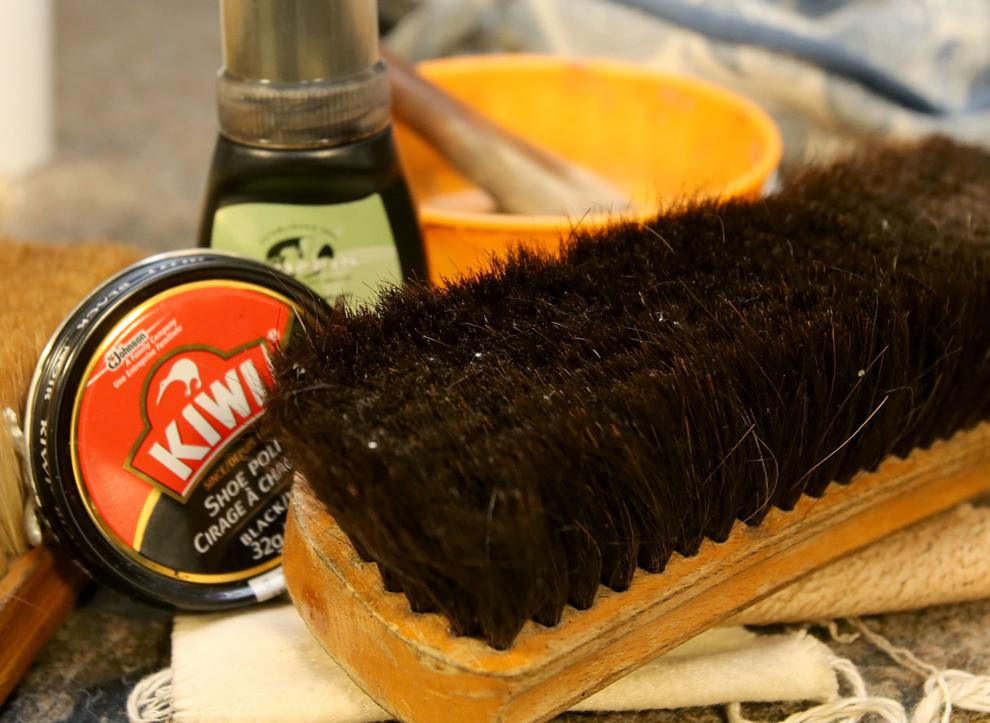 Pearson said he spends an average of eight to 10 minutes on a bootshine and four to six minutes for shoes. He declined to reveal his rates for fear it might deter some Waco customers from seeking him out at the airport. But his methods for getting a good shine are no secret.
First, Pearson said, he cleans the shoe or boot with glycerin and saddle soap. Then he applies one coat of paste and two coats of shoe cream. Next comes a buffing brush and then Pearson "hits it" with a rag.
In the interim, Pearson chats his customers up about sports, world affairs or whatever, just not politics or religion.
"You never know about those issues," he said. "It could go from good to terrible in a split second, and that can cost me a customer."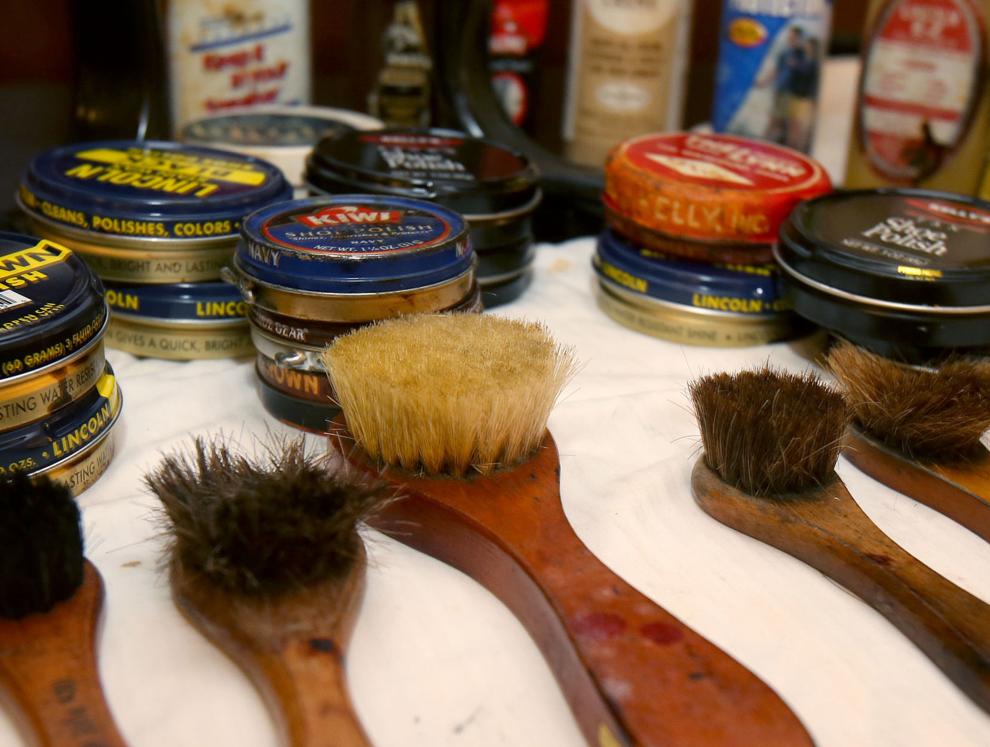 Amber Morales, manager of the Aerodrome Cafe at the airport, said Pearson is an asset to airport operations and a nice guy to see at work each day.
"He likes to take care of people," Morales said. "He is a people person. He likes to make sure they have all the information they need and he tries to help everyone he can. He offers to help people with their luggage or calls Uber, whatever they need. He tells them about tourist attractions and good spots to go to and he just does anything he can to help."
Silent charges $7 to shine ladies' shoes, $10 for men's and $12 for boots. He also cleans and shines purses, belts, brief cases, tennis shoes and said he would polish saddles if anyone wants to ask.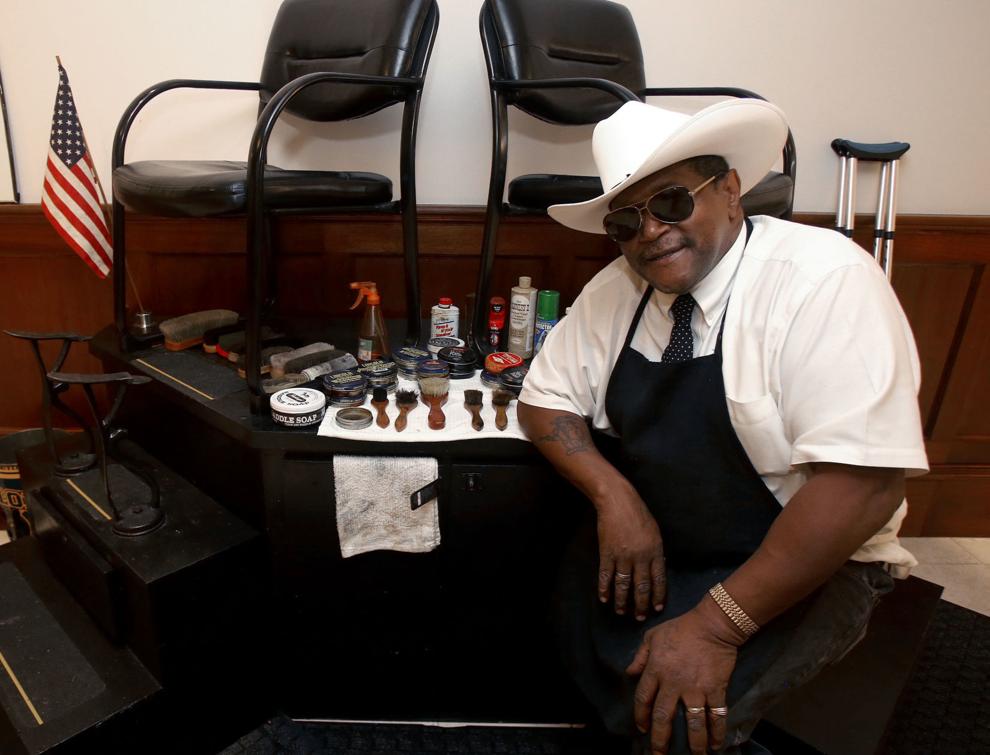 He grew up in Portland, Oregon, and his family moved to Central Texas in the 1970s. Silent lost his right leg at mid-thigh in 1978 when he slipped at his job at a chicken plant on Gholson Road and fell into an auger, a large corkscrew-like machine that forces discarded chicken parts into a disposal system.
Silent was badly injured and nearly died. Now he gets around in a wheelchair or uses crutches and has had his shine stands built to accommodate better access from his wheelchair.
"My father used to shine shoes in Belton, and I used to be embarrassed," Silent said. "I thought it was the lowest thing there is, next to picking cotton. But I would rather be doing this that sitting in a cubicle answering the phone all day. I get to meet so many interesting people.
"He also was a janitor, and I kind of looked down on that, too. I thought he could do better. But he taught me a job was better than no job. Do what you can with what you've got. Even though I have one leg, I won't let it stop me. I just keep on keeping on."
Pearson graduated from A.J. Moore High School in 1963 and said he left the segregation and racism of Central Texas the next day, moving to Reno, Nevada, where his older brother had a job waiting for him.
"It was a different kind of world back then, and my parents didn't want me growing up in that kind of situation, with segregation and all the other things they had to deal with," he said.
He worked in the restaurant at Harrah's Reno Hotel & Casino until he turned 21 and got a job as a bartender.
"When I got to Reno, I had never seen a $50 bill," Pearson said. "To be honest, I had never seen a $20 bill."
After tiring of the casino scene, Pearson moved to Houston for five years and then back to Waco in 1983. He has had stints as a club manager, floor finisher, production worker for a local TV station and hospital worker before his current job at the airport.
"People don't walk the same way after they get their shoes shined," Pearson said. "From their nose to their toes, they will just feel better."