Education
top story
Public school libraries see impending restrictions; Critics contact Waco trustees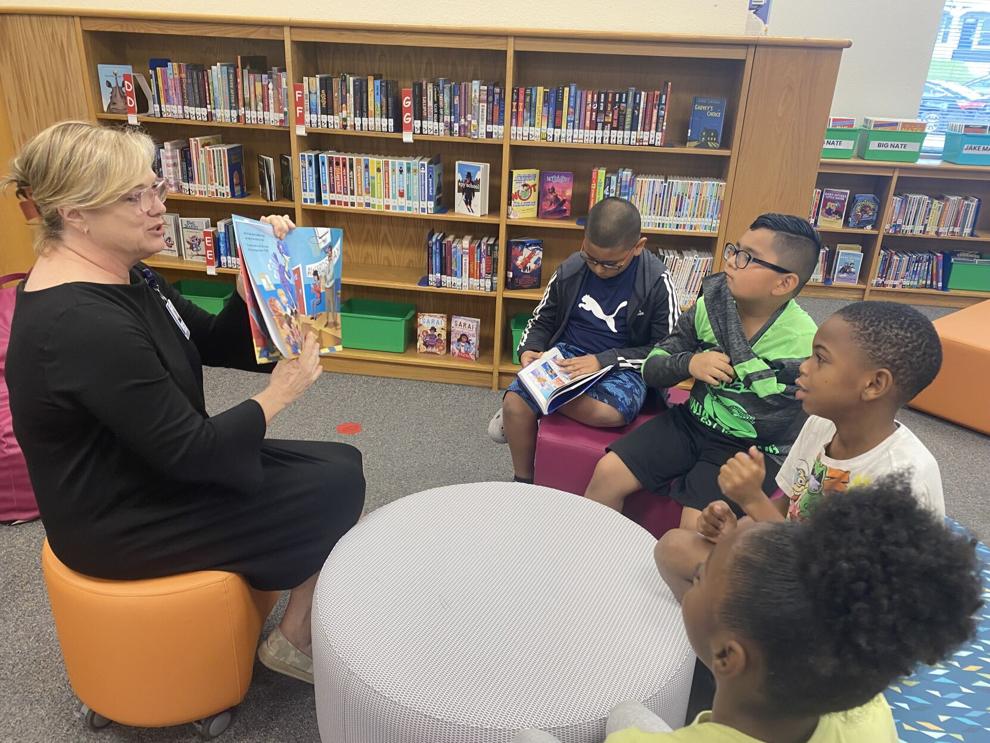 State legislators are weighing new restrictions on what materials public school libraries may give students access to and what districts can purchase.
Bills before the Texas Legislature, Senate Bill 13 and House Bill 900, would change existing procedures on book selection, vetting and purchasing in the aim of banning or limiting material some critics consider sexually explicit and inappropriate.
Proposed changes would supplant schools' current procedures to challenge materials on an individual basis or for parents to make requests confined to their own students. In some cases, the proposed laws would give power to parent-driven library councils to make book buying decisions. In others, the state would require book vendors to rate all books they sell to Texas school districts, past or present, in terms of sexually explicit or sexually relevant content.
The questions of book removal, banning or tighter restrictions, which have triggered stormy confrontations between parents and school boards in Virginia, Florida and elsewhere in Texas, may soon come closer to home in Waco.
In recent weeks, Waco Independent School District trustees have been contacted by individuals concerned by what they consider inappropriate materials in Waco ISD libraries, emailing lists detailing books in the high school library collection catalogs that the critics claim are unsuitable for students.
The lists contain 72 books from the University High School library and 41 from the Waco High School library, 58 of which were challenged for sexual references or content. Text in the emails sent to board members references the organization Texans Wake Up, but several board members contacted about the critics said they do not think they are Waco ISD parents.
An item considered for the agenda for Thursday's trustee meeting, on discussion of the district's policy regarding sexually explicit and sexually graphic books in libraries as well as possible actions "regarding the removal of all sexually explicit books in Waco ISD school libraries," was withdrawn from the agenda late Thursday afternoon. Trustee Keith Guillory said the item is not on the final agenda, which is yet to be posted, but said he had discussed it earlier. Guillory thought a group had been contacting area school districts on the subject, but said he had not come to an opinion yet, needing to research it and await guidance from the state.
Board President Stephanie Korteweg said she had been contacted as well, but names of the callers mentioned by some trustees could not be verified.
School libraries and their role in student instruction is a priority for Waco ISD Superintendent Susan Kincannon, who earmarked $3.5 million in federal American Rescue Plan pandemic recovery funding to improve district libraries. The upgrade saw collections culled of outdated or damaged books, more certified librarians hired, new books purchased and shelves and display areas reworked at some schools.
Deena Cornblum, assistant superintendent for curriculum and instruction, said libraries play a key part in student instruction, not only in providing resources for students to supplement their classroom studies, research and reading, but for teachers, too, who draw on library resources for material to expand their lectures and discussions.
The size of Waco ISD libraries varies by campus, but figures supplied by the district show elementary school libraries average about 11,000 books and materials, and secondary school libraries 15,000.
Circulation at the high school libraries this school year to date show 633 items checked out at Waco High, which has approximately 1,935 students, and 719 items at University High, with about 1,680 students. Midway High School students have checked out 6,619 items since the start of the school year, according to Midway data.
Both Waco and Midway districts choose books and materials for their school libraries with decisions shaped by librarians knowledgeable about children's and youth books and what is appropriate for various ages and developmental levels; standards and guidelines from the Texas State Library and Archives Commission; recommendations from national publications such as Booklist and the School Library Journal, which review books with an eye to age and grade level appropriateness; and book award lists.
Cornblum said she has been irritated over outside criticism sometimes heard at school book battles in other districts that imply school librarians are out of touch with students and their communities.
"They assume our librarians aren't community members and aren't parents, but most are," Cornblum said. "They are specifically trained for this. … They have the knowledge to make informed assessments."
As most public school districts in the state, Waco and Midway have procedures for parents who feel certain books or materials are inappropriate for their children, starting with discussion with the school librarian and or principal, then proceeding to "reconsideration" action on whether a book or material is suitable for student use or should be removed.
In Midway, a reconsideration committee includes a school librarian and instructional staff member with others including parents, district staff or community members. All community members are required to read the material in its entirety. They then evaluate the challenged material for literary value, whether it has language that meets the state penal code definition of harmful material and whether it is age appropriate. Waco ISD has a similar protocol, including a requirement the parent must read the challenged book or material in its entirety. Parents who disagree with the final decision of the reconsideration committee may then take the issue to the school board as a grievance.
"What's important to keep in mind is that everyone makes decisions they feel are in the best interest of the child, and parents always have the last say for their child," Cornblum said.
Parents in the Waco and Midway districts can ask school libraries for a list of the books and materials their child has checked out. Parents also can request that libraries not allow their own children access to certain books and materials, a request that does not apply to other students in the district.
Senate legislation
Two pending bills in the Texas House and Senate may alter district policies on book selection and parental challenges, investing special library advisory councils with book selection powers or limiting districts to certain book vendors .
Senate Bill 13, passed the Senate 18 to 12 with Waco's state senator, Sen. Brian Birdwell, R-Granbury, voting in favor. No action has been taken on the bill since it was referred to the House's Sate Affairs Committee on April 24. It addresses the issue of school library material challenged as unsuitable for students through the creation of school library selection councils that would play a leading role in determining what books a district could purchase for its libraries.
A majority of council members must be parents with children in the district, and school teachers, librarians, staff and administrators selected for those councils would have no voting power. The councils, appointed by school trustees, would be required to meet at least twice yearly.
The councils also could recommend the removal of any material in school libraries that members feel is harmful or contains "indecent content or of profane content, or to be inconsistent with local community values."
School boards would be required to approve all books and materials purchased for school libraries with lists of proposed purchases made available to the public 30 days before the board is scheduled to take action.
House legislation
House Bill 900 lists McLennan County's representatives, Rep. Charles "Doc" Anderson, R-Waco, and Rep. Angelia Orr, R-Hill County, among its more than four dozen coauthors. It passed the House 95-51, and remains pending in the Senate's Education Committee after receiving a hearing there Thursday. The bill focuses on limiting sexually explicit and sexually relevant materials to school libraries by restricting book vendors.
Vendors would be required to rate all books and materials sold to a district, both past and future, in terms of sexually explicit or sexually relevant content. Vendors also would have to recall any books sold that were rated as sexually explicit.
Districts would not be allowed to purchase books the vendors rate sexually explicit and would have to justify the reasons for acquiring sexually relevant books. Vendors that do not comply with the ratings requirement would be banned from selling to Texas districts.
Factors in determining sexually explicit material include whether it contains graphic descriptions or detail in a description of sexual conduct; whether the material consists predominantly of, or has multiple repetitions of, depictions of sexual or excretory organs or activities; or if a "reasonable person would find that the material intentionally panders to, titillates, or shocks the reader."
Students who wish to check out sexually relevant material would have to have permission from a parent to do so.
Districts with sexually relevant material in their libraries would have to list them publicly every two years for review.
Both Senate and House bills state that no books will be removed solely on the grounds of ideas in the books or the personal background of the author.
Waco ISD
The lists presented to Waco ISD trustees mainly state concerns based on sexual content and themes. Other reasons given for challenges include "sexual nudity," "alternate sexualities" and, in one case, "controversial religious commentary."
Among the books and their authors listed: "Two Dads," Carolyn Robertson; "The Kite Runner," Khaled Hosseini; "The Hate U Give," Angie Thomas; "The Handmaid's Tale" Margaret Atwood: "The Bluest Eye," Toni Morrison; "Gender Queer," Mark Kebab; "Perks of Being a Wallflower," Stephen Chbosky; "Stamped: Racism, Antiracism and You," Jason Reynolds; "Beyond Magenta—Transgender Teens Speak Out," Susan Kuklin; "The Purim Superhero," Elisabeth Kushne; "The Absolute True Diary of a Part-time Indian," Sherman Alexie; "The House on Mango Street," Sandra Cisneros; "Looking For Alaska" and "Paper Towns," John Green; "I Am Not Your Perfect Mexican Daughter," Erika L. Sanchez; and "Two Boys Kissing," David Levithan.
2022 Sets Record for Most Attempts to Ban Books: The Associated Press reports a new report from the American Library Association, released on …