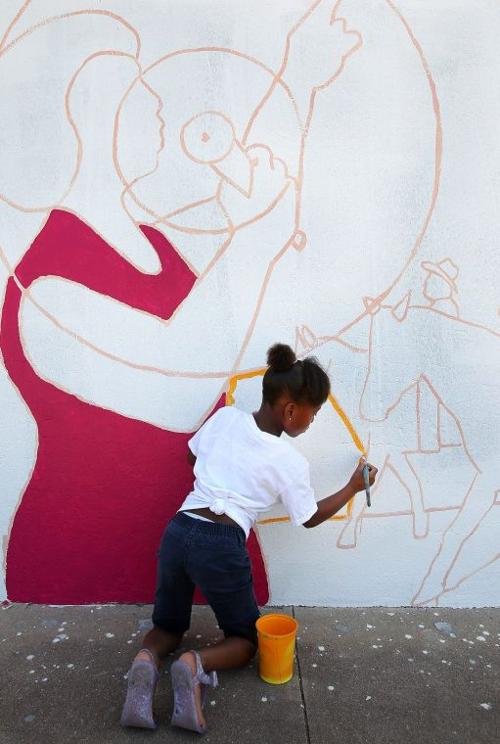 In a sort of bigger-than-life paint-by-numbers project, members of the public are helping bring East Waco history to life.
An estimated 50 people had taken part by midday Saturday in creating a massive mural on the side of the East Waco Library, 901 Elm St., and the open invitation to join them continues from 10 a.m. to 
4 p.m. Sunday.
Participants are given paint cans and brushes to fill in spaces on an outline already drawn by a design team.
Painters have to be careful to stay within the outlines, but some of the spaces are awfully big for the brushes. There seemed little likelihood the outlines would be filled in by 4 p.m. Sunday, but that was all right, according to project leader David Loewenstein.
Other volunteers will finish it, and the complete outline of the design hasn't yet been drawn on the top third of the building.
The idea of the community painting is to foster public ownership of the finished product, which is intended to boost local pride and promote a renaissance in East Waco.
The target completion date for the mural project is June 29. Saturday and Sunday are the only days the painting will be open to the public instead of selected volunteers.
The mural consists mostly of scenes depicting highlights in the neighborhood's history.
LaNita Keys, a member of the design team of about 25 people, worked on an outline showing three World War II veterans gazing proudly at their then-new Alpha Theater.
"I want to help keep the story of the history of 
Waco going and to set an example for my children to keep it going," she said.
Rhondal Napier, a mixed-media artist, was filling in the color of a man's hair.
"I think it's great that we're out here painting all together, especially on this side of town," he said.
Jonathan and Jennifer Grant were making the project a family outing with their children Libby, 11, and Luke, 8.
"Libby especially loves painting, and it's strange to be doing a whole wall," Jonathan said. "We've lived here since 1987, and we look for ways to advance cultural awareness in the city."
Cultural Arts of Waco, headed by Doreen Ravenscroft, was among organizations in 10 Texas cities that applied to the Mid-America Arts Alliance for a grant in a six-state mural project, with murals already completed in Arkadelphia, Ark., Joplin, Mo., and Tonkawa, Okla.
Loewenstein and an associate, Ashley Laird, are freelance artists based in Lawrence, Kansas.
They are assisted in 
Waco by Austin artist Catherine Hart, who said part of her job in the future will be to foster similar projects throughout the state.
"This is the most exciting place we've been so far," Loewenstein said. "There's so much passion about this idea here, and there's so much forgotten history that we're bringing back to life."
Other scenes in the mural besides the Alpha Theater picture depict real 
people in Waco's past.
There is a classroom scene from the defunct Paul Quinn College and a scene of people on horseback in a Juneteenth parade.
Officials tried to stay away from well-known subjects such as the Suspension Bridge and Chisholm Trail references.
Loewenstein said soliciting ideas from people's memories brings "poetic" images, but so many that it's hard to make selections.
But late this month, all the "poetry" will be written on the side of the library, which itself will be depicted in the mural.
Stay up-to-date on what's happening
Receive the latest in local entertainment news in your inbox weekly!