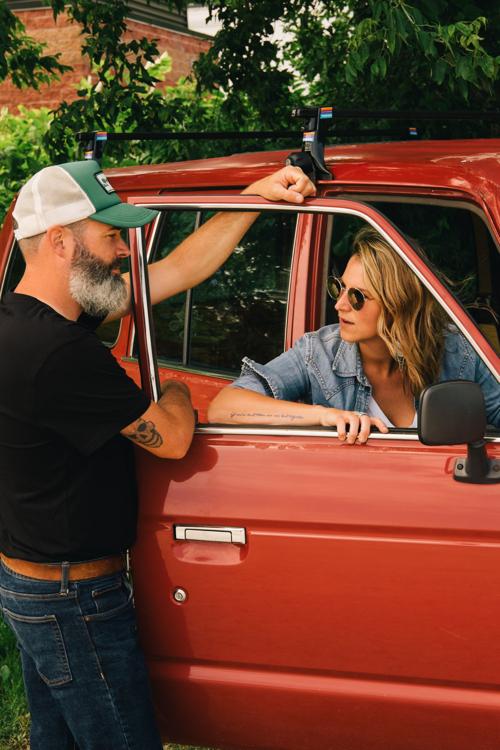 Musical groups find inspiration for their names from all sorts of sources, but it's still rare to find musicians performing under their transportation's name.
It's understandable, though, for the Canadian duo Winnie Brave, named after the Winnebago recreational vehicle that carried them on monthslong travels after they formed in 2012.
The Americana-roots music duo of Amy and Brad McIsaac, a husband-and-wife team which calls Holden, Alberta home, logs up to 60,000 miles in touring each year, generally in the months where an Albertan winter is reason enough to head south.
The name has outlived the Winnebago, in fact, which was retired last year for a diesel van. "It doesn't seem like we'll be doing any less traveling," said Brad, who sings and plays bass and foot drum to Amy's guitar and vocals.
Winnie Brave was calling from an extended stop in New Braunfels with Waco a destination in the days ahead. The twosome is scheduled to play Southern Roots Brewing on Sunday, followed by dates in northeast Texas and northern Louisiana.
It's their longest run through Texas, with most of their annual touring done in Alberta, Montana, Washington state, British Columbia and Ontario. After almost eight years, it's almost a familiar routine.
"We've almost come full circle," said Amy. "It started with the two of us, then we had a whole band, went from country rock to alt rock and pop, then back to the two piece again."
Brad added, "Technically, it's a little easier to do singer-songwriter music. It's easier to do live. The music we write now we know we can really play well live."
For all the time spent on the road, Winnie Brave usually waits until home in Alberta to write new music. That's when Amy can sit down with a cup of coffee and Brad can prepare their music room to work melodies and arrangements out. They've recorded two albums, "Winnie Brave" and "Cheap Gin."
Their show at Southern Roots Brewing Company is one of several brewery and winery stops on their Texas tour. From audiences open to new music or someone new to listener-friendly venues with reasonable hours, breweries are some of the stops Winnie Brave likes to see. "Breweries have become the new soul hangouts," Amy observed. "We're never made to play until 2 o'clock in the morning."
And while they'll leave memories for their Texas audiences, they'll be taking more than memories from Texas with them. While in the Lone Star State, they adopted a 10-month-old boxer-bird dog mix from a Georgetown animal shelter.
Named Birdie, she fills the spot left by the McIsaacs' dogs, a pug and a boxer, that traveled in the old Winnie, but have since died.
"She keeps us on the straight and narrow, making us get exercise," Brad chuckled.