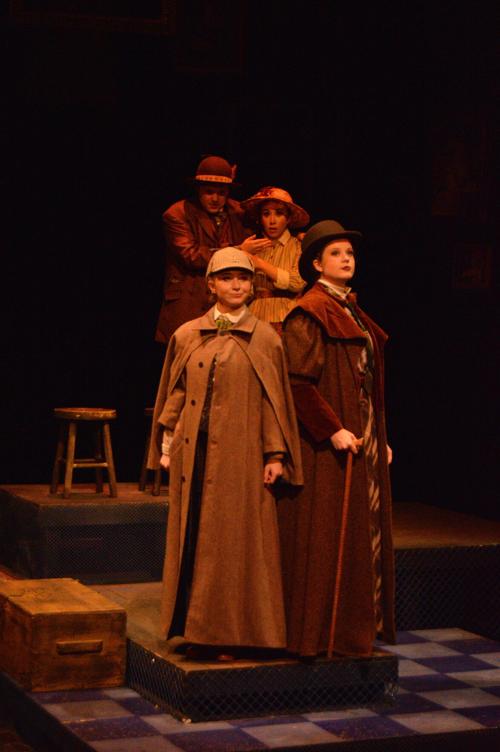 Audiences watching the streaming performances of Baylor Theatre's "Ken Ludwig's Baskerville: A Sherlock Holmes Mystery" this weekend might be tempted to check the audio whenever Holmes and his assistant Dr. John Watson speak.
There's no need to check, however. If their voices sound a little higher pitched than a viewer might expect, there's good reason: Both characters are played by women — Melissa Archer as Holmes and Delaney Wenger as Watson.
The change in playing the famed fictional English detective and his physician sidekick isn't intended as a commentary as much as it's utilization of the female acting talent in the Baylor theater department, said 43-year-old director Edward Vermeulen-Wise.
After all, the company's remaining three actors — Abel Espinoza, Zach Hartman and Bethany Johnson — play nearly 40 roles between them, mixing male and female characters in the process.
It's all part of the free-wheeling fun of Ken Ludwig's stage mystery/comedy inspired by Arthur Conan Doyle's mystery "The Hound of the Baskervilles," the best-known of his Holmes novels. Ludwig himself, after all, approved when Vermeulen-Wise contacted him about it, the director said.
Theater fans know Ludwig for his loving spoofs of opera ("Lend Me A Tenor") and theater ("Moon Over Buffalo"), and "Baskerville" provides the same blend of wit, comic timing and pacing as those comedies as Holmes and Watson try to deduce who's killing off the heirs to the Baskerville family fortune.
For Vermeulen-Wise, a Texas State University graduate pursuing a master's degree in directing, rehearsing and staging the production under COVID-19 protocols took as much sleuthing as Holmes and Watson undertake in the play.
Wise initially wanted three kinds of mist for the play — ground fog for the Devon moors, a thick London fog and, as a joke, smoke from Holmes' trademark pipe. Aerosols and equipment considerations nixed that.
With five actors playing more than three dozen characters, costume changing is a major part of the play. COVID-19 precautions meant to limit actors' contact with costumes and props, however, meant costuming kept to a minimum and without a dresser's backstage help. A cane and a hat used by more than one actor had areas defined for each actor's touch so no one would handle them in the same place.
Actors had to work on comic timing without the benefit of audience response. Lighting lowered to extend shadows or suggest nighttime scenes had to be brightened for the cameras used in filming the first production livestreamed from Baylor's Mabee Theatre.
In the end, the modifications made were minor ones with the major aim of making an audience laugh, a worthy goal after a long and emotionally trying year, said the director. "Comedy is a human power," he said.