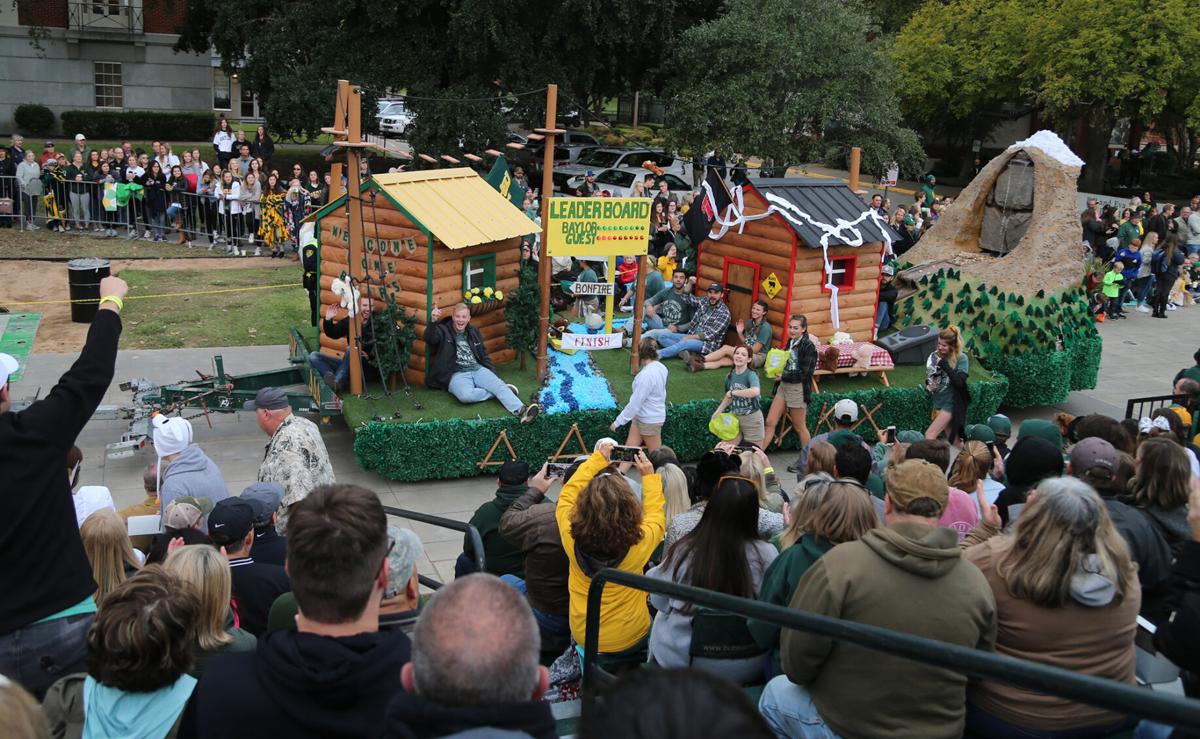 This time, it's Homecoming that's coming home.
Baylor University's annual Homecoming, nearly a week of activities that reunite graduates, present students, faculty and Baylor fans, will feel more like its familiar self this weekend with the return of traditional events such as a home football game, a parade through downtown, music performances and an on-campus pep rally and bonfire.
COVID-19 concerns last year disrupted Homecoming as tens of thousands had known it. No home game at McLane Stadium. No Saturday morning parade through downtown, although three floats did get displayed on campus. The Friday night pep rally moved to McLane Stadium with fireworks substituting for a flaming bonfire. In-person performances by winning University Sing acts for Pigskin Revue and communal singing of praise songs and hymns at Singspiration both moved online.
Thanks to COVID-19 vaccinations, a sustained low rate of new cases at Baylor and declining community case rates, all those Homecoming events will return to their face-to-face experiences, with an occasional tweak.
Baylor Extravaganza, with activities, carnival games and food truck offerings, starts at 6 p.m. Friday on Fountain Mall with a pep rally held at 9 p.m. and bonfire at approximately 9:45 p.m. Pigskin Revue stages its performances at 6:30 and 10:30 p.m. Friday and 8 p.m. Saturday at Waco Hall, with seating at full capacity. For those who'd rather watch from home, the 6:30 p.m. performance will be livestreamed for a $30 admission; tickets and livestreaming access are available online at baylor.edu/homecoming.
Singspiration takes place at 7 p.m. Friday at Seventh & James Baptist Church, 602 James Ave. Phi Beta Sigma members and the National Pan-Hellenic Council will present the Royal & Pure Homecoming Stroll-Off, a stepping contest, at 7 p.m. Friday at the Bill Daniel Student Center.
Saturday morning's parade of nearly 120 entries, including 11 floats, 13 balloons, cars, bands and more will follow a change in route from past Homecoming parades. Due to ongoing Interstate 35 and frontage road construction, the parade will travel down Fourth Street rather than Fifth Street for much of its journey from downtown to the Baylor campus.
It starts at 8 a.m. from the corner of Eighth Street and Austin Avenue, proceeds down Austin to Fourth Street, then follows Fourth past the interstate before shifting to Fifth Street for its final leg to campus.
KCEN-TV will broadcast the parade starting at 8:30 a.m. and it will be livestreamed on the Baylor Facebook page. There's also Homestand Grandstand seating on campus for $30.
The Bears will take on Brigham Young University's Cougars at McLane Stadium with a 2:30 p.m. kickoff.