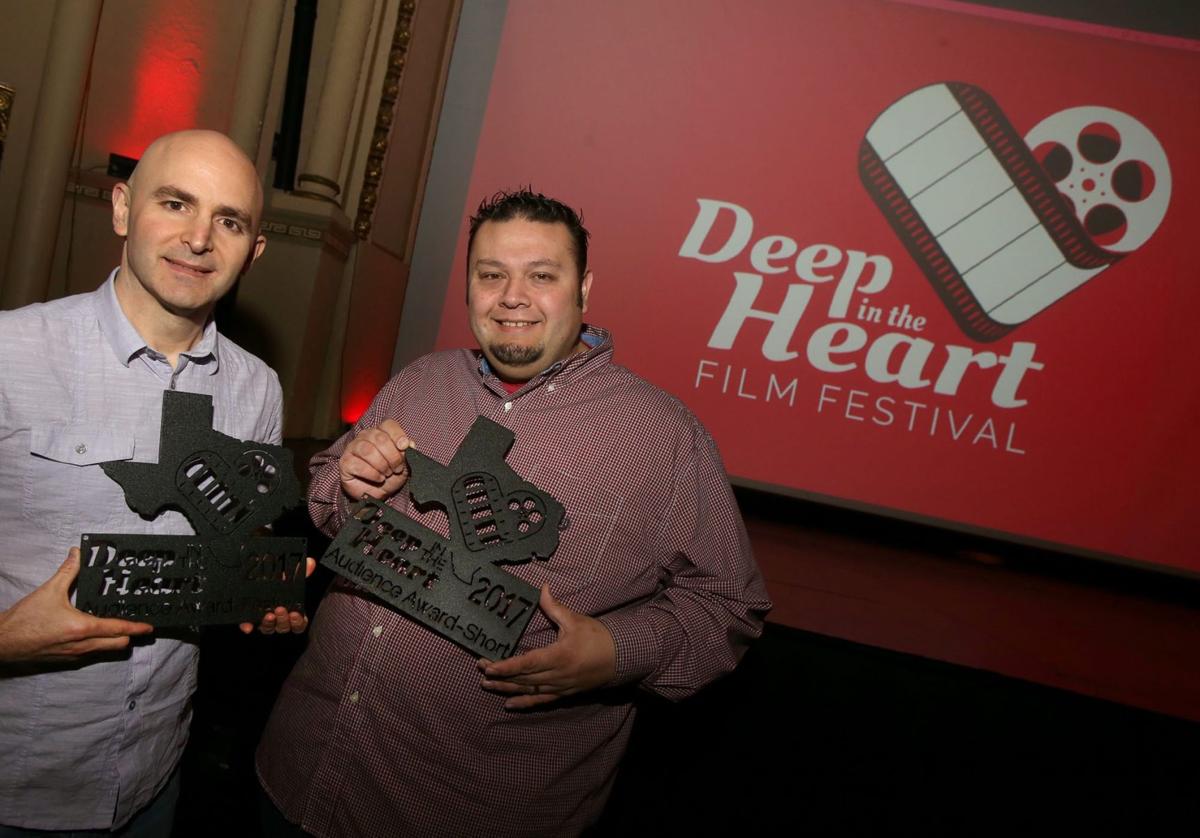 Start popping the popcorn, film fans, and get ready to settle in your seats: The lights go down Thursday for Waco's first major film festival, the Deep in the Heart Film Festival at the Waco Hippodrome.
The four-day festival makes its debut with three days of feature movies and film shorts, workshops, panel discussions and general schmoozing and networking with the approximately 40 filmmakers expected to attend. It also will feature formal recognition of Waco as a Texas Film Commission- certified Film Friendly City.
Texas film and video producers Louis Hunter and Samuel Z.P. Thomas, who work with their Dallas-based Ogopogo Film Co., will see the result of months of planning and hours of movie watching when the Hippodrome doors open at 10 a.m. Thursday.
The festival co-directors are hoping public attendance matches the gratifying response to date from filmmakers submitting works for consideration and Waco backers willing to offer advice and services.
"It's grown faster, bigger and longer than we ever anticipated," said Hunter, who lives in Waco. "We're absolutely floored by the support."
The festival's tagline of "heartwarming, heart-breaking, heart-stopping films" drew more than 200 entries, which Hunter, Thomas, programming director and Baylor University film lecturer Maverick Moore and some 16 volunteer screeners whittled down to about 70 short films and six feature-length entries.
After making their selections, they discussed how to group them. Rather than genre-driven programming blocks, festival planners opted for a looser thematic organization, based in part on themes and connections that the film screeners found.
"It was organic," Thomas said. "We hope to continue that in the future."
The festival will showcase six features, highlighted by opening night's "Blur Circle," a shot-in-Waco drama on loss, guilt and forgiveness by director Chris Hansen, head of Baylor's film and digital media department.
The remaining five features include KWTX-TV's documentary "We Can't Forget Vietnam"; "Sweethearts of the Gridiron," a documentary on the Kilgore Rangerettes drill team; "Quaker Oaths," a romantic comedy about a contemporary Quaker couple seeking a divorce; "DisAssociationVille," about an aimless young man who has to face the music in returning to his small town; and "Tim Timmerman, Hope of America," a comedy about a high school senior hoping to finesse his way into Yale.
Short films are grouped into screening blocks of six to 10 movies each: "Different Strokes" (seven films), "A Taste of Texas" (seven films), "Stuck in the Middle With You" (eight films), "Struggles and Triumphs" (six films), "It Might Get Crazy" (10 films), "Here's the Plan" (seven films), "Strangest Things" (nine films), "Family Friendly Films" (eight films) and "Second Chances" (six films).
Thomas said most blocks offer a diversity of subject and tone.
"Only two blocks are tonally the same: the family film and the horror one (Friday night's 'Strangest Things')," he said.
The festival also will offer VIP pass holders a workshop on virtual reality technology; a master class on "filmmaking in a gig economy"; admission to the awards ceremony on Saturday night and a festival-closing entertainment option in Waco Escape Rooms; a panel discussion on educating the next generation of filmmakers; and an opening night reception.
Several of the festival entries have Waco or Baylor connections. "Blur Circle," Damon Crump's "The Tenor," Christopher Charles Scott III's "What About Waco" and "We Can't Forget Vietnam" were shot in Waco. Baylor graduate Zachary Korpi directed "Light," Baylor graduate Daniel Lee Beard directed "Dual Interests," and Baylor lecturer Maverick Moore was behind "Shotgun."
La Vega High School graduate Terry Bluez directed "Ball Is Life," and University High School graduate Kevin Machate directed "Promise Me."
There's even an international touch with "Maria Fernanda" from Spanish director Xavier Pijuan and "Three Dalmatians" by Norwegian director Ingrid Stenersen.
The festival's films will be shown downstairs on the Hippodrome's main screen as the film "The Lego Batman Movie" will run in the balcony for the duration of the festival. The Hippodrome's bar and restaurant will be open for festival attendees, and Thomas said after-screening chats with visiting filmmakers and producers are encouraged.
"They spent their money to get to Waco, so you might buy them a drink," he said with a laugh.
Audience members will choose winners of the best feature and best short film awards by rating nominated films on ballots after their viewing.
Hippodrome programming director Amy Gillham said the Deep in the Heart Film Festival realizes an idea the theater had since reopening in 2014.
"It's something we've wanted to do for a while, but there's not a blueprint around Waco on how to do it," Gillham said. "Louis and Sam have so much experience and have been to so many festivals."
Thursday night's debut of "Blur Circle" is approaching a sellout, and ticket sales in the short film blocks seem evenly spread, she said. An initial block of 40 six-ticket passes has sold out, but tickets are available for the balance of the festival.
"The key for us this week is getting Waco excited," Gillham said. "We hope the community really rallies behind this."
Both the festival and the city's Film Friendly certification are noteworthy, said Carla Pendergraft, marketing director for the Waco Convention Center and Visitors Bureau.
The festival may introduce attending filmmakers to Waco as a film location while attracting area film buffs.
Film Friendly status, awarded to Waco earlier this year, signals to interested filmmakers and producers that a community has guidelines and standardized fees for filmmaking. As part of the certification process, Waco officials also submitted location photos to the Texas Film Commission for use by location scouts looking for certain settings and backgrounds.
"We're hoping on lots of referrals from them," Pendergraft said.
She said films and videos shot in Waco often persuade viewers to come and check out the city for themselves.
"We would like Waco to be a character in a story, as it is in 'Fixer Upper,' " Pendergraft said.
Hunter and Thomas said the sheer exposure to scores of films good and bad has given them plenty of ideas for their own work, and they think filmmakers at the festival will be energized as well. They want to see how the festival's premiere goes before thinking ahead to next year, although Thomas confesses he already has a folder on his computer marked 2018.
Stay up-to-date on what's happening
Receive the latest in local entertainment news in your inbox weekly!