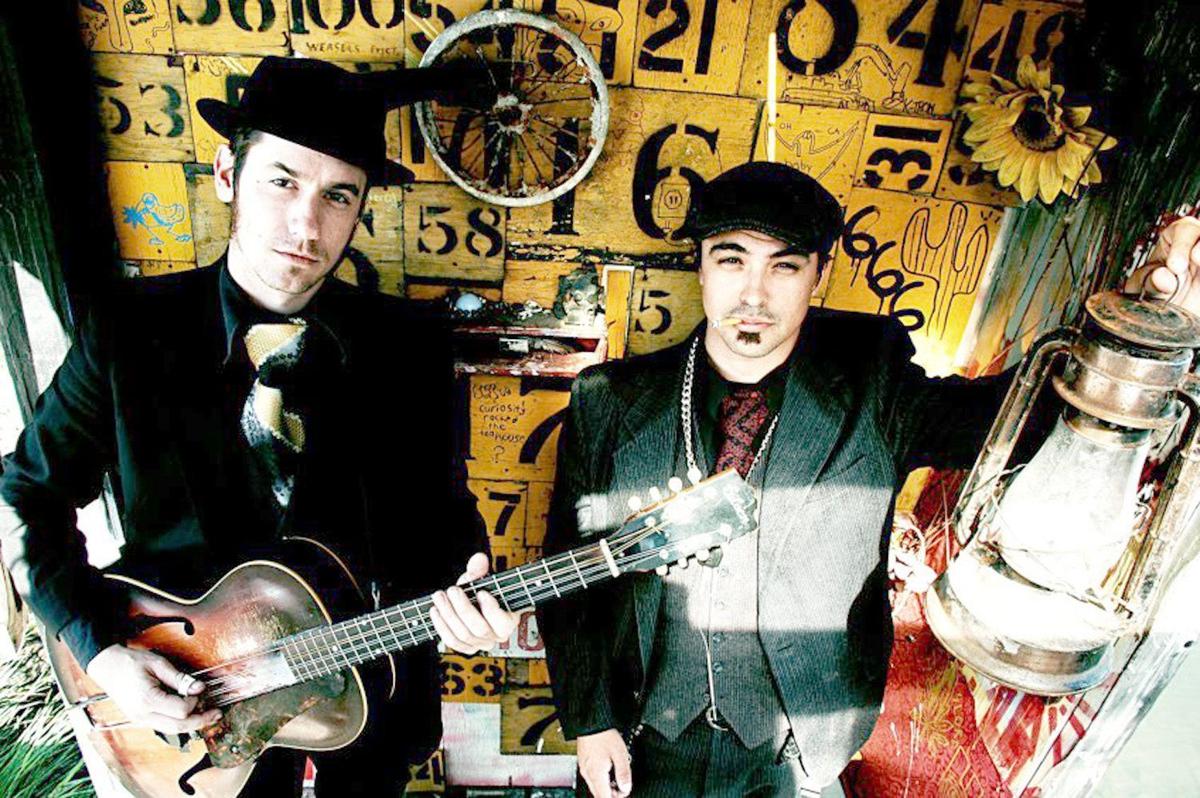 The peculiar in their band name, The Peculiar Pretzelmen, doesn't stop with Deacon Marrquin's percussion kit assembled from scrap metal and other found objects. It also extends to the Los Angeles' duo fondness for cities such as Waco — something not bad, but not often heard from dark rockers who avoid pigeonholing.
"We love Texas and Waco is one of our favorites," explained Marrquin's string-playing partner Kevin Incroyable and he's not being sarcastic or ironic. "In a big city, people are sort of jaded. They walk in and they're very skeptical at what you're going to do. But places like Waco, or Salem, Oregon, places near big cities, they're hot pockets of crazy energy waiting for something new . . . They want to go crazy with you."
Of course, it helps that Marrquin, first name Brandon, was raised in Waco and that good friend and Waco musician Tea Aguilar, who opens for the Pretzelmen on Thursday, lets them know when Waco is sufficiently charged with crazy energy. Two years ago, the band played Beatnix Burger Barn; last year, they skipped Waco.
That crazy energy helps with the Pretzelmen, who employ offbeat instrumentation — Marrquin's drumless percussion kit, Incroyable's mandocello, cigar-box guitars or occasional banjo — in music that Incroyable describes as "in an extremely dark realm," "a shade of black that's darker," "a raw earthiness" and "the other side of a circus."
Actually, a certain amount of jump blues and alt-country informs the Pretzelmen sound and for all the energy, it's not heavy metal.
The two met in Los Angeles and have been performing together since 2006. They're touring in support of an album they haven't yet released, "Kill and Wake," and created a four-song EP, "The Theme Music For The End Of Time," to put in fans' hands until the full album is released.
"We whipped it out real fast and that's how we used to work," Incroyable said.
The Peculiar Pretzelmen hit Waco primed from their current national tour, presently swinging through Texas. "You get a different kind of energy sitting in a bar and putting your music in people's faces every night," he said. It also helps that they're performing with a sound system after years of non-amplified acoustic play.
"We bought a lot of new toys new to us and our energy on stage — we're dialed in so tight like a machine," he said.
Word to the Waco hot pocket: "Check your sanity at the door."
Stay up-to-date on what's happening
Receive the latest in local entertainment news in your inbox weekly!