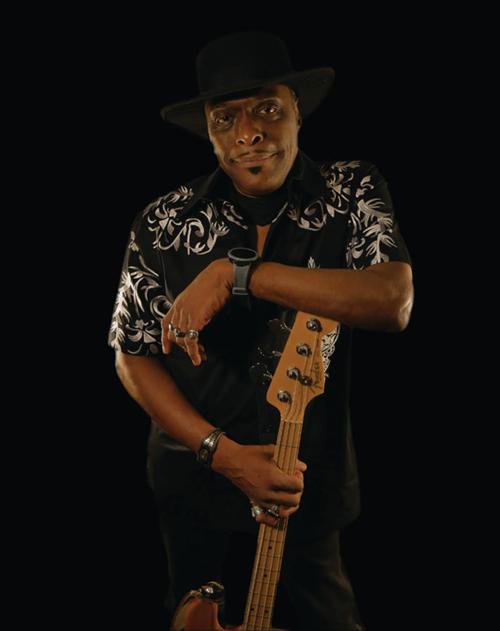 The ripples are still moving in the social media pond of Waco musicians from last Friday's startling news of the death of bassist Tonee Calhoun. Calhoun, who only a week earlier had celebrated the release of his album "Black Knight" with a concert and art show at the Waco Convention Center.
Calhoun — he preferred Tonee, but didn't argue with Tony, he told me in an interview only a couple of weeks ago — was one of Waco's veteran working musicians, with around 30 years of performing with his own band Pleasure as well as others' bands, such as Sherman Evans Anband, the Joe Silva Blues Band, and, more recently, David Zychek's Mojo Assassins and, for a couple of years, Billy Joe Shaver's touring band (the latter prominent in this tribute).
That's a lot of contact with Waco music fans and fellow musicians, and news of his death from what I'm told was an aortic aneurysm following a heart procedure hit many people hard. Calhoun had considerable chops as a bassist, which won respect from many of his performing peers, and, on the human side of things, he was a friend and mentor.
It's taken awhile to organize funeral services due to family members being scattered geographically, but they are set for 3 p.m. Saturday, Nov. 23, at First United Methodist Church, 701 East Texas Avenue in Mart. Visitation will be 3 to 6 p.m. Friday, Nov. 22, at Serenity Life Celebrations, 112 S. 35th St. in Waco.
There's also a GoFundMe account to help with the family's funeral expenses, if some would like to help in that way. His "Black Knight" album, by the way, can be found here.
I've known Tonee for years, misspelling his first name off and on for much of that time, and agree with others who found him a talented musician, who not only played with a Who's Who of R&B, rock and blues musicians over the years, but one who ably played styles spanning rock, R&B, funk and country without losing his own musical voice in the process. 
Personally, he was his own man, with a rich history of personal experiences — and stories — that would come from someone raised in gospel music, a son in a military family posted in Germany, as he was himself during his days in the Army, and decades as a working musician.
Others have told me how helpful he was to them. Derrick Dutton played lead guitar in Calhoun's band Pleasure and tells me it was a formative experience and relationship. "I was a young, 20-year-old white guy and I was fortunate to play with him. I had an open canvas to play every night," he said. Off stage, Calhoun provided both a listening ear and a bank of experience from which to share, he added.
Dutton's memories track others shared with me and remind me how as much as we tend to remember musicians for the music they make and leave behind, that's only a part of the impact a whole life can have.